Heinz's New Sauce Collection Will Make You Feel Like A Chef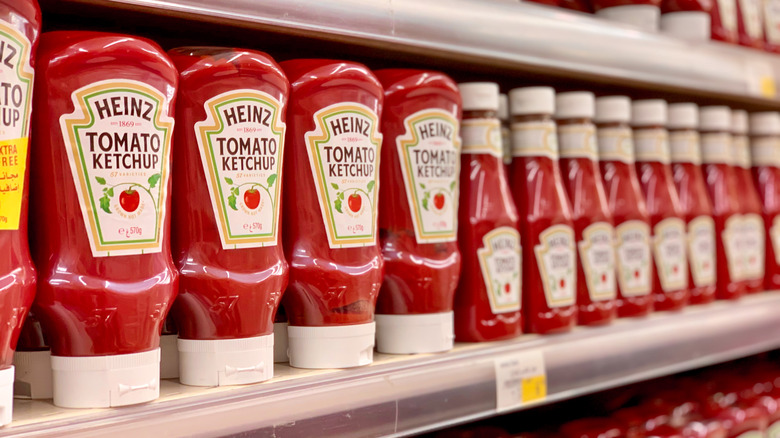 ChebanenkoAnn/Shutterstock
Heinz might be best known for its famous ketchup but the reality is that the Kraft Heinz company — the two merged in 2015, per Rebellion Research — produces a dizzying array of food products. Not content to rest on its laurels, either, Kraft Heinz has rolled out some new sauces for summer 2022 that could take your culinary creations to the next level.
According to Investopedia, Kraft Heinz has over 200 brands to its name, with the history of Heinz spanning back to the late 19th century. That beloved ketchup was among the first products the company's founder Henry John Heinz developed. Over the near century and a half since, Investopedia says Heinz's growth led to expansions in its food offerings, like the Ore-Ida potato and Starkist tuna products you might be familiar with today.
The combination of reliable classics and innovation in food products, such as an attempt to elevate the process of eating burgers, has kept Kraft Heinz profitable throughout the years. And this summer, Heinz ketchup lovers will have a new opportunity to branch out in their cooking, specifically in the sauce department.
Honey, you might like this sauce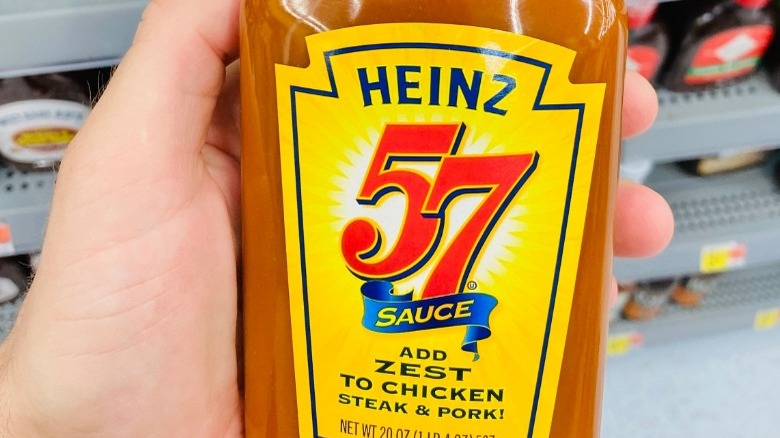 ZikG/Shutterstock
You might already be familiar with the classic Heinz 57 sauce, which We Want the Sauce says got its name from Heinz's desire to draw customers' attention to the company's diverse line. These new sauces from Kraft Heinz build on that concept.
According to a press release on Business Wire, the new products comprise a line of not just sauces, but infused honeys as well. Heinz says the infused honey comes in Black Truffle and Hot Chili varieties. The "crunch sauces," which Heinz states are oil-based, offer choices of Chili Pepper Crunch, Roasted Garlic Crunch, and Mandarin Orange Miso Crunch. The release adds that "award-winning chefs" Joe Frillman and Lee Wolen worked to produce these new flavor additions to the Heinz 57 line. Heinz clarified that the "crunch" element in the sauces come from ingredients like chili peppers, garlic, and onions.
Chef Frillman is the executive chef and owner of Daisies Chicago, and his previous ventures have received mentions on Bon Appetit's Top 50 Best New Restaurants and the Michelin Guide BibGourmand. Chef Wolen is a part of Boka Restaurant Group; his past accomplishments include listings on Eater Chicago's 30 Chefs to Watch and five nominations for a James Beard Award.
Like how Heinz once worked to re-invent the ketchup bottle, it's once again broadening the horizons for its Heinz 57 line this summer. Perhaps these sauces will help you expand your own culinary horizons as well.