Why Instagram Can't Get Behind One Costco Snack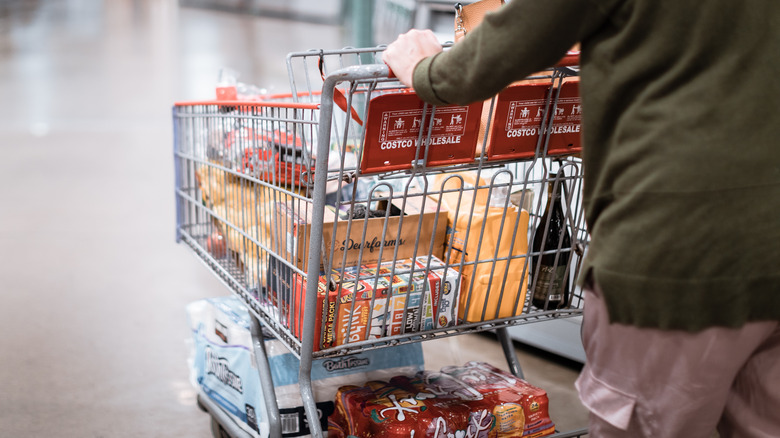 ARTYOORAN/Shutterstock
The United States spent more than $100 billion on its snacking needs in 2020 — making it that year's world leader in snack revenue, according to Statista. So it seems that for Americans, snack time is as essential to daily life as breakfast, lunch, and dinner.
But although stealing away on your lunch break to score an ice cream cone from Sonic is a good snacking option, most people usually choose to stock up on their snack food at home by buying their treats from retailers. And, thanks to being able to purchase a lot at once, many feel one of the best places to buy the U.S.'s most popular snacks is Costco.
In fact, the grocery chain even produces products under its own brand of Kirkland snacks that many of its members can't get enough of. However, Costco recently added a new snack item to its stores that has left Instagram less than impressed. And there are not one, but two reasons users have such a negative opinion of the new snack shoppers can now find at Costco.
Instagram has major problems with Costco selling Sargento's Balanced Breaks
The Instagram account @costguide posted a video that revealed to users that Costco is now selling Sargento Balanced Breaks. The snack comes in bulk and consists of cheese with two different cracker options: Ritz or Wheat Thins. This seems like a winning addition to Costco's snack lineup because, as noted by USA Today, cheese is one of America's top-three favorite snacks. So why have Instagram users taken to the comment section to note their distaste for Sargento Balanced Breaks?
First, many users felt that the snack, which only consists of cheese and crackers, could easily be made at home and didn't see the point in buying it at a store. Second, many users commented on how the amount of plastic used to package Sargento Balanced Breaks was excessive and ultimately a big source of waste.
One user expressed their frustration by writing, "yay! single use waste is adorable! buy a pack of crackers, cheese and reusable storage containers then do this yourself." Another user also noted their general dislike of the product, posting "Make your own! Save money and waste." Given users' feelings about the new cheesy snack and their love for Costo fan-favorites like Kirkland Dark Chocolate Toasted Coconut Cashew, it seems the chain's shoppers are just as concerned with a snack's practicality as its taste.