Geoffrey Zakarian's Birthday Cocktail Looks So Refreshing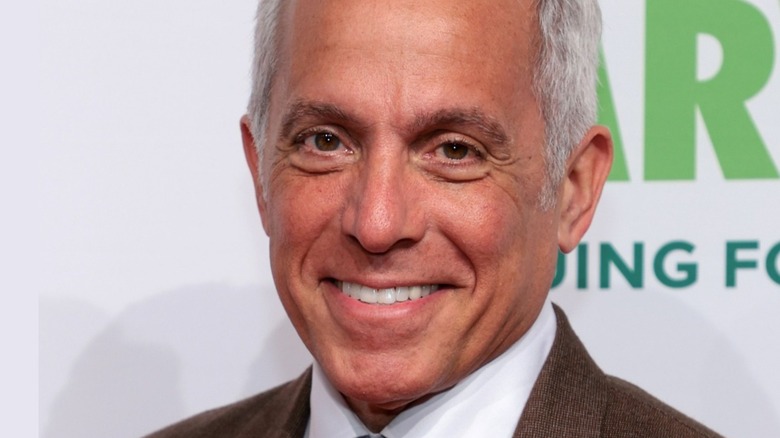 Dimitrios Kambouris/Getty
When it comes to celebrating a birthday, there are as many tipples to toast with as there are days in the year (and many more). Some prefer raising a glass of good wine, while others — especially those in the just-turned-21 set — favor something a little more showy like champagne bottles with sparklers attached. Some, like celebrity chef Geoffrey Zakarian, may even choose to mix up their own birthday concoctions.
Today, Zakarian showed off his muddling skills in a video of himself making a cocktail for his birthday. With 30-plus years in the restaurant game, it's not surprising Zakarian has a drink or two up his sleeve (via Geoffrey Zakarian). Fans of "The Kitchen" are already familiar with his abilities when it comes to mixology. On the recently aired "Foolproof Alfresco" episode of the Food Network series, Zakarian made a summer-ready Cucumber Vodka Cooler and shared it on his Instagram page. For his birthday, the famous chef went with a classic.
Geoffrey Zakarian gifted himself a Pimm's Cup
If the thought of baking a cake in the middle of the summer makes you sweat, Geoffrey Zakarian reminded us there are other ways to celebrate a (grown-up's) birthday. In celebration of his own, the chef created a post on Instagram, writing, "Cheers to another blessed year around the sun ... this Pimm's Cup is the perfect way to kick off my birthday!" In the post, Zakarian shared a video accompanied by instructions on how to prepare the classic cocktail.
The Pimm's Cup has a long history going back all the way to London in the 1800s, explains The Modern Proper, when a bar owner by the name of James Pimm created a bitter drink with orange and herb flavors to serve with oysters. Zakarian uses English cucumbers and fresh basil mixed with simple syrup and Pimm's No. 1, a fruity, gin-based spirit. One thing that can really make a Pimm's Cup stand out is the garnish game, and Zakarian suggests using a variety of ingredients like cucumbers, strawberries, lemons, and lavender to take the drink up to a celebratory level.
On his post, fans took the opportunity to wish Zakarian a happy birthday and one even added a note of gratitude, "Thanks for all your tips and recipes, I've learned a ton!"