Sweet White Sangria Recipe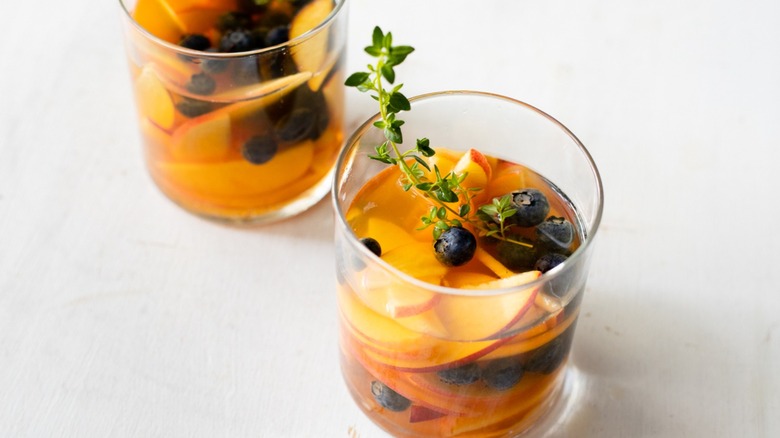 Sher Castellano/Mashed
Heavy, warming cocktails definitely have their place in this world, but when it comes to the hot and humid summer months, we want something light, refreshing, and a little bit sweet. If you feel the same way, then there's really no better-sipping option than this sweet white sangria, courtesy of recipe developer Sher Castellano. Sure, white wine is a perfectly bright and refreshing sip on its own, but this sangria really takes things up a notch with the addition of fresh fruit and even a fresh mint or thyme sprig for garnish. 
This sangria is definitely light and refreshing, but it also happens to be pretty easy to throw together — something that Castellano is a big fan of. "I really love the summer flavors of this sangria, and its ease of preparation," she explains. "The combination of fresh stone fruit with the peach schnapps is refreshing and sweet." She also notes that, while you can technically enjoy sangria any time of year, there's something particularly enjoyable about sipping it during the summer months, especially when many fruits are in season. "This sangria is really made for the summertime when peaches [are] in their peak," she says. So, grab some fresh peaches from the grocery store or farmer's market and let's make some sweet white sangria! 
Grab the right ingredients for this sweet white sangria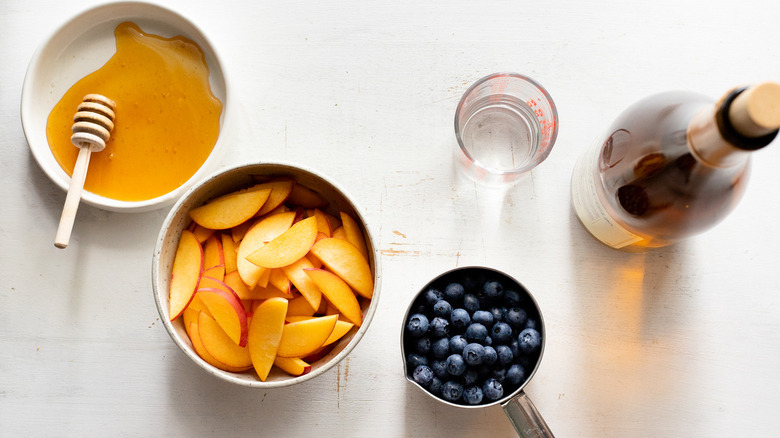 Sher Castellano/Mashed
For starters, you'll need a bottle of white wine to make this sangria, and Castellano likes to use a semi-sweet kind. However, she notes that "you can use any kind of white wine," and that "the sweeter the wine, the sweeter the batch." It's up to personal preference, but there will be other sweet elements in here, so keep that in mind when selecting your bottle.
Aside from the wine, you'll also need peach schnapps, honey, sliced peaches, blueberries, and optionally some fresh mint or lemon thyme sprigs, for garnish. 
Pour the bottle of wine into a pitcher and loosen up the honey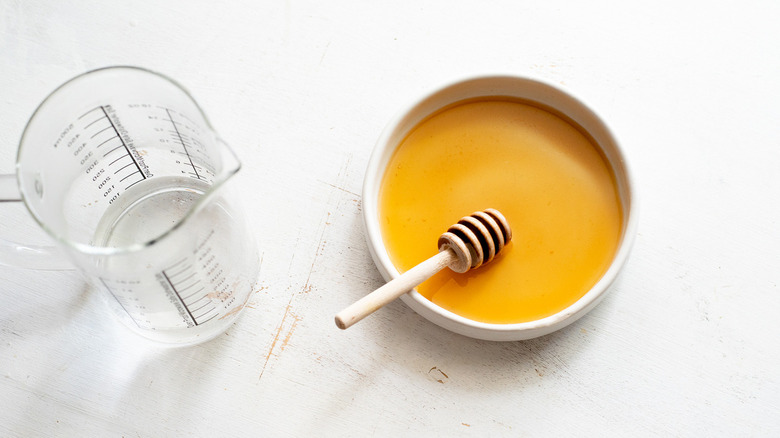 Sher Castellano/Mashed
Grab whatever pitcher or vessel you'll use to hold the sangria, and pour in the whole bottle of white wine. Next, add a couple of splashes of hot water to the honey and stir, just enough to loosen it up. "Most sangrias use a simple syrup recipe to sweeten. This peach sangria recipe uses honey," Castellano says. She goes more in-depth about her special method of loosening up the honey: "If you add room temperature honey into cold liquids it is difficult to dissolve," she explains. "But adding hot water loosens the honey and that makes it easy to dissolve and stir in."
Add the rest of the sangria ingredients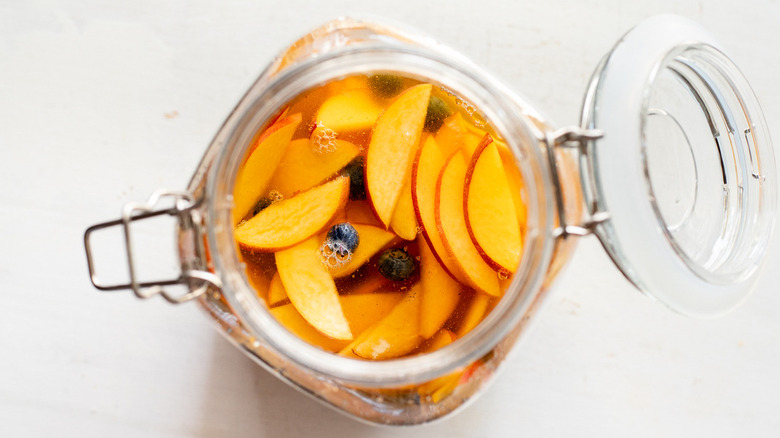 Sher Castellano/Mashed
With the honey loosened up, go ahead and pour it into the pitcher with the wine. Follow that up with the peach schnapps, peach slices, and blueberries. Stir it all together, then allow the sangria to chill to your desired temperature. 
Enjoy your sweet white sangria with a fresh herb garnish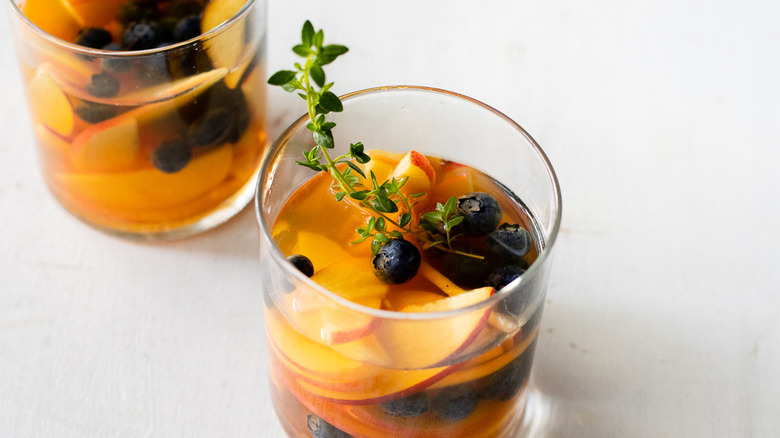 Sher Castellano/Mashed
Once the sangria has had a chance to chill, you can serve it in individual glasses. You can garnish the drink with either a fresh sprig of mint or lemon thyme, and while this is optional, it really helps hammer down that fresh, summery feeling.
Castellano describes this sangria as "the perfect sipping cocktail before a meal, with a meal or after a meal," and she also offers up some servings suggestions. "This goes great with any produce-inspired summer meals," she says. "Think farmers market recipes! Refreshing gazpacho, simple pasta with fresh herbs, or party foods like pasta salad." When you hit up your farmer's market this weekend, consider grabbing the ingredients for this sweet white sangria — you won't regret it!
Sweet White Sangria Recipe
If you need a refreshing beverage to impress your friends, try this sweet white sangria recipe that is perfect to make during the summer with fresh peaches.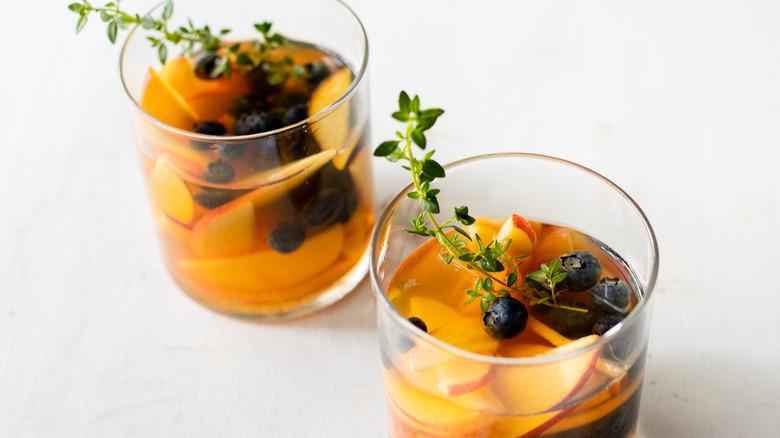 Ingredients
1 bottle semi-sweet white wine
2 tablespoons honey
¼ cup peach schnapps
2 cups peaches, sliced
1 cup blueberries
Optional Ingredients
fresh mint or lemon thyme sprig, for garnish
Directions
Pour the bottle of wine into a large pitcher or container.
Pour a few splashes of hot water into the honey and stir to dissolve.
Add the loosened honey, peach schnapps, peaches, and blueberries to the wine.
Stir, chill, and serve the sangria.
Nutrition
| | |
| --- | --- |
| Calories per Serving | 240 |
| Total Fat | 0.3 g |
| Saturated Fat | 0.0 g |
| Trans Fat | 0.0 |
| Cholesterol | 0.0 mg |
| | |
| --- | --- |
| Total Carbohydrates | 27.1 g |
| Dietary Fiber | 2.2 g |
| Total Sugars | 21.4 g |
| Sodium | 10.1 mg |
| Protein | 1.2 g |