Amazing Ways To Use Leftover Mashed Potatoes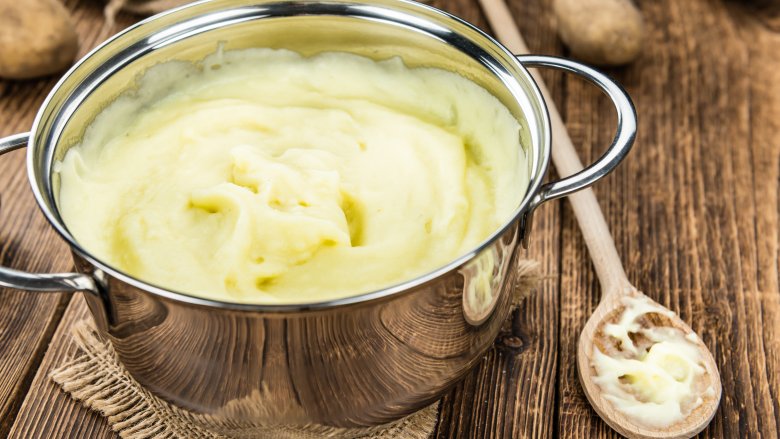 Shutterstock
Mashed potatoes are a side everyone loves, but it can be tough to judge just how much you're going to need to make. They're always more filling than you think they're going to be, and that always means leftovers. You might reheat them the next day (and be disappointed), you might even just toss them. We're going to give you a whole list of reasons to not just save them, but to make sure you have a ton of leftovers every time you make them.
A totally different kind of lasagna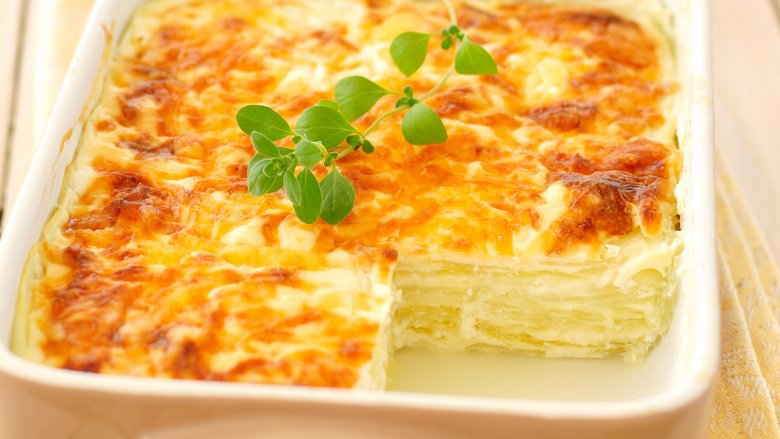 Shutterstock
Lasagna probably makes you think of tomatoes, meat, and a ton of cheese, but that's not the flavor profile we're talking about at all. For a hearty, filling meal that's big on cold-weather comfort, take those cooked lasagna noodles and make layers using leftover mashed potatoes, shredded cheddar cheese, and whatever finishing touches you'd like. Some ideas we love are adding a layer of crunchy bacon (or sprinkling some on the top), crispy fried or caramelized onions, or finely diced jalapenos. Serve it with a drizzle of your favorite flavored butter or a big dollop of sour cream.
Mashed potato bake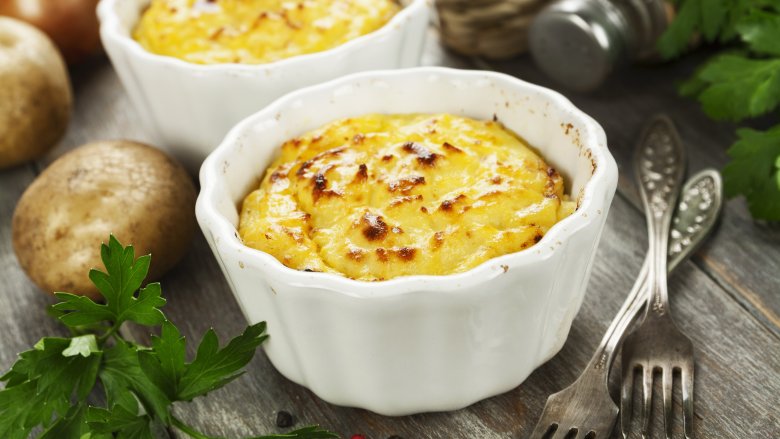 Shutterstock
You can never have too many family favorites that check all the boxes when it comes to delicious, easy, and versatile, so here's another one. Use your leftover mashed potatoes to stir up a tasty potato bake that's hearty enough to be a meal by itself and flexible enough to be a great side. Stir up your potatoes with whatever you want — we suggest adding cheese, bacon, diced ham, onions, or anything else you have in the fridge that needs to be used up. Put it all into a casserole dish, and top with whatever you have handy. Use some potato chips or crispy onions for an added crunch, or add more bacon (because everything's better with bacon), and another layer of cheese. Slide it in the oven for around half an hour (or until it's heated through), and you've successfully used up your leftovers!
Deep fried mashed potato balls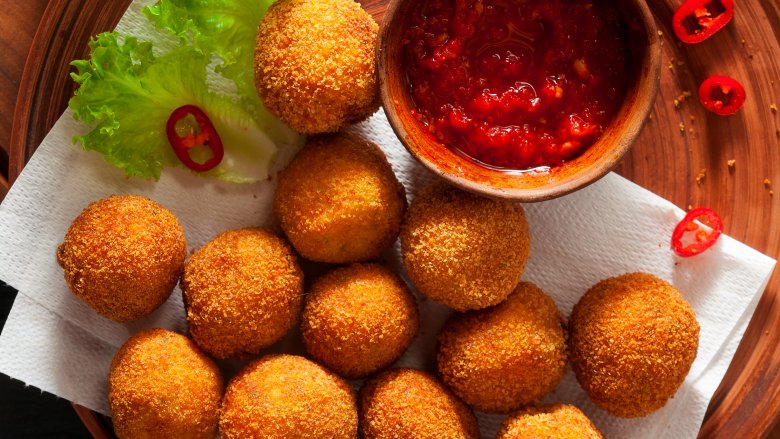 Shutterstock
We had you at deep fried, right? This one's great for those nights when you want something fun and different to snack on, and they're easier to make than you think. Just mix some mashed potatoes with your favorite ingredients — we suggest some bacon or bacon bits, and some cheddar or mozzarella cheese chunks — then shape them into bite-sized balls. Coat them with a bit of beaten egg, roll them in Panko bread crumbs, and deep-fry them for just a few minutes. That's it! Let them cool and snack on them as you're watching your favorite television show... if they make it to the couch.
Potato pancakes and fritters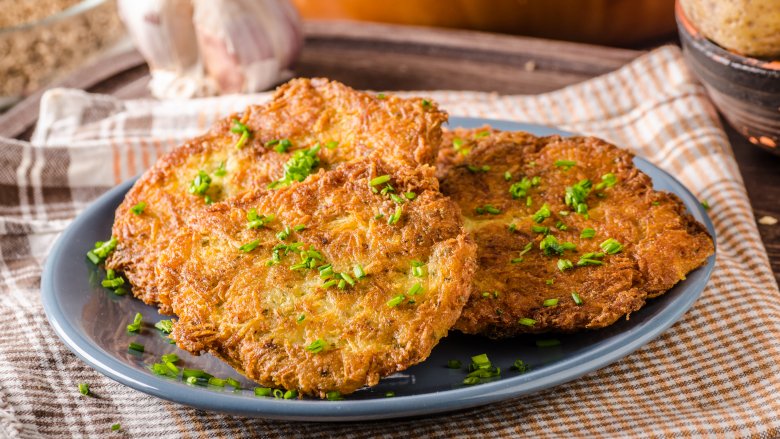 Shutterstock
Potato pancakes are great as a dinner side or a breakfast item,  and they're equally perfect whether you're serving them with a perfectly cooked steak or with a fried egg on top. It's another versatile way to use up mashed potatoes, and all you really need is oil to fry them in — because you have to fry them to get that crispy, crunchy coating that makes them so good!
What you put in them is entirely up to you, and it's the perfect opportunity to use up some more leftovers. How about corn, peas or other vegetables? Add some diced ham, cheese, chives, or black beans, and while you can definitely serve them on their own, you could also top them with that fried egg, some baked beans, or leftover curry. They're great for creating whatever flavor profile you like with whatever you happen to have on hand, and we can all appreciate that.
Puffy mashed potato muffins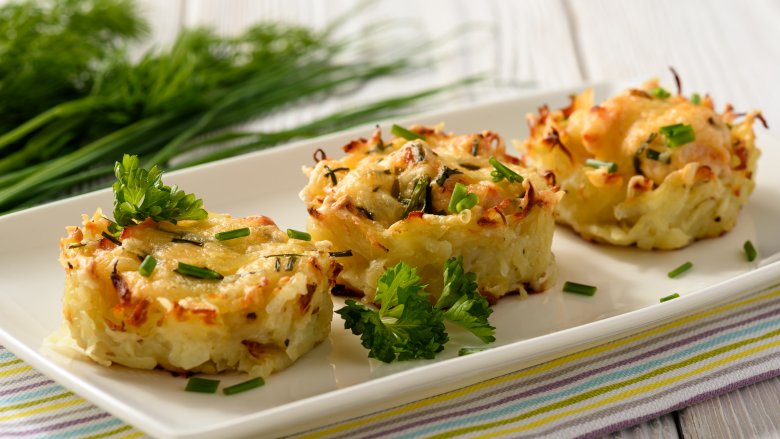 Shutterstock
Some meals just aren't complete without a dinner roll, but you can give that bread a miss and use up your leftover mashed potatoes instead. Dig out your muffin tin, then mix up your potato muffin "batter." Use two or three eggs for around two cups of mashed potatoes, and as for the rest, there's no right or wrong way to do this (which we love). You can add things like your standard cheese, bacon, shredded chicken, and ham, but if you happen to have some stuffing leftover, too, what about using that as a yummy center? Add some of those fresh herbs you might have growing in the kitchen, and mix until you have a firm batter that will hold shape in those muffin tins. Pop them in the oven until they've baked up into muffins, then serve with butter, sour cream, or a drizzle of leftover cranberry sauce.
Potato waffles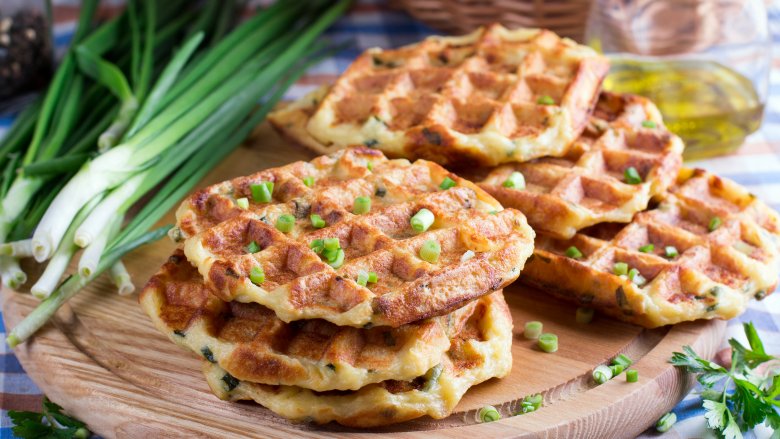 Shutterstock
If you have a waffle maker you can't live without, you probably have your favorite recipes. Add one with mashed potatoes to your list, because once you try these golden, crispy, rustic-looking waffles, you may never look back.
Use those leftover potatoes just like you would a traditional batter, and you can definitely mix in some cheese before you pop them in the waffle maker. There's no limit to the options you have for toppings, either, and while you can definitely use up some other leftovers like shredded turkey and gravy, you could also whip up a batch of your favorite spicy sausage gravy and use that, or top with hollandaise sauce and a poached egg for a fun version of eggs Benedict.
Irish potato farls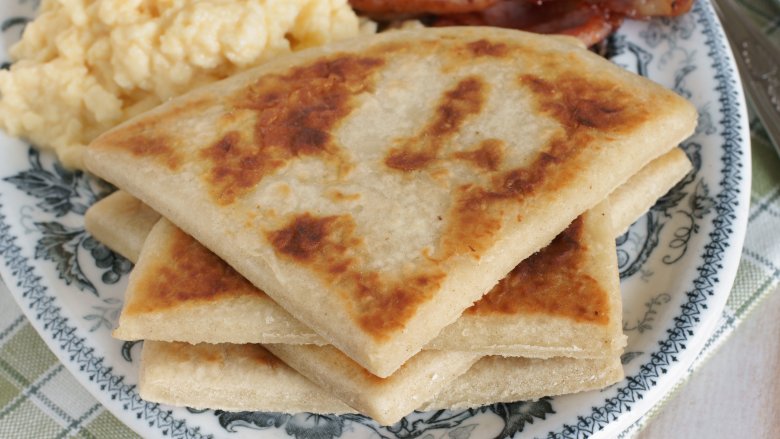 Shutterstock
If you've never heard of potato farls, you're missing out on a traditional Irish dish that's perfect for serving alongside any hearty breakfast. Just mix your mashed potatoes up with flour, melted butter, and salt and pepper to taste. You can estimate amounts, until you end up with a firm, almost dough-like ball that will hold shape when you roll it out into a circle only about a quarter of an inch thick and to a diameter that will comfortably fit in your frying pan. Cut it into four sections (to make handling it easier), then fry it up for a few minutes on each side. That's it! Serve it as a breakfast side, and it's the perfect vehicle for mopping up the last bits of country gravy, runny eggs, or traditional baked beans.  
Potato soup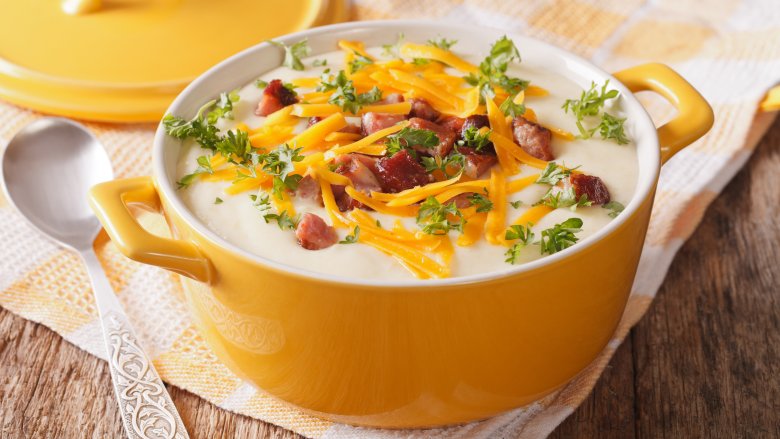 Shutterstock
Is there anything better than a hot, hearty pot of soup on the stove? Use those mashed potatoes for some delicious, warm-you-from-the-inside soup, and we wouldn't be telling you about it unless it was super-easy. You can make this one to be as thick or as thin as you want, just by adjusting the amount of potatoes, half and half, and chicken stock you stir into your soup pot. Season to taste, and if you have an old family favorite potato soup recipe, you can definitely use that and just swap out your normal potatoes for some of those mashed potato leftovers. It doesn't matter if you're adding leeks, cheese, onions, celery, or your own secret ingredient, adding those mashed potatoes is going to make for the perfect texture.
Shepherd's or cottage pie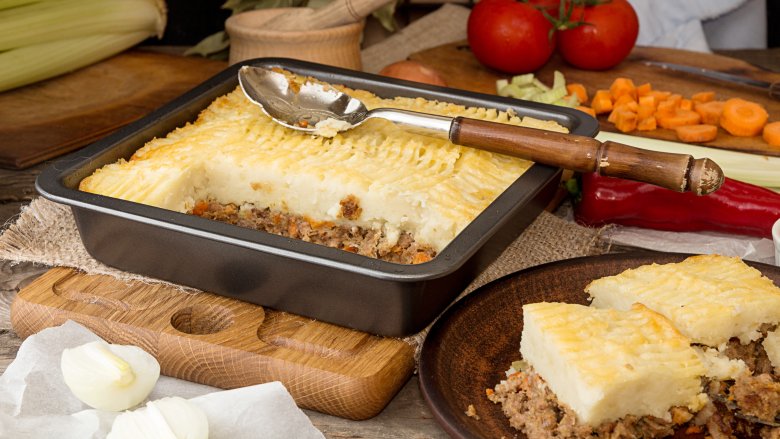 Shutterstock
If there's any cuisine that knows how to do hearty and comforting, it's the British and Irish. While shepherd's pie is traditionally made with lamb and cottage pie is made with beef, you can also use up some of your leftover turkey and then — no matter which protein you use — top the whole thing with some of those leftover mashed potatoes. Those potatoes are what will make the dish super filling, and since you're cooking them on top of a lovely mixture of gravy, vegetables, and your protein of choice, those potatoes will taste so much better than if you just reheated them on their own. You can even sprinkle some cheese on top, and there's nothing better than this on a chilly evening.
Mashed potato pizza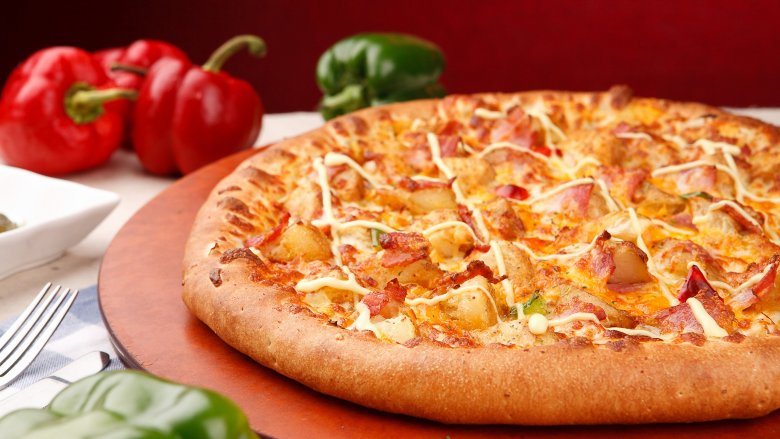 Shutterstock
For pizza? Yes! No matter how skeptical you are right now, give it a try and we'll guarantee you'll never doubt again. Take your favorite pizza crust, (whether it's your own homemade crust or a slice of naan bread), and add some milk to your leftover mashed potatoes to make them a little creamy (and saucy), then spread the potatoes in a thin layer over the crust. Get creative with your toppings, and just make sure you're adding things that will bring a little moisture to the dish. Go for anything you'd put on a baked potato or a traditional pizza, and you can't go wrong — especially when you're adding pepperoni, sausage, chorizo, or any other meat will drip down through those lovely potatoes. Bake, then serve it up with a side of ranch dressing or sour cream for dipping, and pizza night will never be the same.
Colcannon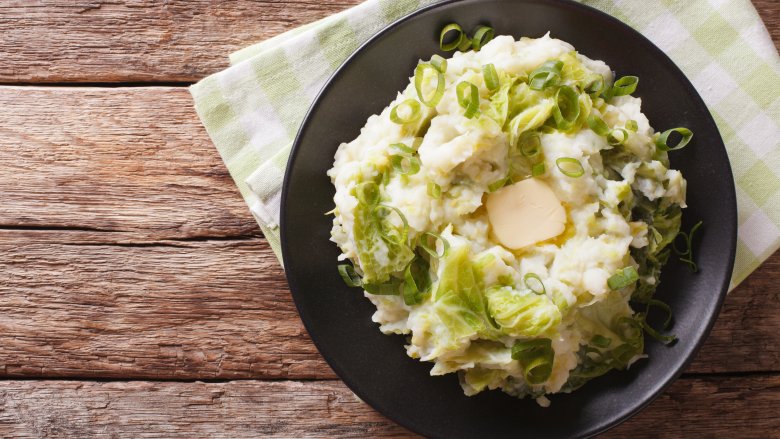 Shutterstock
You might be asking what colcannon is, and the answer is a simple Irish dish that completely transforms mashed potatoes. This traditional dish is the sort of easy we love, the kind that means you're basically just combining things in a pot and letting the magic happen as it cooks. Start by dicing up some cabbage, a few leeks, a couple of green onions, and some parsley, then cook for a bit until everything is slightly soft. Start adding your mashed potatoes and a healthy dollop of butter, and make sure everything's stirred completely. You should end up with a dish that's essentially the same consistency as the mashed potatoes were the first time you cooked them. It's the perfect way to add some more vegetables to your meal — and no one will even complain about the cabbage.
Crust for a quiche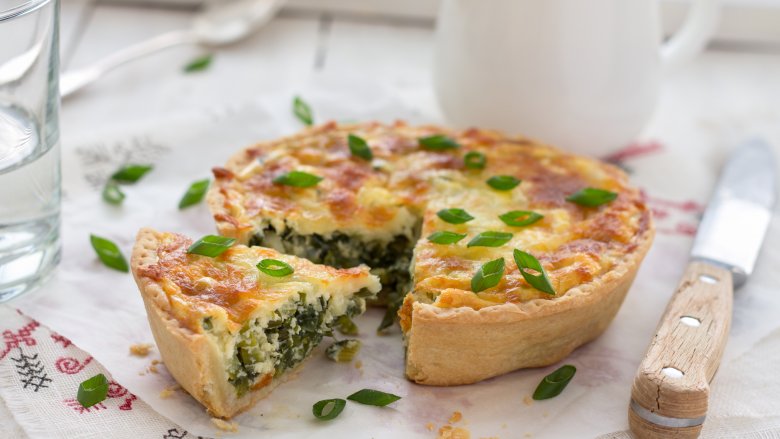 Shutterstock
Who doesn't love a tasty, eggy, veggie-filled quiche? It doesn't matter what kind of veggies you put in your quiche or what your favorite recipe calls for, you can use those leftover mashed potatoes as a substitute for your normal quiche crust. Just scoop some into your pie plate or tin, then press them into the bottom to form your crust. Pop it into the oven to bake it while you're mixing up your ingredients for the center of your quiche, and by the time you're ready to pour in your mixture the potatoes will have set up into a crust. No waste!
Tater tots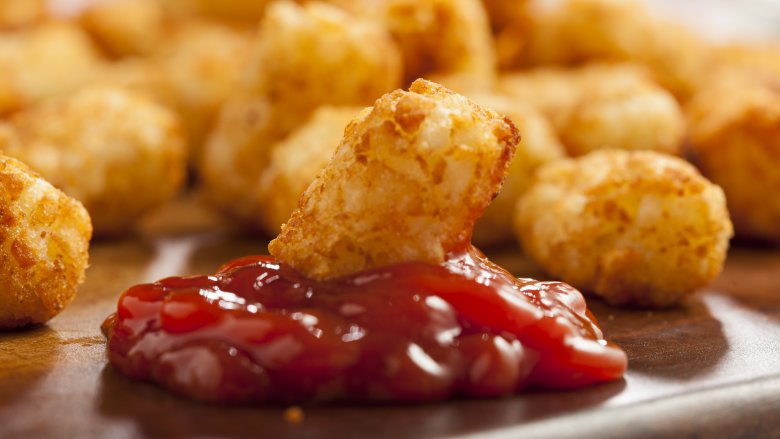 Shutterstock
Even if you're the type that swears by your own hand-cut French fries and homemade BBQ sauce, there are some days you just want some tater tots. They're the stuff of childhood memories, and you can use those leftover mashed potatoes to make some amazing tots. Just portion your mashed potatoes out into tot-sized pieces, then roll them up in parchment paper to get that distinctive shape. Fry them up, and you have some awesome tots just right for smothering in your favorite ketchup.
Totally strange (and delicious) candy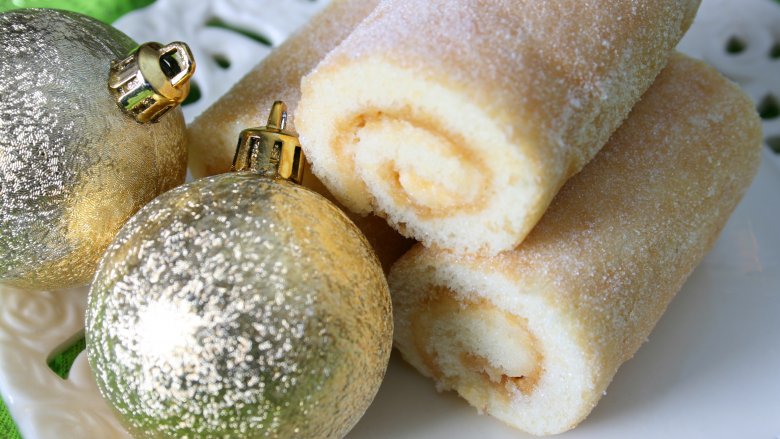 Shutterstock
Potatoes for candy? Yes! All you have to do is mix powdered sugar with the mashed potatoes, and that combination of sugar and starch makes this one work. Mix just those two ingredients together until you have something that's the texture of very, very thick cookie dough. It's going to take a lot of sugar — the ratio should be around 8:1 sugar to potato, but it's not exact. Roll out your candy dough on a piece of waxed paper, top with a layer of peanut butter, and roll it up like a Swiss roll. Wrap it super-tight in the wax paper, pop it in the fridge, and wait. Half an hour later you'll have a surprisingly sweet treat no one was expecting to come from leftover mashed potatoes!
Freeze them for super-easy side dishes later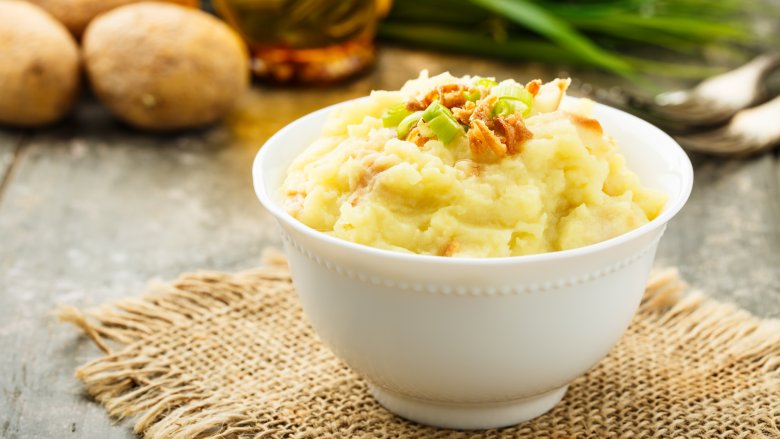 Shutterstock
We're huge fans of shortcuts, and we know you are, too. Life is a busy place, after all, and why would you not want to make things easier? You can absolutely do that by freezing some of those leftover mashed potatoes into single-serving side portions that will make part of your future meal prep a breeze. Just portion them out onto a baking sheet lined with parchment paper, then slide them into your freezer. Let them sit for a few hours, and you'll be able to take the baking sheet out, pull off your potato mounds, and seal them up in freezer bags. You can reheat them in the oven when you're ready for them, and you'll have perfect, ready-to-go sides with minimal effort. Win!