Costco Shoppers Are Divided On Its Returning S'mores Snack Mix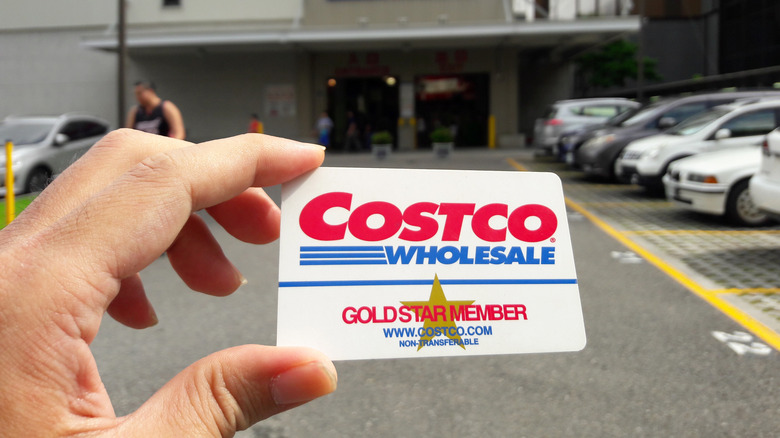 Andy.LIU/Shutterstock
If there is one treat that can rival ice cream for the title of best summer dessert, it's s'mores. Per Insider, the first ever how-to guide for making s'mores was written inside of a 1927 Girl's Scout Guide Book. And now, 95 years later, the chocolate and marshmallow graham cracker sandwich has become an American campfire staple. However, the U.S. loves the taste of s'mores so much that snacks inspired by the iconic camping treat have started popping up outside of the woods, and with various additions to the classic.
For example, Pop-Tarts offers a delightfully s'mores-influenced breakfast flavor and in the past, Starbucks released a seasonal S'mores Frappuccino. And Costco fans may remember that last year the grocery chain briefly stocked its shelves with a dangerously delicious sounding s'mores snack mix. Made of small pieces of graham crackers and marshmallows doused in chocolate, Fannie May S'mores Snack Mix was a hit with Costco members when it appeared in 2021. So it seems only natural that the grocery chain would plan to have the seemingly beloved snack return to its shelves. The Fannie May S'mores Snack Mix has reappeared for the 2022 summer season and some customers can't contain their excitement, but not every Costco shopper is leaving a rave review.
Some Costco shoppers say their s'mores snacks were stale
Instagrammer @costcobuys revealed in a post that Costco has decided to send off summer with a bang by bringing Fannie May S'mores Snack Mix back to its shelves. But Costco members in the comments show mixed reactions to the s'mores-inspired treat making its reappearance.
There is a large group of shoppers who are over the moon that they could once again munch on the summertime snack. One user wrote, "Shoot. These are SO SO good," and another posted "They're back!" However, a number of Costco members seem less than impressed with the S'mores Snack Mix becoming available again. The reason? Some users feel that the chocolate covering the graham cracker and marshmallow pieces in the snack mix did not taste fresh. One user stated, "I love this stuff but the last package i bought last year, when i opened it, it tasted old. Everything was chewy and didnt taste nice and soft and fresh as usual. I threw it away." 
According to @costcobuys, the newly returned snack is currently available for around $11. But if you decide to try the treat for yourself and find you don't like it, you can always make a summertime dessert of your own by trying our gourmet s'mores bar recipe.