Miller Lite's New Merch Will Delight Trendy Beer Lovers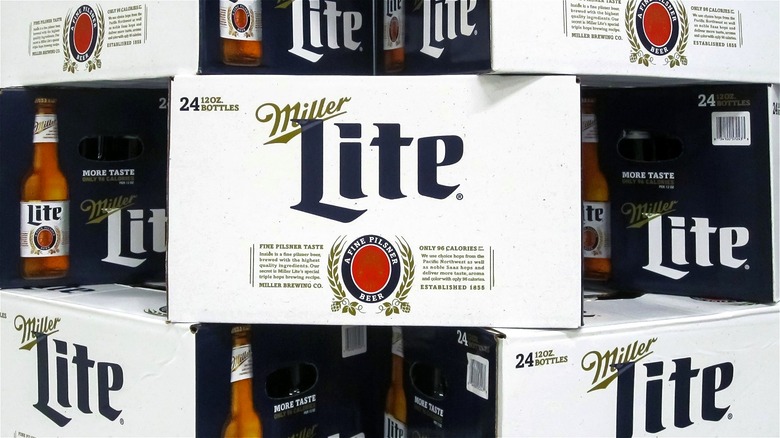 The Toidi/Shutterstock
With less than two months of summer to go, if you haven't already had one or two epic cookouts with family or friends, now is the time. In addition to your simple summer cocktail menu, you may want to grab a light beer to give your future guests some options.
While it may be a struggle to decide between Miller Lite and Bud Light, there's a lot more behind Miller Lite than meets the eye. Even though craft beer has grown in popularity in the U.S. over the last decade, not only has Miller Lite surpassed Budweiser for the third most popular beer title in 2018, but Miller Lite's sales have actually increased in the last year with business only expected to grow from here on out (via CNBC). So what's Molson Coor's secret to selling the old classic as American culture changes and diversifies?
According to CNBC, the brand is looking at expanding its efforts in the Latin American community. The company has partnered with Colombian musician J Balvin and launched a 2021 campaign titled "Es Jose Time" after the brand's classic "Its Miller Time" motto to promote individuality while hanging with friends (per BREWBOUND). Not only is J Balvin on a global mission to spread the love for his culture (via The New York Times) but Miller Lite is along for the ride with the popular beer's new colorful merchandise paying homage to the bodega: a significant icons in New York Hispanic culture, per El Transatlántico.
Miller Lite announced BodegaWear with J Balvin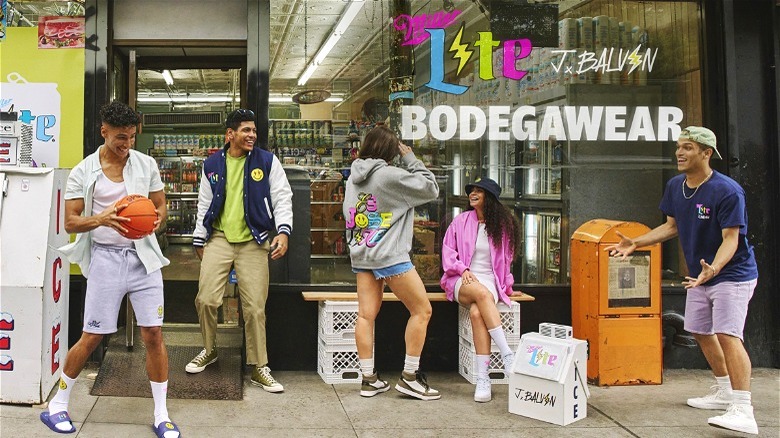 Miller Lite
Yesterday, Miller Lite released a special clothing line in partnership with J Balvin celebrating the authenticity and vibrance of the classic neighborhood bodega. BodegaWear includes 10 unique pieces designed by Balvin ranging in price from $19 to$349, one of which includes a reversible bucket hat that doubles as a bucket cooler to keep your next round of Miller Lite nice and cool. According to a press release, Miller Lite confirmed that the merchandise line was created in tribute to the neighborhood markets that build connections between people which makes sense due to the bodega's symbolism reaching more platforms than ever before (via Center for New York City Affairs).
This new line of merch also isn't the first popular item released by the duo. Not only did Balvin and Miller Lite pay for people's New Year's refreshments last year, but they also released a special line of exclusive pints with Balvin's classic lightning bolt symbol and neon colors in March of this year. The purpose behind these collaborations, according to Sofia Colucci, Vice President of Miller Family of Brands, "is to celebrate authenticity and inspire others to celebrate themselves" (per License Global).
Not only do these products have a good mission, but all of the proceeds from the BodegaWear line are being donated to Accion Opportunity Fund, a nonprofit organization that helps community members build up their businesses with proper financial support.