If You've Ever Wanted To Work For Duff Goldman, Now's Your Chance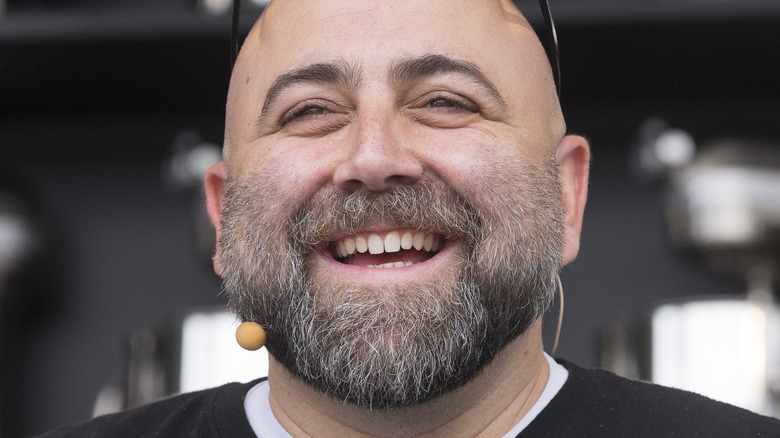 Sterling Munksgard/Shutterstock
If you watched celebrity baker Duff Goldman interact with his creative team on Food Network's "Ace of Cakes," you may have found yourself longing not just for an intricate cake whose fondant was molded into the shape of your face, but also for a place in the fun, lively work environment Goldman fostered on the show. From Goldman's right-hand-man Geoffrey Manthorne — who now works as a Cake Master at Charm City Cakes' West Hollywood outpost, per Food Network – to the other cast members who have since moved on to other ventures, the team at Charm City probably looks like the stuff of dreams to any professional baker. 
It sounds like a perfect job for someone who wants to apply their artful decorating skills while also getting to work with a lauded pastry chef who occasionally moonlights as a punk-rock bassist, as proven by Duff Goldman's appearance on the "Masked Singer." Lucky for pastry pros looking for a new gig, the famous baker just posted that an opportunity to work with Goldman in his Baltimore shop just opened up.
Charm City Cakes is hiring in Baltimore
Duff Goldman shared a post on Instagram this week with some very exciting news: The Baltimore flagship of his cake shop, Charm City Cakes, is hiring a "kitchen assistant/cake icer" to join its part-time staff. Many commenters said they wished they were right for the job, but admitted to only being interested in "cake taster" positions. 
More details can be found on Charm City Cakes' Job Opportunities board, which reads, "We are looking for someone who can ice cakes: cut and level, stacking layers, filling layers, crumb coating, and applying the final finishing coat." The description adds that "formal culinary knowledge" is not a requirement, but that candidates must have "a precise eye, a steady hand, open to learning, and able to take constructive criticism." 
The position will also include helping with the "production of baked goods" and keeping the kitchen and its various tools and equipment in tip-top shape. If you think you'd be a good fit, email jobs@charmcitycakes.com with a resume, as well as a note that explains why you're the best person for the job plus your availability and "any pictures of buttercream cakes you have iced."