Did Reddit Just Leak The End Of A Fan-Favorite Starbucks Treat?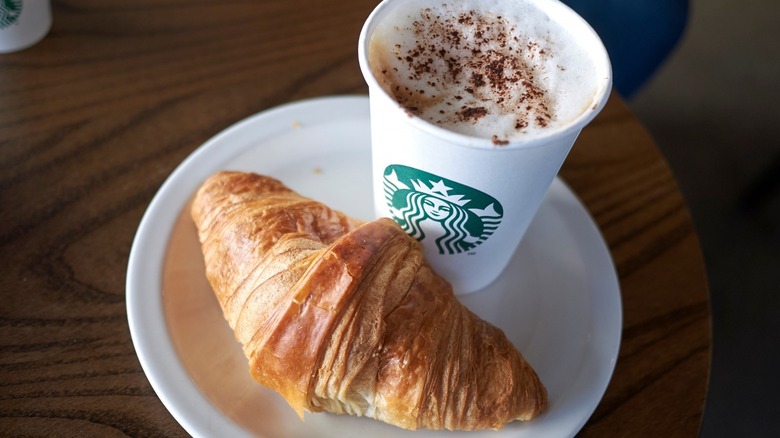 simona flamigni/Shutterstock
Is it the end of an era? Starbucks may have a good breakfast menu, including its iced lemon loaf and petite vanilla bean scone, but there's one fan-favorite bakery item that has some who frequent Starbucks concerned. Redditor u/Old_Specific_1233, who claims to be a barista at the coffee joint, posted a four-frame cartoon to the r/starbucks forum that features the grim reaper taking away an almond croissant. The croissant asks if "it was a good pastry," to which the grim reaper responds, "No. I'm told you were the best."
The almond croissant may indeed be the best breakfast pastry available at Starbucks if the internet has anything to say about it. Starbucks' website describes the 420-calorie croissant as "rich, almond flan enveloped in a flaky, buttery croissant, then topped with sliced almonds," a treat that has become undeniably popular as is evident from the existence of multiple copycat recipes circulating on the internet (via Top Secret Recipes and The Little Epicurean). When the almond croissant was temporarily discontinued about five years ago, a petition circulated on Change.org to bring it back.
Redditors mourn the almond croissant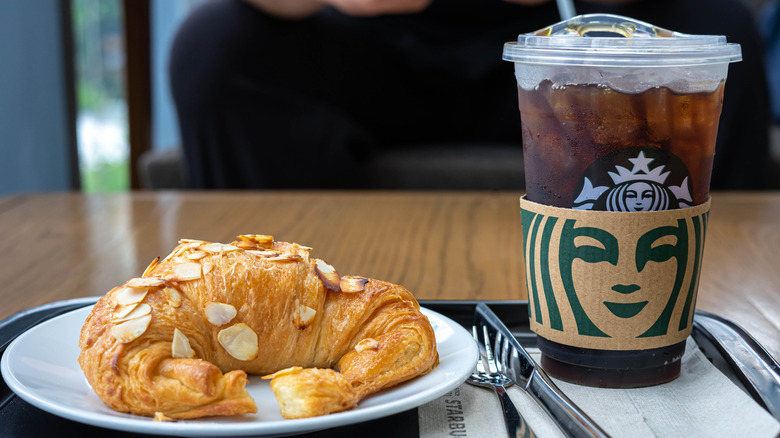 Phubes Juwattana/Shutterstock
Back over on Reddit, Starbucks employees and customers alike took to the comments of the cartoon to mourn the potential loss of the almond croissant. "Why do they get rid of all the good tasting items" wrote u/j4xx_i, while u/PrecipitationStation chimed in "This is how I have to find out? A reddit meme? Nooooooo." Others suggested Starbucks should instead get rid of a less popular item, such as doughnuts, which baristas in the forum claim rarely sell, while u/Geschinta says their store sells about 20 croissants a day.
Another recent Reddit forum also discussed the possible extinction of the almond croissant with a post parodying the five stages of grief as applied to the loss of the pastry. "I JUST FOUND OUT THAT THESE ARE MY FAVORITE PASTRY AND NOW IT'S GONE. heartbroken" commented u/barista-baby while u/sleepyhoagie shared "WAIT WHAT TELL ME THIS ISN'T TRUE?" followed by a crying emoji. u/Throughmyfatherseyes responded with "I know. I just had to break the news to my mom. So sad." Mashed was unable to find any confirming information from Starbucks that the almond croissant has indeed been eliminated from the menu.