Twitter Is Freaking Out About A Spicy Item Returning To Jack In The Box
We all have our favorite items at fast food restaurants that we'd be upset to see go. Whether it's a temporary promotional gimmick or a longtime staple that just wasn't as favored by other customers as it was by you, we often kick up a fuss when something we love to eat is scrapped from menus.
Jack in the Box, for example, is no stranger to introducing new menu items — and then taking them away if they don't perform well. Take the Monster Taco, which was an oversized handheld creation filled with ground meat, cheese, and salad. According to Fandom, it was discontinued in 2009 and brought back several times, with the most recent appearance being a limited-time Halloween promo in 2021 that prompted Twitter user @djmancillas to call the Monster Tacos "fire." Now, Jack in the Box is bringing back another fan favorite that's bound to spice up customers' days.
It's a spice craze at Jack in the Box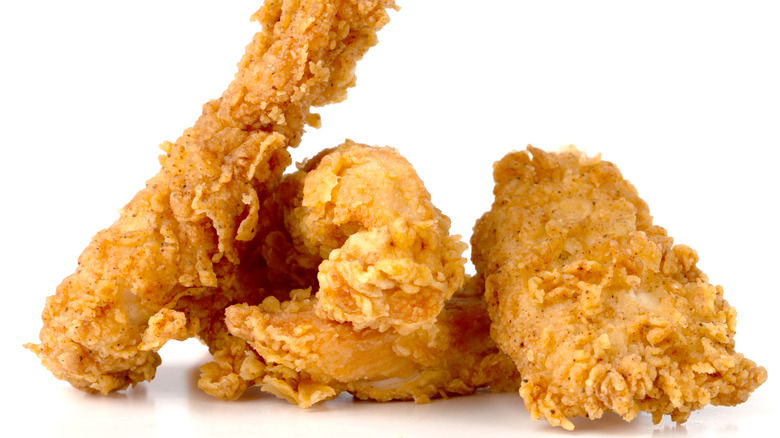 Sergey Eremin/Shutterstock
Brand Eating reports that Jack in the Box's spicy chicken strips will be back for a limited time, and people on Twitter could not be more excited. User @nomoralcompass expressed relief that the menu item has returned "after three f***ing years," and @HehakaSapaFan basically shouted, "JACK IN THE BOX HAS THEIR SPICY CHICKEN STRIPS BACK THIS IS NOT A DRILL THIS IS NOT A DRILL."
This elusive menu item has been just as fickle as an actual Jack in the box, as you never know when it's going to pop up. In April of 2019, Bustle reported that the new entree of crispy battered chicken strips with a hint of spice would be available for a limited time of two months. In August of 2020, Foodsided announced that spicy chicken strips would be permanently returning. Yet, it's obvious from recent news and the Twittersphere that this return never happened.
These days, Jack in the Box customers can order either a two-piece or three-piece Spicy Chicken Strips Snack Box, which comes with fries and Spicy Good Good dipping sauce, or the eight-piece Spicy Chicken Strips Big Box with a trio of dipping sauces. The spicy chicken entree is accompanied by two other Jack in the Box "fan favorites:" French Toast Strips and "former employee" Mark Hamill, according to the chain's new ad.