Plain And Simple Cauliflower Recipe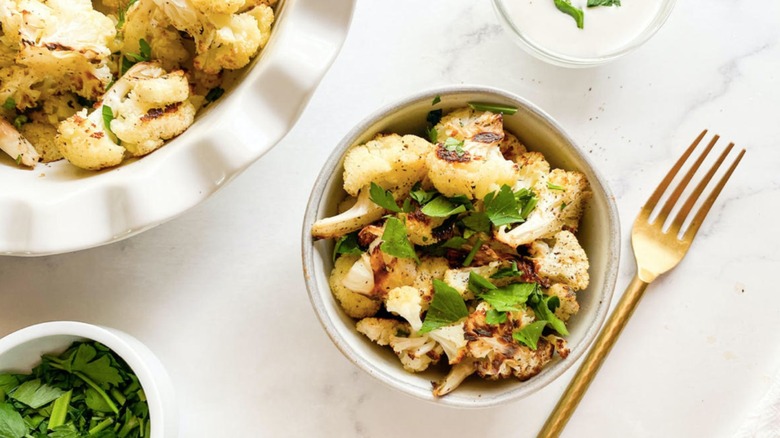 Miriam Hahn/Mashed
As much as we love cooking, sometimes it's nice to keep things simple and easy in the kitchen — after all, you don't need to make a souffle every time you put on your apron. Sometimes you want a recipe for a simple side dish that's as easy to make as it is tasty to eat. This recipe for plain and simple cauliflower is just that. However, let us be clear: Just because something is easy to make doesn't mean it's less delicious. Trust us — this simple side will hit the spot!
Recipe developer and health coach, Miriam Hahn, brings us this recipe for baked cauliflower that is truly delightful. Hahn says "this cauliflower is so delicious and it goes with so many things. It is a great side dish for any main entree including meat, fish, chicken or pasta." Specifically, she suggests pairing it with Instant Pot pumpkin pasta. Hahn also notes "this cauliflower is so simple but super delicious and will make your entire house smell good when it is cooking."
Gather your ingredients for this plain and simple cauliflower recipe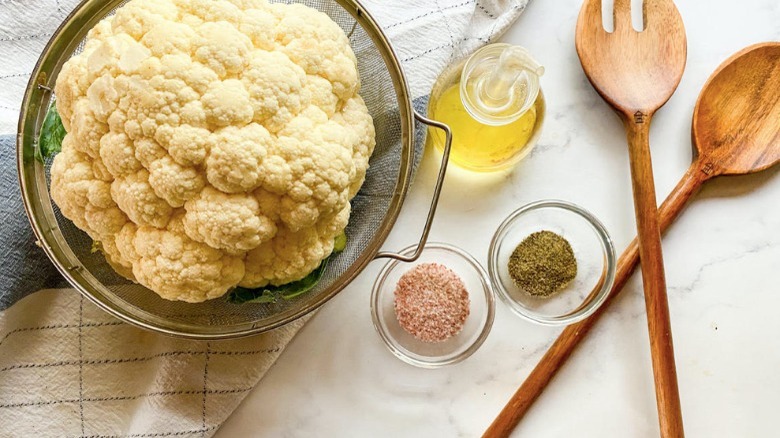 Miriam Hahn/Mashed
To make this plain and simple cauliflower, you can start by gathering your ingredients. For this recipe, you only need four items: cauliflower, avocado oil, salt, and pepper. Hahn adds "you can get super creative with spices if you want to mix it up. I like doing a blend of chili powder and cumin. Another good combo is oregano and thyme. Or even a good Cajun seasoning blend is great with it."
Cut the cauliflower into florets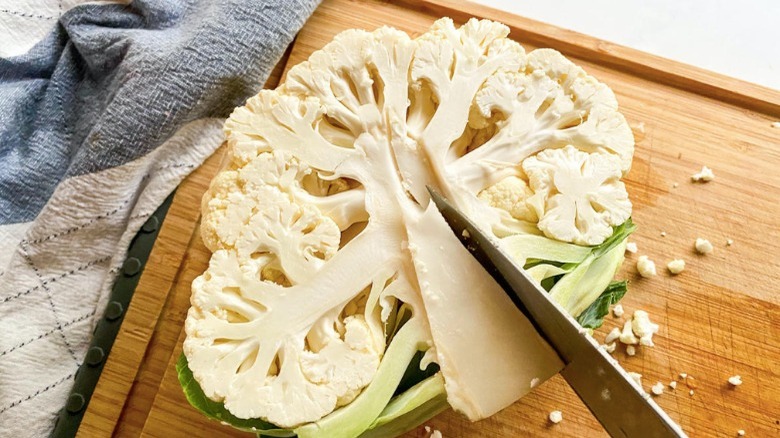 Miriam Hahn/Mashed
Go ahead and preheat your oven to 425 F, then start by cutting your cauliflower into florets. Hahn knows just how messy this can be. She says "to cut down on white crumbles everywhere, I like to cut it in half first, starting with the stem side. Then you are left with two clean halves. You can pull off the leaves and discard, then cut a triangle shape around the core in each half to easily remove [it]." This hack definitely results in less mess.
Season the cauliflower florets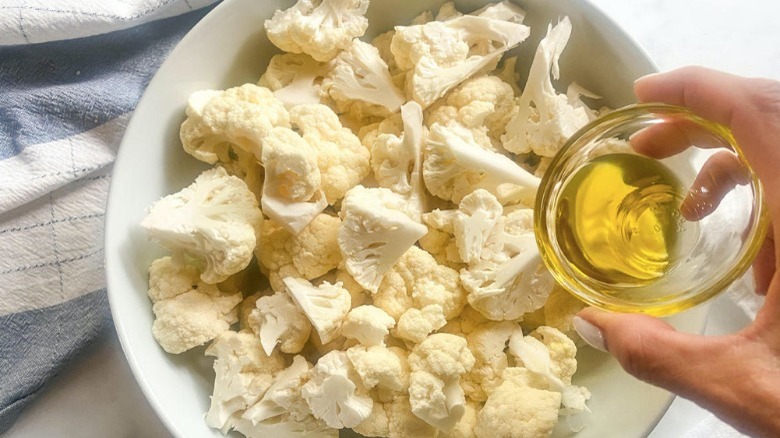 Miriam Hahn/Mashed
Next, add the cauliflower florets to a large bowl. Pour the avocado oil, salt, and pepper over the top of the cauliflower. Stir the mixture to ensure the cauliflower is coated with the seasonings. Then, pour the florets out onto a parchment paper-lined baking sheet, spreading them evenly across the pan.
Bake until crispy and golden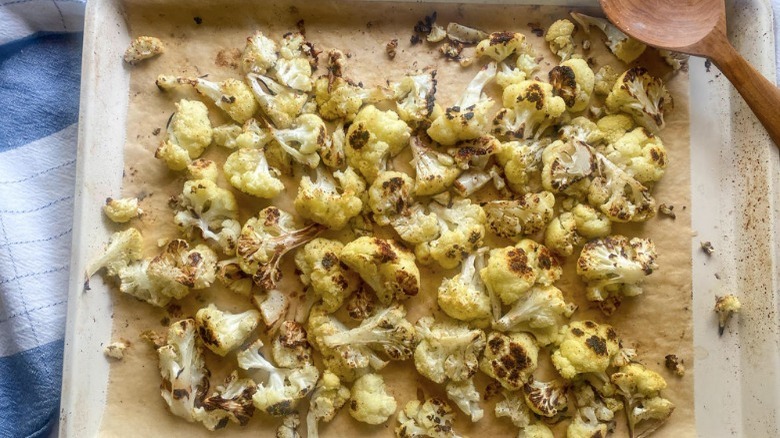 Miriam Hahn/Mashed
Once the oven is hot, place the baking sheet inside. Bake the cauliflower for 20 minutes, remove the baking sheet from the oven, toss the cauliflower, and return the baking sheet to the oven. Continue to bake for 15 more minutes, until the florets begin to brown. Remove the side dish from the oven, and if desired, top with fresh chopped parsley before serving. 
If you have any leftovers, be sure to reheat them in the air fryer or the oven. Hahn notes "the cauliflower will soften when it is in the fridge. My first choice for reheating would be the air fryer, second choice would be the oven. I don't like using the microwave for this."
Plain And Simple Cauliflower Recipe
Don't underestimate the power of a simple side dish. This easy baked cauliflower recipe is delicious and pairs well with practically any main dish.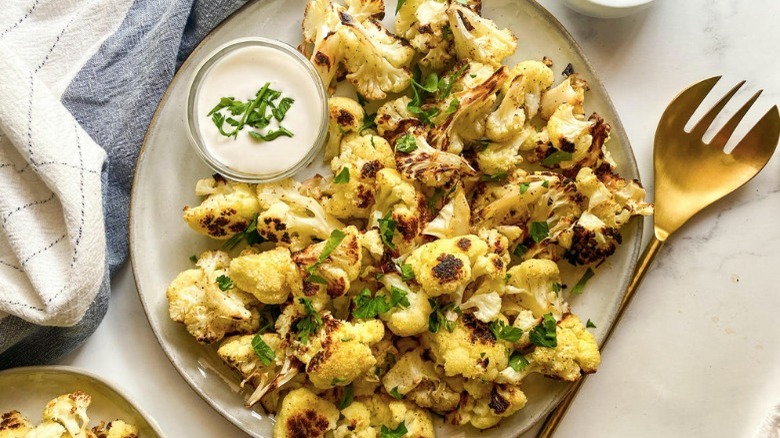 Ingredients
1 head cauliflower
3 tablespoons avocado oil
½ teaspoon salt
¼ teaspoon pepper
Optional Ingredients
Directions
Preheat the oven to 425 F.
Cut the cauliflower into medium-sized florets.
Put the cauliflower in a large bowl. Add the avocado oil, salt, and pepper. Toss to coat the florets evenly in the seasonings.
Lie the cauliflower on a baking sheet lined with parchment paper — try to make a single, even layer.
Bake for 20 minutes, stir, then bake for 15 more minutes, or until the florets start to brown. If your florets are smaller, it will take less time.
Top with chopped parsley, if desired, and serve.
Nutrition
| | |
| --- | --- |
| Calories per Serving | 127 |
| Total Fat | 10.9 g |
| Saturated Fat | 1.4 g |
| Trans Fat | 0.0 g |
| Cholesterol | 0.0 mg |
| | |
| --- | --- |
| Total Carbohydrates | 6.8 g |
| Dietary Fiber | 2.7 g |
| Total Sugars | 2.6 g |
| Sodium | 331.1 mg |
| Protein | 2.6 g |