The Controversial Reason Tim Hortons May Give Away Free Coffee
Tim Hortons, aka Canadian Dunkin' Donuts, has taken a few hits lately. The Canadian coffee and donut shop has seen sales drop since 2019, due in part to a failed attempt at drawing the meat-free market with "alternative protein" sandwiches (via the Toronto Star). The chain's 2020 sales were more than a billion dollars (yes, billion with a "b") below the 2019 numbers (via the U.S. Securities and Exchange Commission).
While 2021 saw those numbers regain much of that loss, the 2019 numbers still reflect a relative low for the brand. But don't worry for the beloved brand just yet, early 2022 saw a 14% increase in sales for the brand across the board (via World Coffee Portal).
Unfortunately, some of the choices the brand made when they were really struggling may come back to bite them. But Timie's is giving customers involved in their recent class-action lawsuits a chance to bite back — literally — with a free hot drink and pastry, pending the results of their settlement offer (via Vice).
So, why the potential free treats?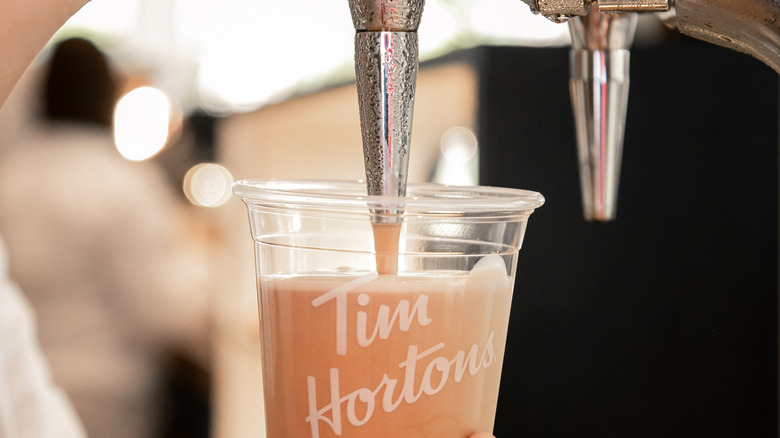 Kreeda Jeerapongplin/Shutterstock
No, it's not an apology for the brand's Justin Bieber-themed menu. The temporary menu honoring fellow Canadian Justin Bieber includes such delights as Biebs Brew (cold brew) and Bieber-approved flavors of doughnut holes called timbiebs (via CNN and Tim Hortons). In fact, according to CNN, the celeb menu, entitled Tim Hortons X Justin Bieber, may have saved Tim Hortons.
While Tim Hortons X Justin Bieber turned out to be a very good call, spying on users of their Tim Hortons app hasn't gone so well for the coffee shop. They're currently clearing up a few class-action lawsuits in Canada stemming from privacy violations in their mobile ordering app (via CBC). Investigation at federal and provincial levels found the app broke the law by monitoring and collecting location data from users "every few minutes," regardless of whether they had the app open or not.
According to the Canadian Broadcasting Commission, the data was gathered "without adequate consent" and Canada's privacy commissioner Daniel Therrien warns this kind of behavior "heightens the risk of mass surveillance." The free drink and pastry are part of the potential settlement Tim's is offering (as per Vice). The outlet cited an email sent to the class-action lawsuit participants, which read in part, "As part of the proposed settlement agreement, eligible app users will receive a free hot beverage and a free baked good." That has got to be the strangest settlement Canadian courts have ever seen.