Trader Joe's Shoppers Are Totally Divided On Its New Spicy Snack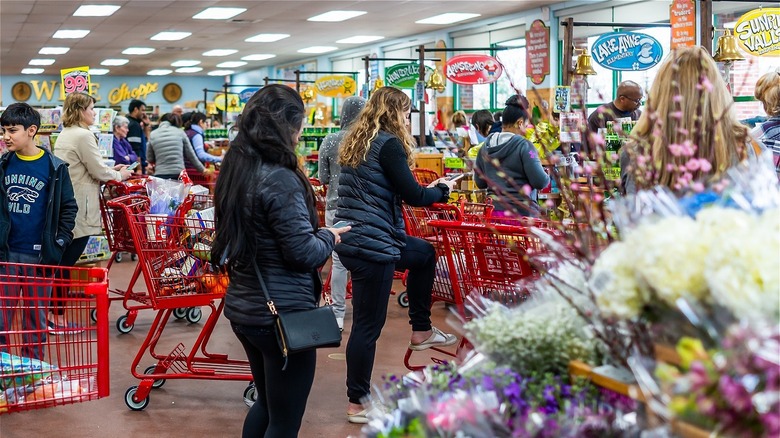 Kristi Blokhin/Shutterstock
Peanuts are a popular snack among kids and adults alike and can be a healthier salty treat than potato chips. According to Healthline, there are some body- and brain-boosting benefits to eating these pint-sized legumes. They provide a hearty helping of plant-based protein, which keeps you fuller for longer and helps build muscle, along with healthy fats. They're also a good source of many vitamins and minerals, including biotin, folate, magnesium, and vitamin E.
While you can easily snag a tub of salted or honey-roasted peanuts at the grocery store (enter the familiar blue Planter's label), many brands and retailers have come out with more unique flavors and varieties, from chipotle to salted caramel. Trader Joe's recently joined the peanut brigade with a quirky new flavor of its own: Crunchy Chili Onion Peanuts. Fan account @traderjoeslist shared a photo of the new product release on Instagram and shoppers have mixed opinions. Here's what they're saying.
People either love them or hate them
The new peanut snack is inspired by another Trader Joe's product: Crunchy Chili Onion, which is a condiment made of olive oil, dried garlic and onion, red pepper flakes, and chili flakes. The Crunchy Chili Onion Peanuts have the same flavor. However, people's opinions on the nutty product are all over the board. "They are NOT good alone," one person wrote on Instagram, while another opined, "These do not taste anything like the chili onion crunch. Disappointing IMO." Some suggested the snack lacks the amount of flavor or spice one might expect. Then there are those shoppers who like them. "I bought them and ate the entire bag," one commenter raved.
Those who like them — or who are excited to try them — say these peanuts have a lot of uses. They could be eaten alone, added to a spicy Pad Thai recipe, sprinkled on a salad or soup, or mixed into some other dish for a little added crunch. The peanuts have 190 calories per 1/4-cup serving, and each bag contains around eight servings.