Mexican Street Corn Salad (Esquites) Recipe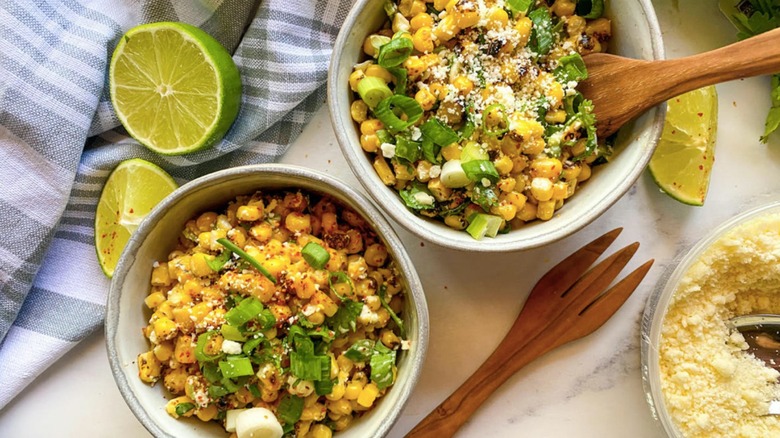 Miriam Hahn/Mashed
If you haven't yet tried Mexican street corn, also known as elote, what are you waiting for? This delectable savory treat features a combination of corn, mayo, cheese, and chili lime seasoning for a punch of flavor with every bite. If you want to take your street corn up a notch, we definitely recommend adding tajin (or any chili lime seasoning) for that extra hint of acidity and flavor.
When eaten off the cob, Mexican street corn is referred to as esquites. Recipe developer and health coach Miriam Hahn brings us this recipe for esquites, which packs all of the flavor of elote in a slightly less messy way. Hahn notes that "this makes a good side dish with fish, meat or chicken or goes really well with tacos, burritos, fajitas or tostadas." She suggests pairing it with these 15-minute lentil tacos. Lentils not your thing? Pair this salad with these 20-minute chicken tacos. Whichever way you pair these esquites, you'll love the savory, cheesy, and subtly acidic flavors.
Gather your ingredients for Mexican street corn salad (esquites)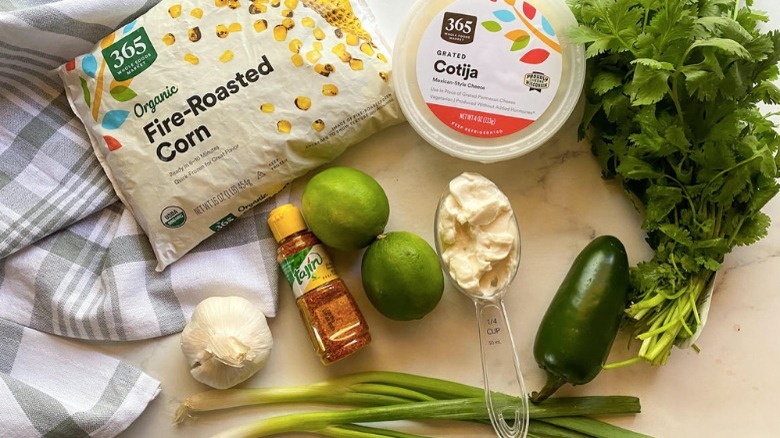 Miriam Hahn/Mashed
To make this Mexican street corn salad, you can start by gathering your ingredients. For this recipe, you will need frozen fire-roasted corn, cilantro, a jalapeño, garlic, mayonnaise, lime juice, tajin, cotija cheese, and scallions. Hahn swears by the use of the frozen fire-roasted corn in this recipe as opposed to raw corn. "It makes this recipe super easy and also nice because you can make it year round when corn on the cob is not in season," she explains.
Cook the corn and prepare veggies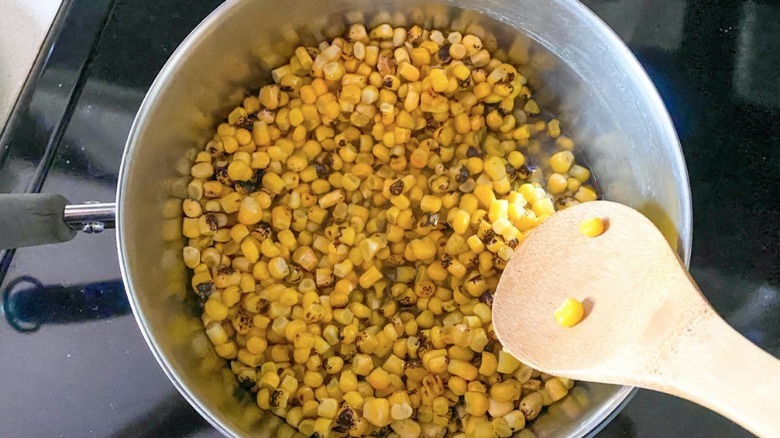 Miriam Hahn/Mashed
First things first, cook the corn according to the package directions. It should take about 5 minutes to warm up on the stovetop. Then, prepare the fresh veggies in this dish by chopping up the cilantro, jalapeño, and garlic. Make sure to remove the seeds and flesh from the jalapeño — or keep the seeds if you like the spice.
Mix up a flavorful esquites sauce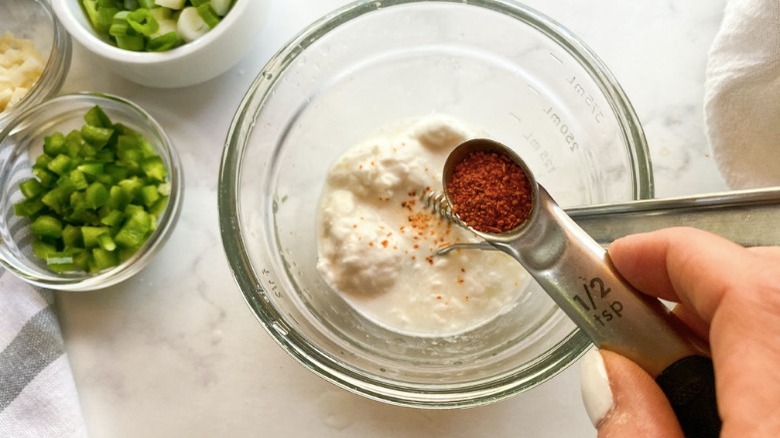 Miriam Hahn/Mashed
Now, mix up the chili lime esquites sauce. In a medium bowl, add the mayonnaise, lime juice, and tajin. Give this mixture a good stir to combine. Be sure to stir the sauce well to incorporate the tajin evenly.
Mix it all together
Miriam Hahn/Mashed
Drain the corn and add it into the esquites sauce. Lastly, add in the chopped cilantro, jalapeño, and garlic. Then, add the scallions and cotija cheese. Toss all of the ingredients with the sauce, and make sure that the corn is well-coated. "This salad is great both warm and cold," Hahn says. "You can eat it right after making it when it is still warm or after it has been chilled."
Mexican Street Corn Salad (Esquites) Recipe
This Mexican street corn salad, also known as esquites, is just like elote.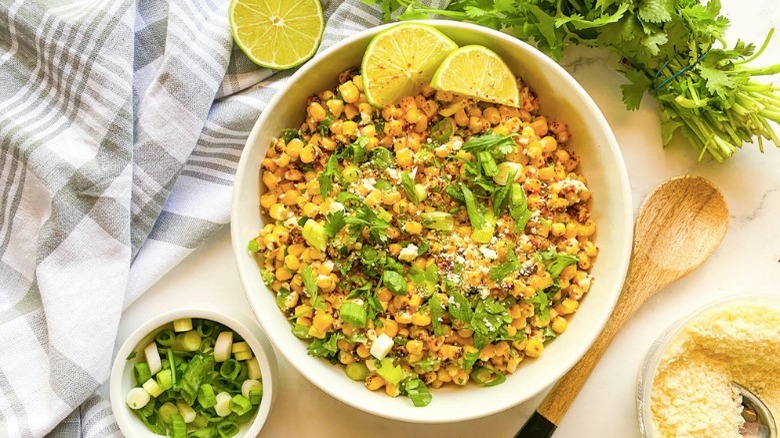 Ingredients
1 (16-ounce) bag frozen fire-roasted corn
¼ cup cilantro, chopped, plus more for garnish
1 jalapeño, seeds removed, diced
1 garlic clove, minced
¼ cup mayonnaise
juice from one lime, plus more lime for garnish
¼ teaspoon tajin seasoning
¼ cup cotija cheese, plus more for garnish
2 scallions, chopped, for topping
Directions
Follow the package directions for cooking the corn on the stovetop.
Chop the cilantro, jalapeño, and garlic.
Mix the mayonnaise, lime juice, and tajin.
Drain the corn when it is done cooking and put it into a medium bowl.
Add the cilantro, jalapeño, garlic, and cheese to the corn. Add the dressing and toss to combine.
Top with scallions and additional cilantro, lime, and cheese if desired.