15-Minute Lentil Tacos Recipe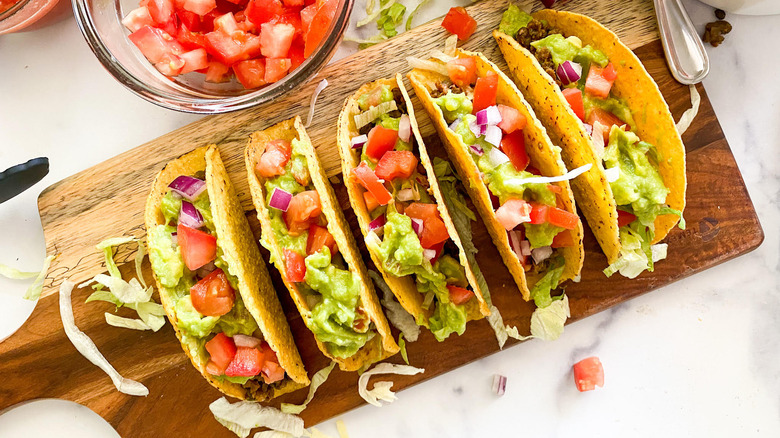 Miriam Hahn/Mashed
What's better than some delicious lentil tacos? Ones that can be made in 15-minutes, of course. Recipe developer Miriam Hahn is known for curating some amazingly healthy recipes that never lack in flavor. Whether it's hasselbeck zucchini or pumpkin soup, everything that Hahn creates is nothing short of spectacular. And let us tell you — these lentil tacos are no exception. Many taco recipes can be pretty time-consuming and may deter people from making them, especially if they are in a crunch for time. That's why this recipe is so unique — it takes very little time to whip up, but still comes out as a masterpiece.
"I love these because once you get all of the spices in and toppings on, you really do feel like you are eating ground beef. Lentils bring a lot to the table," Hahn shares. "They are full of protein, vitamins and minerals." Lentils are loaded with folate, potassium, calcium, magnesium, and fiber (via Medical News Today). Do we even need to list more reasons why you need to try this dish? We don't think so! Keep scrolling to find out how to make the best lentil tacos you will ever taste.
Gather the ingredients to prepare lentil tacos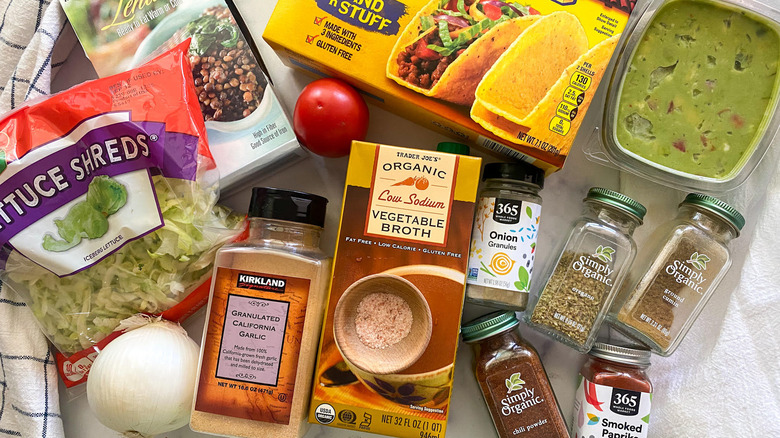 Miriam Hahn/Mashed
Are you ready to get started? As with any recipe you make, you will need to put together a grocery list of all of the necessary items to make these tasty tacos. For starters, grab a diced white onion and a package of pre-cooked lentils. The recipe also calls for some vegetable broth. Your next stop should be in the spice aisle because you will need a few spices for flavor. Grab some chili powder, cumin, smoked paprika, garlic granules, onion powder, and salt.
In addition, you will need 15 taco shells. The remaining items are toppers for the tacos and include guacamole, shredded lettuce, and diced tomatoes. You can also add a few other additional taco toppings such as avocado, red onion, sour cream, cheese, and salsa.
Preheat the oven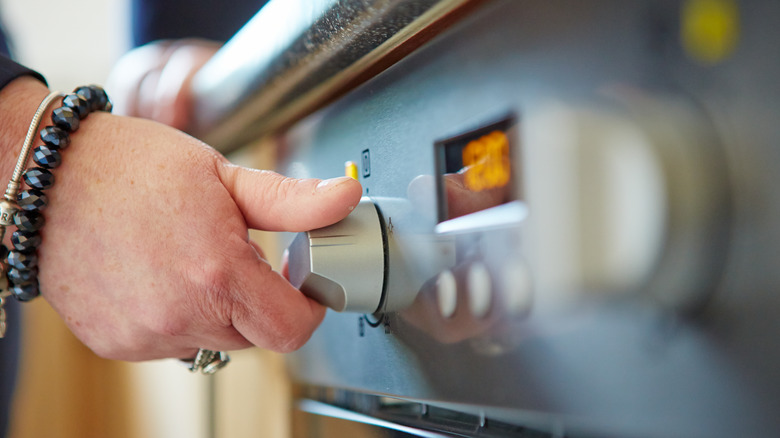 Onzeg/Shutterstock
Now that you have all of your items in front of you and ready to go, it's time to get started on this delicious taco dish. Before you do anything else, be sure to preheat your oven to 375 F, so it gets nice and hot for your taco shells (you'll just be warming them up prior to serving). "Since this is a 15-minute meal, I preheat the oven, so it is ready to pop in the taco shells," Hahn shares. "If you use a toaster oven for this, you can heat that instead. Really just to save time waiting around at the end for the shells!"
Heat the onions and broth in a skillet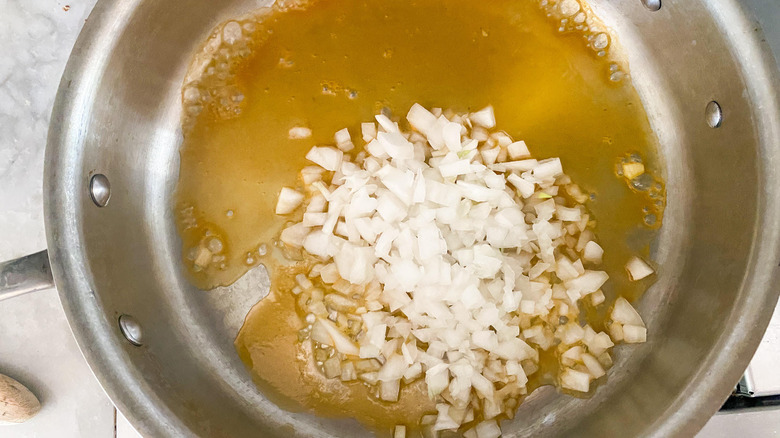 Miriam Hahn/Mashed
As you are waiting for your oven to preheat, heat a large skillet on medium-high. Add ¼ cup broth and the onions. Cook for about two minutes. Remember that you should have diced the onions ahead of time, making this step super simple and efficient. It should only take about two minutes or so to cook the onions and the broth will add some great flavor. 
In the meantime, grab a small bowl and combine all of the spices so that they're ready to go. This includes chili powder, cumin, smoked paprika, garlic granules, onion powder, and salt.
Add the lentils and spices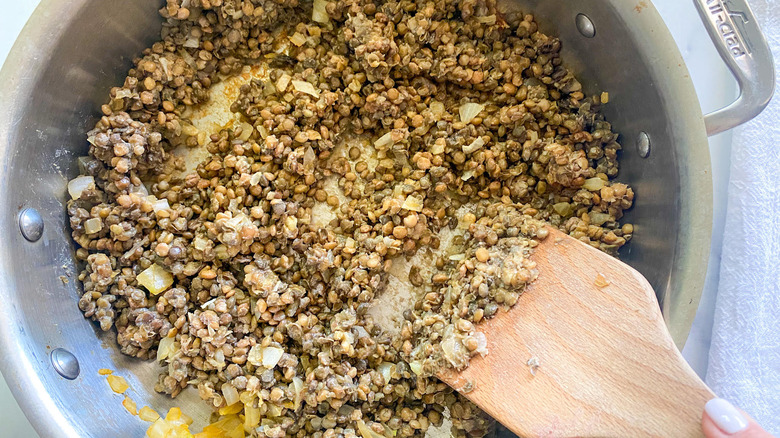 Miriam Hahn/Mashed
By now, your onions should be ready for the remaining ingredients. Go ahead and toss in the lentils first. Then, add the remaining broth and the spices that you just mixed in a small bowl. Stir the mixture to combine everything well and then turn the heat to low. 
Cook the mixture for 10 minutes to allow the lentils to soak up all of the wonderful flavors. Be sure to stir occasionally to prevent anything from sticking to the bottom of the pan. 
Prepare the lentil taco toppings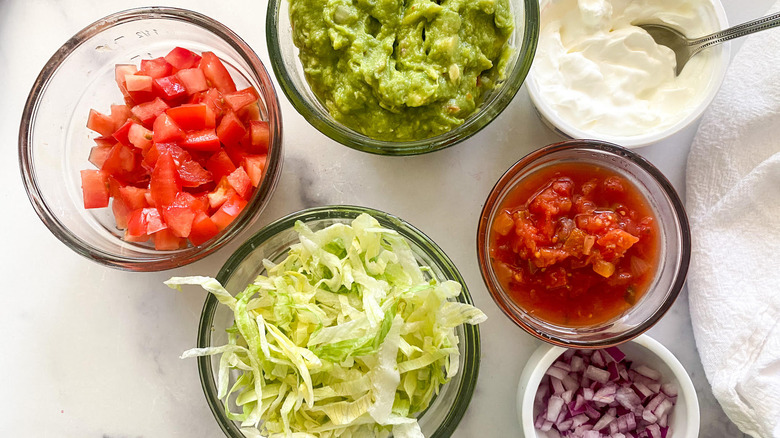 Miriam Hahn/Mashed
Ready to multitask? As the lentil mixture is cooking, you can prepare any toppings that you are using for the tacos. This includes shredded lettuce, tomatoes, guacamole, and any other items that you have chosen to dress the tacos up with. At this time, you should also put the taco shells in the oven to warm up.
Once you finish cooking the lentil mix, you can take it out of the pan and transfer it to a serving dish. If you'd like, you can also serve the tacos straight out of the skillet, which will allow for less cleanup.  
Set up your taco bar, and enjoy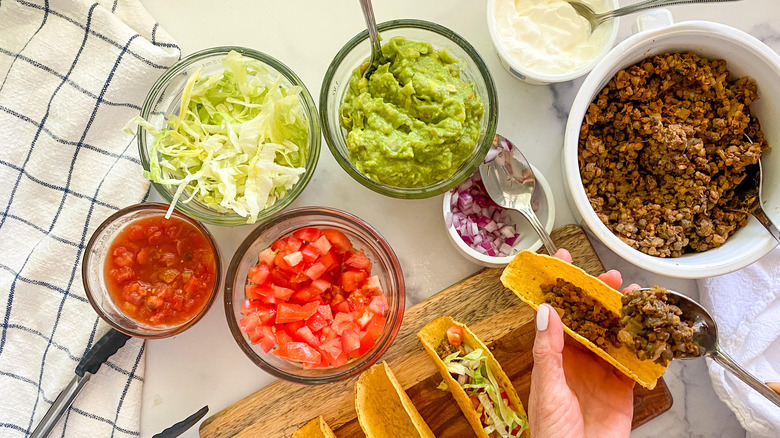 Miriam Hahn/Mashed
Hahn recommends serving these tacos in a taco-style bar so you can load it up with whatever toppings your heart desires. "Another serving idea is a taco salad," Hahn suggests. "Just add a scoop to a big bowl of chopped lettuce, some avocado or guacamole, fresh tomatoes, olives, and salsa, and it is a great meal! You can also use it as a base for a 7-layer dip or use it as a warm dip on its own." We hope these were as big of a hit for your squad as they were for ours! 
15-Minute Lentil Tacos Recipe
Tacos can be time consuming, but this speedy version, packed with nutritious lentils, only takes 15-minutes. And you won't miss the beef, we promise.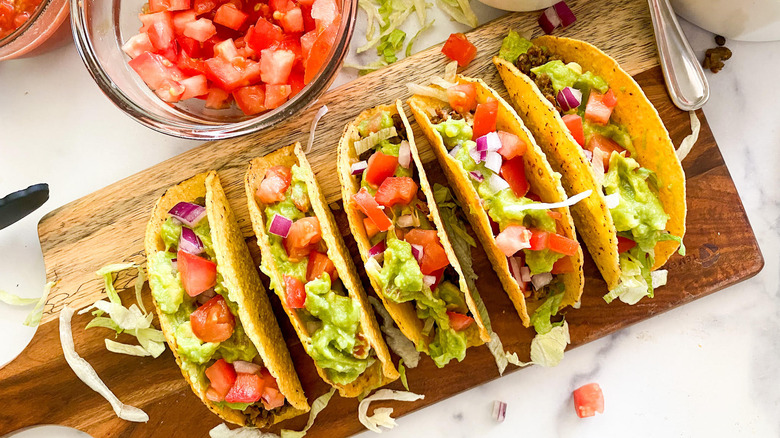 Ingredients
½ white onion, diced
1 (16-ounce) package pre-cooked lentils
½ cup vegetable broth, divided
1 teaspoon chili powder
1 teaspoon cumin
1 teaspoon smoked paprika
1 teaspoon garlic granules
1 teaspoon onion powder
1 teaspoon salt
15 taco shells
2 tomatoes, diced, for topping
Optional Ingredients
guacamole
shredded lettuce
avocado
red onion
sour cream
cheese
salsa
Directions
Preheat oven to 375 F.
Add ¼ cup of broth to a large skillet, and add the onions. Cook on medium-high heat for 2 minutes.
Meanwhile, in a small bowl, combine the spices.
After the onions have cooked, add the cooked lentils, the remaining broth, and spices. Stir to combine, and cook on low for 10 minutes
Prepare toppings of your choice, taco bar-style.
Warm the taco shells in the oven.
Assemble the tacos, and serve.
Nutrition
| | |
| --- | --- |
| Calories per Serving | 652 |
| Total Fat | 12.0 g |
| Saturated Fat | 3.6 g |
| Trans Fat | 0.1 g |
| Cholesterol | 0.0 mg |
| | |
| --- | --- |
| Total Carbohydrates | 107.6 g |
| Dietary Fiber | 16.9 g |
| Total Sugars | 5.5 g |
| Sodium | 626.9 mg |
| Protein | 32.1 g |