Here's What It Takes To Become A LongHorn Steakhouse 'Steak Master'
Longhorn Steakhouse is a place where fans of grilled meat can satisfy their carnivorous cravings, but the restaurant doesn't throw just anyone on grill duty during their operating hours. Preparing the literal meat of diners' entrees is a task that is only for the restaurant chain's finest, and each year Longhorn goes to great lengths to determine exactly who the absolute finest is.
The Atlanta Business Chronicle details how LongHorn Steakhouse founder George McKerrow believed that a good steak would keep diners coming back, and so far, that simple philosophy has paid off. Statista says the company generated $3.4 million in average annual sales in 2021. While the restaurant employs hundreds of people across its 569 U.S. locations (per Scrape Hero), most of them do not get the distinction of being referred to as "Steak Master."
In fact, only one person each year earns that coveted title via a vigorous process.
There can only be one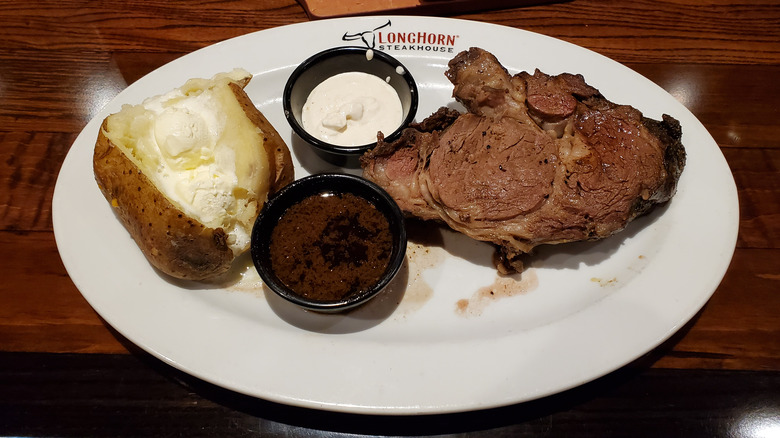 Jon Kraft/Shutterstock
Mental Floss breaks down the details of how one Longhorn employee each year captures the coveted "Steak Master" title. Each location has two or three employees who finish the training to be a "grill master." Every year, the corporation invites 5,000 grill masters to take part in an elimination contest that eventually results in just one grill master left standing, who then becomes that year's Steak Master.
Patch says that competition is called the Steak Master Series and that advancement in the tournament-style competition has some perks, like cash prizes. In 2019, that cash pot was $200,000 (per Patch). WWLP says the third-place winner in this year's Steak Master Series took home over $2,500 over the course of the tourney. WWLP also broke down what it takes to advance in the competition.
According to WWLP, competitors must "understand Longhorn's grilling criteria" like appropriate seasonings to use on specific cuts of meats and what temperature to cook them to. In addition, competitors face verbal questions about the restaurant's grilling standards as they are competing and have to pass written exams, too.
Preparing menu items like Longhorn's biggest steak isn't a task for amateurs. Longhorn's grill master training and Steak Master competition can turn amateurs into seasoned champions, though.