What Ina Garten Really Thinks About Her Own Cooking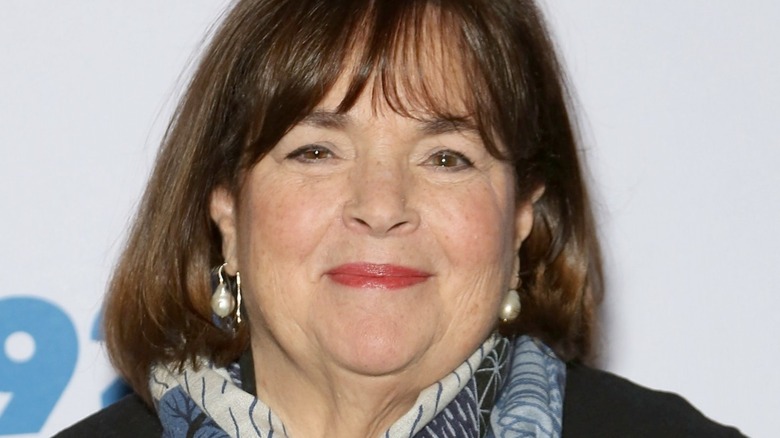 Manny Carabel/Getty
Ina Garten is the government policy advisor turned specialty food store owner, food TV personality, and living, breathing advertisement for living the good life in the Hamptons (per Food Network). She has written 13 cookbooks, a few of those being "Go-To Dinners," "Cook Like a Pro," and "Modern Comfort Food" (via Barefoot Contessa).
Looking to channel your inner "Barefoot Contessa?" There are hundreds, if not thousands, of ways you can do so. For film director, producer, and screenwriter Nancy Meyers, no party is complete without Ina Garten's "foolproof" sun-dried tomato dip. "It's an irresistible dip that works great with crackers or cut-up veggies, and I always double the recipe for parties because it goes fast," Meyers wrote for Bon Appétit. There are legions of people who have found comfort-food nirvana with Garten's recipe for the perfect roast chicken from the original "The Barefoot Contessa Cookbook." According to The Spruce Eats, "This recipe is so simple it almost sounds suspicious."
Garten likes food that's simple, elegant, and flavorful
Every true fan knows that Ina Garten loves to cook for her husband, Jeffrey, more than anyone else. They've been married for more than half a century, he pops in on her shows, and he is the sole inspiration for one of her cookbooks, "Cooking for Jeffrey" (per Eater). It's replete with his favorite recipes, including filet mignon with mustard and mushrooms and parmesan roasted zucchini.
But what does Ina Garten herself like to eat, and what does she think of her own cooking — really and truly? She's been a fixture on the Food Network for more than 20 years now, yet claims she's not all that confident in the kitchen because she's not a professional chef (per Page Six). Who would've thought that? While we do know the "Barefoot Contessa" is partial to her roast chicken, Garten's signature dish is a rack of lamb served with orzo and roasted vegetables.
According to The New York Times, both dishes are an excellent example of Garten's self-described cooking style: "It's simple and elegant. I like things that are the essential flavors they're supposed to be, but they taste better than you expect."