The Restaurant Where You Can Only Get One Type Of Sandwich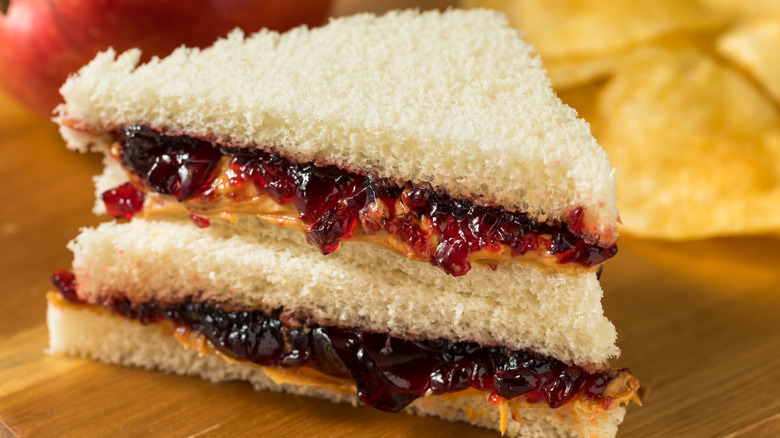 Brent Hofacker/Shutterstock
Walk into most any restaurant that sells sandwiches and browse their menu. Hot subs, cold subs, turkey, BLT, wraps, and melts — needless to say, there's quite a lot a restaurant can put between two pieces of bread. But all of those sandwich options can sometimes be overwhelming, can't they? What if restaurants embraced simple, no-frills classics like the peanut butter and jelly sandwich? It's an incredibly simple, yet popular sandwich (with your average kid eating about 1,500 sandwiches before graduating high school, per the National Peanut Board), so why not just focus on that?
This is exactly the mindset of one deli in West Allis, Wisconsin, which has devoted its entire business to that beloved childhood lunch. Appropriately titled The Peanut Butter & Jelly Deli, the restaurant serves a menu built entirely around the two condiments. The sandwiches you get there, however, aren't exactly the same as the peanut butter and jelly sandwiches you probably remember from childhood — white bread, store-bought peanut butter, and jelly from a squeeze bottle — but are instead different variations of the beloved combination. It's still a PB&J at heart, but it's more "elaborate," so to speak. So what exactly makes the offerings at this shop so unique that they stand out from your homemade PB&J's?
The Peanut Butter & Jelly Deli offers grilled PB&Js
Unlike your average peanut butter and jelly sandwich, the PB&J Deli sells a wide selection of grilled sandwiches, all stuffed with a smorgasbord of fillings like pickles, chocolate, marshmallow crème, bacon, and jalapenos.
Rachael Lee of The Badger Herald ordered the "Strawberry Lovers" (a sandwich of honey roasted peanut butter, fresh strawberry jam, and a layer of sliced strawberries) and "The King" (stuffed with bananas and bacon, and named for Elvis Presley). Lee also noted that the breads, peanut butters, and jams were not the typical bulk items you'd purchase from a grocery store, but are all made either in-store with "high-quality ingredients" or sourced from local bakeries. Reviewers on Yelp seem to like the concept as well, noting that the atmosphere and style of the deli help to make it stand out.
"Such a fun place! We went there for our first time last weekend and enjoyed all aspects of our pb&j experience," wrote one Yelper, adding, "The food is interesting and delicious, the staff is extremely pleasant, and the atmosphere is cute great!" Another review reads, "A wonderful lunch stop. Staff is so friendly and the sandwiches were delicious."
While those outside Wisconsin may not be able to visit as often as locals, they can still take comfort in learning the secret to making the perfect PB&J at home.