The Retro Cereal You Can Only Find At Walmart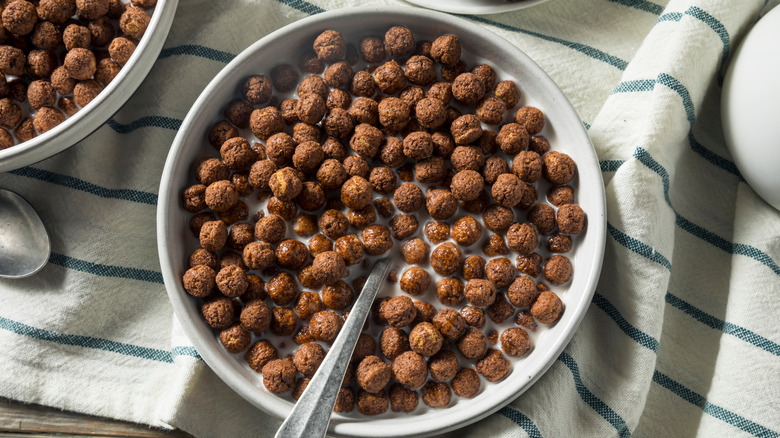 Brent Hofacker/Shutterstock
The 1990s were an interesting time for everyone — and that goes for cereals too. Tried-and-true boxes of Kellogg's and Cap'n Crunch were available, but many kids wanted the most outrageous and most marketable cereals out there, especially if they were based on pop culture. If you wanted to have a "most awesome breakfast adventure," you'd get a box of Bill & Ted's Excellent Cereal (via Food Junk). If you felt like living out your inner turtle ninja, you'd start the day off with a bowl of Teenage Mutant Ninja Cereal (via Reddit). If it was based on a movie, game, or TV show, it was bound to sell to kids. 
If you want to unleash your inner barbarian, you'd rip right into a box of Barb's Choco Boom Booms, a cereal that promotes "mouthfuls of destruction" and a promotion for the newest hit video game "Clash Dash!" It even had a cool mask of the classic video game character Barbarian on the back for your parents to cut out for some off-the-wall, sugar-fueled Saturday fun (via Twitter). It was sugary, chocolatey, and packed with — wait, what do you mean you don't remember it? 
Of course you don't. Barb's Choco Boom Booms, alongside the supposed smash hit video game "Clash Dash," never existed in the 1990s. The cereal and the video game both exist today, but aren't really authentic products from the decade. The answer to this baffling breakfast cereal lies with the Finnish game company, Supercell. 
Supercell is releasing the cereal as part of a celebration
Finland-based game company Supercell, creator of popular mobile games such as "Clash of Clans" and "Brawl Stars," has created something that may appeal to nostalgic customers who crave cereals you'll never have again. According to GamingonPhone, "Clash of Clans" is turning ten years old and Supercell launched a celebratory campaign to document "Clash of Clans" through the years. In a playful parody, Supercell created a fictional history for the game with a backstory as an arcade game from the 1980s and a series of video games through the 1990s and 2000s. This involved creating retro-themed games in the style of 1980s side-scrollers and 1990s racing games like Mario Kart, which is all told to fans in a mockumentary on YouTube.
According to a tweet by the official "Clash of Clans" account, you can purchase a box of Barb's Choco Boom Booms, allegedly straight from 1992, from the Walmart website The only two catches are that the cereal is exclusive to the U.S. and will be available for a limited-time online. While no reviews exist yet, the cereal seems to be similar to Cocoa Puffs, albeit in a box filled with Easter Eggs for fans of "Clash of Clans." Video games and cereal make strange bedfellows on rare occasions: Chex cereal, for example, is notable for having its own video game back in the 1990s based on the notorious video game DOOM (via Hard Drive).