One Trader Joe's Sign Has Reddit Counting Down To Fall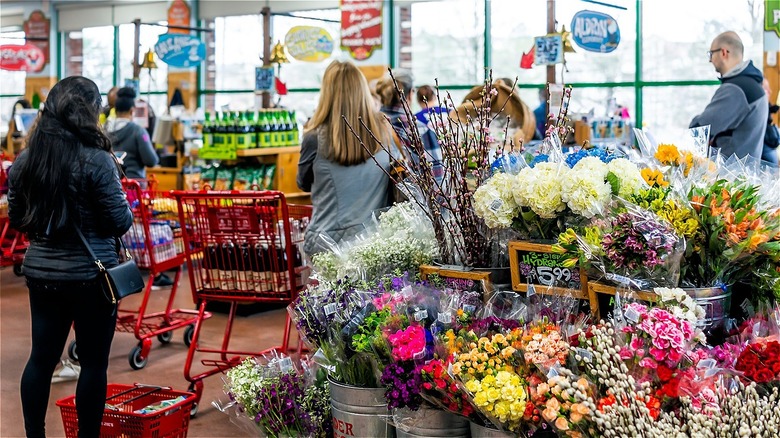 Kristi Blokhin/Shutterstock
It's that sluggish time of summer again when we start to get tired of the constant heat, our energy is on low, and our air conditioners are on high. As we make our way through August, social media is starting to get our hopes up with promises of lower temperatures, ads for pumpkin spice and aesthetic photos of orange and red leaves on the ground.
If you're anything like us, you're starting to get a little giddy for Fall too and all the products, foods and smells that come with the season. Even though school hasn't quite started back up yet, we cannot wait for the joy of what's to come and it's starting to look like we aren't the only ones.
As well-known Fall fanatics, Trader Joe's is starting the countdown for Fall too. Known for its pumpkin-flavored food items, the grocery store is heaven for Fall enthusiasts looking for anything that tastes like Fall in a bag, a cup, or any other container that one might be able to shove a pumpkin into. Trader Joe's is embracing its love of Fall and already starting the countdown until its beloved Pumpkin Palooza, and Reddit is all over it.
Initiate countdown to Pumpkin Palooza
If we had to name two things Trader Joe's loves most, it's an artistic sign and the pumpkin season. A local Trader Joe's store embraced it all with a very well-crafted sign in front of its store and Reddit has taken a liking to it. Not only does this beautiful sign give a countdown to back to school (just 26 days), but it also starts getting us ready for what we all are really waiting for: Pumpkin Palooza. If you aren't familiar, Pumpkin Palooza is when all of Trader Joe's fall favorites featuring pumpkin flavors hit the shelves for the span of the Autumn season. If you're as big of fans as we are, you know that this is a big deal and a real kick-off to everything celebrated in Fall.
One Redditor wrote, "Just FYI — although I have been seeing that the first big round of Fall products are expected to arrive at some stores around September 8th or 9th, your store may vary." Another Redditor got so excited about the sign that they wrote, "Ok ready to purchase all the pumpkin spice pumpkin seeds because they are the best thing on earth!" All in all, we love a countdown to Fall. After these last few weeks of Summer heat, we agree with these Redditors that we are ready for Pumpkin Palooza to begin.