We Tried The New FaZe Subs Rugfather Sub. Here's How It Went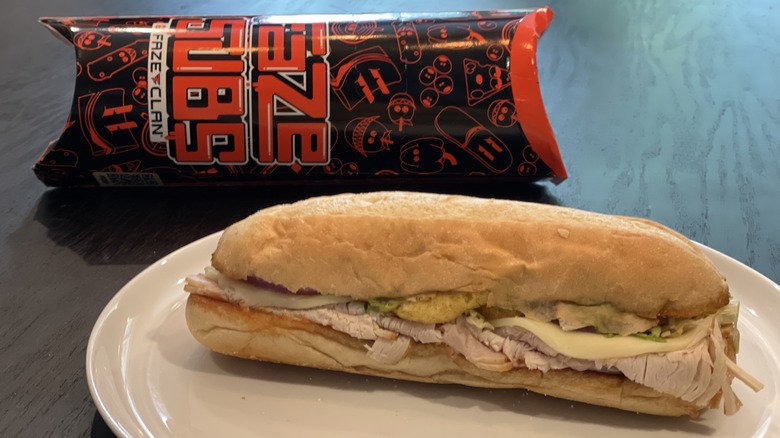 Steven John/Mashed
We may receive a commission on purchases made from links.
If you're not a gamer or esports sort of person, then you may not have ever heard of FaZe Clan. If you are big into online gaming and such, then you may be incensed to be confronted with those of us who haven't, but so it goes. In the briefest, broadest of strokes, FaZe Clan began as a group of video game loving who have since become part of "defining gaming culture," as per its About page.
Since it was formed by a group of gamer friends back in 2010, FaZe Clan has grown into a multinational group of people all united by their love of gaming and esports. And what's one thing gamers universally love as well? Tasty foods that are easy to eat while handling a controller. Even better if such a meal will keep you full for hours of uninterrupted action. 
After all, isn't necessity the mother of invention? Or the mother of refinement, in any case. That's because perhaps what these hungry gamers needed wasn't a brand new foodstuff, but an upgrade to one they already prized. That particular food in question was the sub sandwich, and the upgrade? Potato chips. Yet those chips come not as a side, but as a core ingredient in the middle of the sandwich. Here's what's going on with the new FaZe Subs Rugfather sub.
What's in the new The Rugfather sub?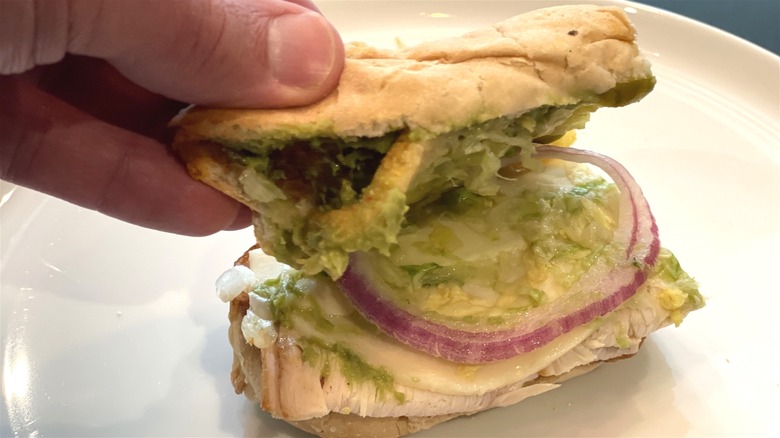 Steven John/Mashed
Before we talk ingredients, let's talk provenance. The Rugfather sandwich from FaZe Subs is named for a YouTuber who goes by the moniker FaZe Rug. He's not just a YouTube phenom but, as per a FaZe Clan press release shared via Esports Insider, "one of FaZe Clan's largest and most viewed content creators" who was "desperate for the perfect sandwich" to fuel his gaming ventures. So he developed one, working in partnership with chef Eric Greenspan, culinary director at Virtual Dining Concepts. While we're here, a hint that you should work to remember that company, as it will be relevant if you're wondering where to get a FaZe Subs sandwich.
"I wanted to make my dream sandwich with my favorite chips directly in it for that extra crunch," said FaZe Rug in the press release. Yes, this sandwich has chips right in there with the rest of the ingredients. In this case, the chips are Funyuns. 
As for the rest of the ingredients, you'll find sliced smoked turkey, shredded lettuce, red onion, bread and butter pickles, pepperoncini, guacamole, "FaZe Sauce," and provolone cheese inside. It's all served on a standard white sub roll.
How much does The Rugfather cost?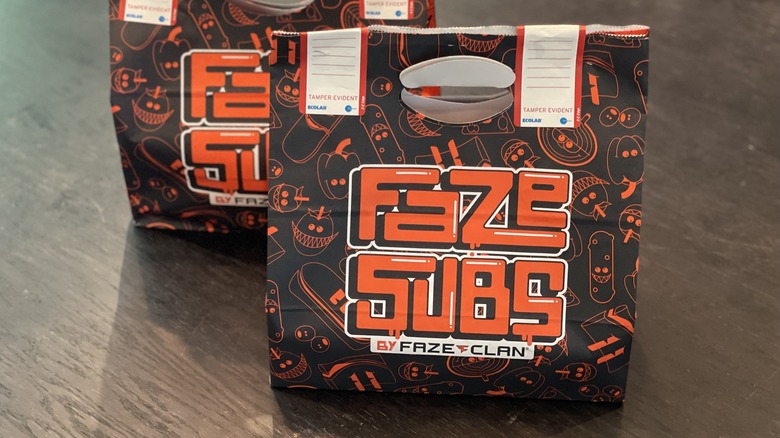 Steven John/Mashed
At present, The Rugfather is the most expensive item on the FaZe Subs menu. It will set you back about $14.79, while the next most expensive menu item FaZe Subs offers is the Overkill Meat Lovers sandwich, which costs $13.79. Truth be told, we're not sure why a Rugfather costs more than an Overkill, given that the latter has turkey and provolone like the former, and also has bacon and ham, among other ingredients. Maybe it's because an Overkill has Ruffles as its chips while the Rugfather has Funyuns and Funyuns have become a premium item?
At any rate, a Rugfather is going to leave all but those with the heartiest appetite completely full for a good long time, so it's likely to be worth its cost. Vesides, it's not much more expensive than subs from other chains. A comparable Subway sandwich costs nearly $14, while a Firehouse Subs Club on a Sub sandwich costs $11.49. Plus, neither of those last two sandwiches come with chips between the bread!
Where are FaZe Subs available?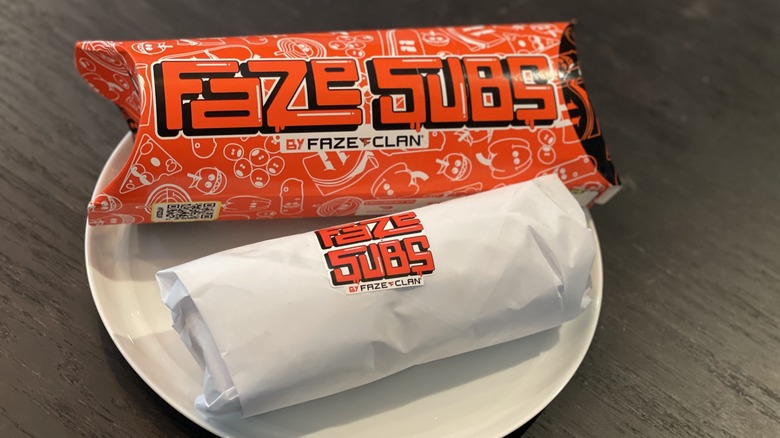 Steven John/Mashed
Remember the Virtual Dining Concepts we mentioned earlier? The operative word there is "virtual." That's because there is no brick-and-mortar FaZe Subs location anywhere to be found, at least not at present. Maybe if these things are a huge score (to use some gaming parlance), you will start to see actual restaurants, but that's not our current reality. For now, FaZe Subs is using a ghost kitchen model. Here's how it works: you order your sub online, it's prepared in a kitchen, and then delivered to you. At present, FaZe Subs has an exclusive partnership with DoorDash for said delivery.
As of the time of this writing, FaZe Subs are available in 21 states and are serving about 85 cities. Don't take it for granted that major cities have access, by the way: its site does not list, for example, Boston, Los Angeles, Miami, or many other major metropolitan areas. It does state, however, that it is growing fast. 
If you're really upset, FaZe Subs has set up a forum on its locations page that invites you to say where you want the next FaZe Subs location. After all, expansion into new markets is a lot easier when you just need to ship some packaging and ingredients, not build a whole new restaurant.
What's the nutrition info?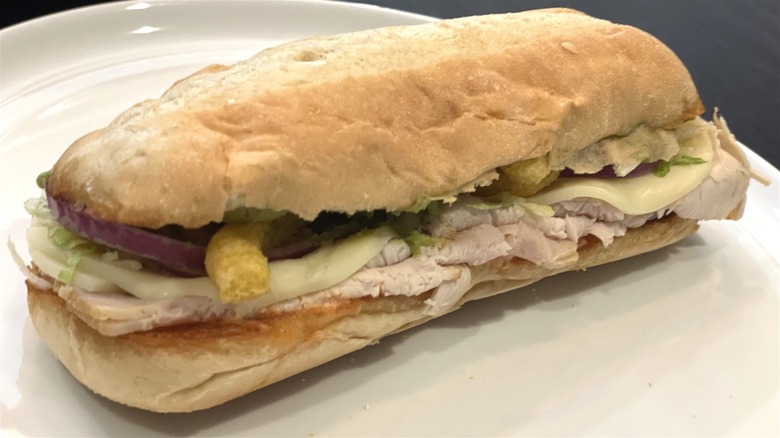 Steven John/Mashed
FaZe Subs is a brand new venture, barely a week old at the time of this writing. So, try as we did, we could not dig up the specific  nutrition info for any of its subs. So we're going to do a little exercise here that will come up with some comparable numbers, though they are sure be only in the ballpark of the correct info. 
As comparison for The Rugfather, we're drawing upon a classic foot-long sandwich from Subway: the Oven Roasted Turkey sub. We constructed one with ingredients as similar to those of The Rugfather as possible. This meant using provolone cheese, lettuce, onions, sauce, and so on. Doing so, we came up with a sub that has about 1,130 calories. 
Next, we calculated that there were probably about seven total Funyuns on the sub we ate, which is about half of a Funyuns serving. That means an additional 70 calories, coming out to an estimated total of 1,200 calories. This assembled must also make up quite a bit of one's daily recommended intake of salt and fat. At least there's a decent amount of protein in this sandwich as well. Arguably, your body needs that whether you're gaming, jogging, or just getting through the day. 
How does this sandwich compare with other items on the FaZe Subs menu?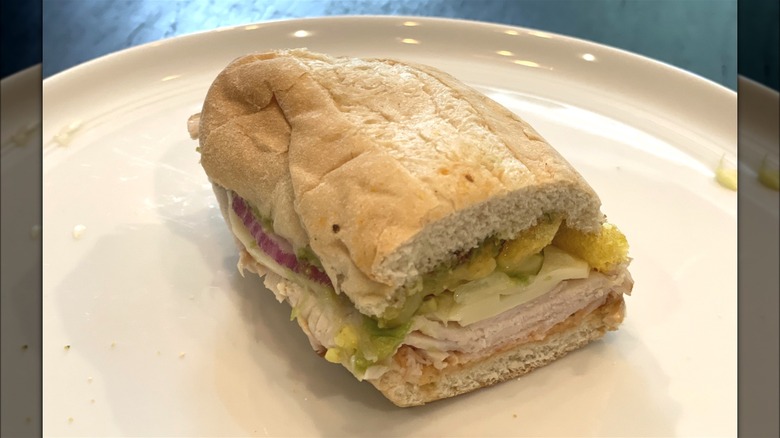 Steven John/Mashed
Comparing this sub to other items on the FaZe Subs menu is difficult because the menu is so brand new, so we haven't had the chance to eat our way through the competition. But we can give you some notes. The #EZAF FaZe Subs sandwich has many of the same toppings but features smoked ham and cheddar as its meat and cheese, along with Fritos. Meanwhile, the Hot Drop has chicken and provolone, Buffalo sauce, and Flamin' Hot Cheetos — prepare your taste buds, as that's gotta be a spicy kicker of a sandwich.
Then, there's the Touch Grass, a vegetarian sandwich that features nacho cheese and Doritos. For carnivores, the #Overkill has smoked ham, provolone, turkey, and bacon, with Original Ruffles as its chips. Finally, FaZe Subs also has some sandwiches without chips, as well as a small array of sides, desserts, and drinks. 
So there you have it, a decidedly gamery flight of sandwiches if ever there was one. To the best of our knowledge, there's never been a menu quite like this one before.
Did we like The Rugfather?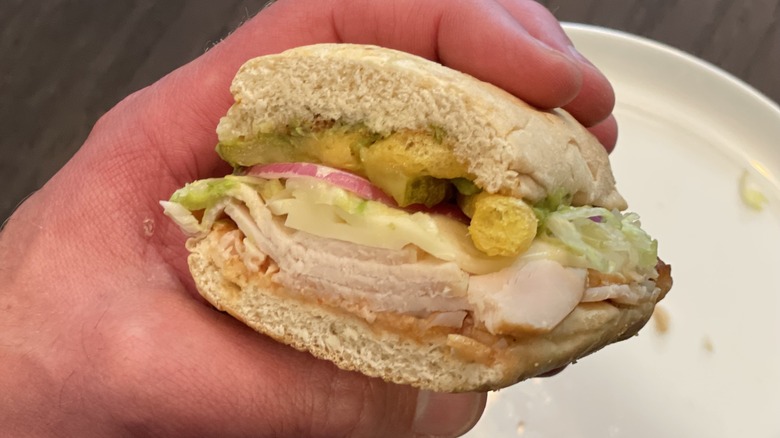 Steven John/Mashed
Without the Funyuns, this sandwich would probably not be worth your attention. This is not to say it isn't a perfectly decent cheese and turkey sub; it just wouldn't be anything special. Ironically, it's the Funyuns that will probably turn many people off from trying The Rugfather (and maybe the name, which is amusing but not appetizing). Even we were skeptical as to how a Funyun-laden sandwich was going to taste. Yet we found that the crunchy texture and flavor of this classic snack really does make the sub.
As for the more conventional ingredients, the turkey was fine, the cheese cut to a good thickness, and there was a good balance of veggies and sauce. The roll was ever so slightly soggy by the time we started eating — granted, most people dig in right after their order arrives and don't bother taking pictures first — but the Funyuns remained crunchy
Overall, the sandwich was quite satisfying and plenty filling. We only ate about 75% of the thing, but the rest of the sandwich is in the fridge, ready to become a tasty afternoon snack. If you live in one of the markets where DoorDash is delivering FaZe Subs, we definitely recommend that you try this, so long as you're okay with the addition of Funyuns. That's doubly true if you need a solid meal that you can eat with one hand while you're gaming away.