The Unexpected Way Ina Garten Upgrades Ice Cream Sandwiches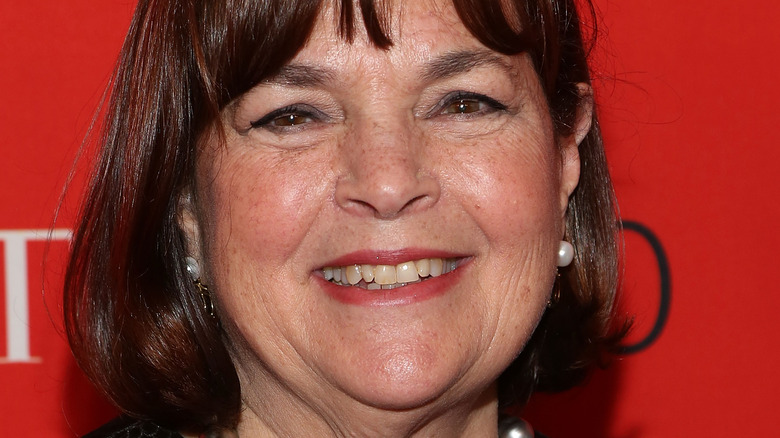 Taylor Hill/Getty Images
Ina Garten is a chef most of us know and love by way of her popular Food Network show "The Barefoot Contessa" and countless user-friendly cookbooks she has released over the years. Garten's approach to food is straightforward, with a focus on elegance and elevation of flavors (via The New York Times). Sometimes that means adding more butter or fat to a dish. However, while many of her recipes are arguably nonintimidating in their simplicity, she still finds a way to upgrade basic creations with unexpected ingredients. Garten's secret weapon is a splash or two of liquor, but her culinary arsenal goes beyond the bounds of alcohol.
Garten has suggested innovative ways to use pantry staples and inspired people stuck at home to try new recipes during the COVID-19 pandemic (per The Atlantic). She's taken the beloved deviled egg to another level by including smoked salmon. And in her new summer series on Instagram titled "Too hot to cook!" Garten finds a way to elevate the traditional summer tomato salad with blue cheese instead of mozzarella.
With summer at its peak, Garten showcased another no-cook recipe that elevates the classic ice cream sandwich with varying textures and a unique flavor combination.
Ina Garten's buzz-worthy ice cream sandwich
Recently, Ina Garten began "Too hot to cook!" week on Instagram, showcasing seasonal recipes "without turning on the stove" and provoking lots of excitement from social media users after posting her twist on the ice cream sandwich a few days ago. Garten described how she lathers store-bought cookies with coffee ice cream and then finishes off the easily assembled sandwich with toffee bits.
Instagram users went wild in the comments. One person exclaimed, "Looks like breakfast, lunch, and dinner to me!" Another asked for clarification from Garten on the types of cookies she uses to which Garten shared that Tate's are her favorite for ice cream sandwiches.
In the linked Barefoot Contessa recipe, Garten suggests refreezing the sandwiches so they harden before eating, but whether you decide to eat them melty or firm, people are loving this flavor combination. The Kitchn says that the Barefoot Contessa's Coffee Chocolate Chip Ice Cream Sandwiches are the "only thing you need to make today," proving that when it comes to upgrading a simple summertime recipe, like the classic ice cream sandwich, some would say you should look to no other than Ina Garten.