Lean (Yet Juicy) Taco Meat Recipe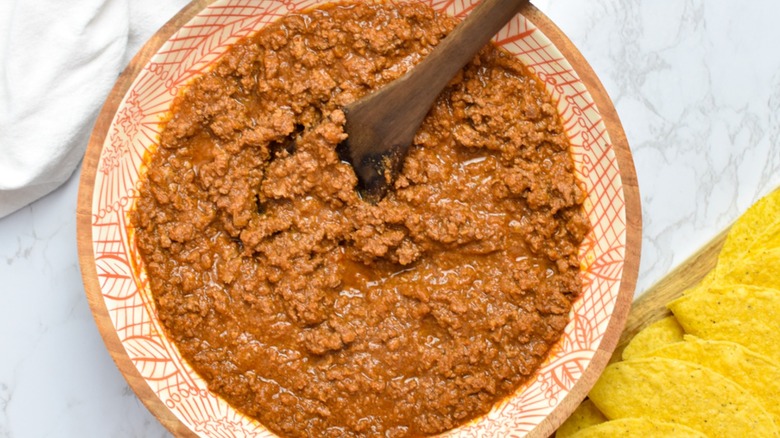 Stephanie Rapone/Mashed
While many taco recipes seem to start out with browning ground beef, then adding the kind of taco seasoning that comes in an envelope, here we're starting with a from-scratch spice mix. Still, despite the fact that you'll be blending your own spices (admittedly not too difficult a task once you've managed to unearth them from the pantry), recipe developer Stephanie Rapone points out that you do get to skip a step. As she tells us, with this taco meat recipe "You don't have to brown the meat first, no draining excess fat, it's just put it all together and let it go." She then goes on to say that doing so "makes the recipe easier, makes clean up easier, and ... gives the meat a really finely ground texture."
So what can you use this taco meat for once it's cooked? Tacos would be the obvious choice, but Rapone tells us "I love to use this meat for quick nachos, taquitos, or even beef enchiladas." Other ideas include stuffing burritos, topping chili dogs, or making a taco salad. Rapone does say that the meat is "great to freeze," so you might want to make up a double batch to keep on hand for any taco-related emergencies.
Assemble the ingredients for the taco meat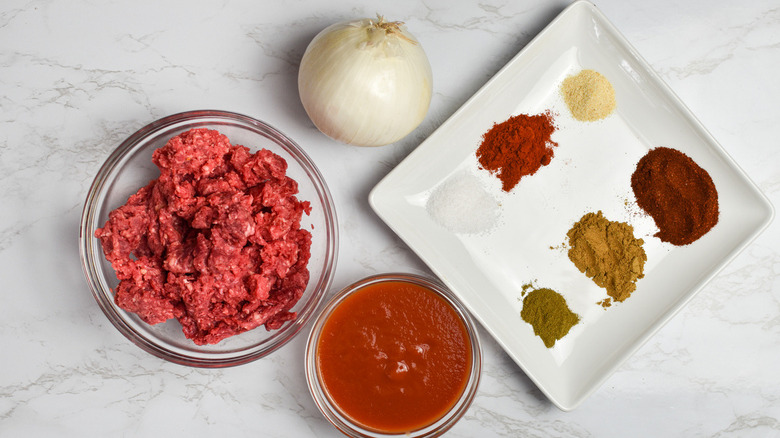 Stephanie Rapone/Mashed
To make this taco meat, you'll need ground beef — lean, since you won't be draining the grease, so it's best not to have too much fat. You'll also need an onion, canned tomato sauce, and a fair number of dry spices and seasonings.
In case you've ever wondered what's in those envelopes of taco seasoning, well, probably a bunch of preservatives and other bad stuff. Here, however, the spice mix includes 6 different components: chili powder, salt, cumin, paprika, garlic powder, and Mexican oregano. If you're wondering why the oregano called for is Mexican, and whether this is different from plain old oregano, Rapone says that yes it is — the standard oregano is Mediterranean, but she prefers using Mexican here, as she says it "tends to have more citrus notes, which works really nicely in this spice mix."
Season the tomato sauce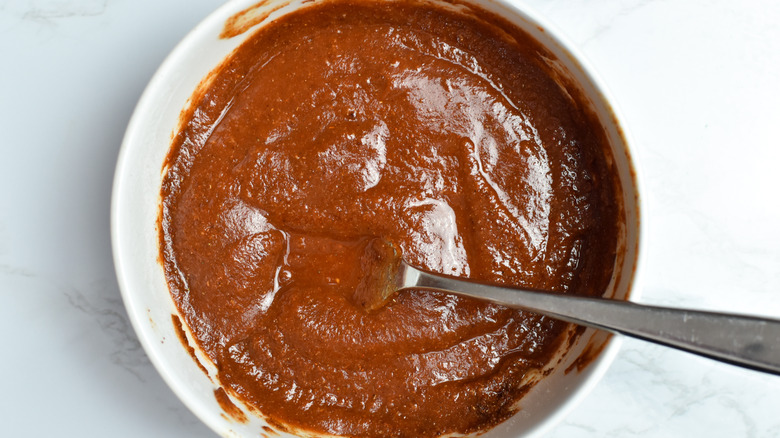 Stephanie Rapone/Mashed
Mix together all of the dry seasonings, then stir them into the tomato sauce. If you have no canned tomato sauce on hand, Rapone says you could use canned diced or crushed tomatoes, but advises against using homemade marinara sauce. She feels that any spices or seasonings in your recipe "could throw off the final product," so it's best to save that stuff for spaghetti, instead.
Grate the onion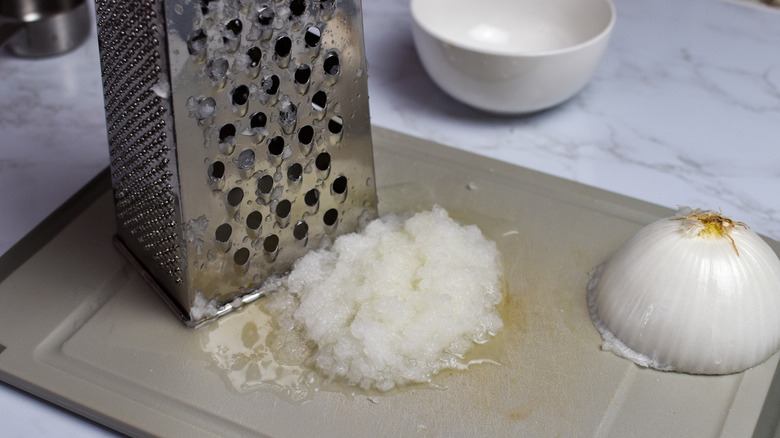 Stephanie Rapone/Mashed
Peel the onion, then grate it on a box grater or in a food processor until you have the necessary amount. Depending on the size of your onion, you might need all of it or you might only need half. As to why Rapone specifies the use of a white onion here, she explains that this is because "White onions tend to be more mild than yellow onions."
Cook the taco meat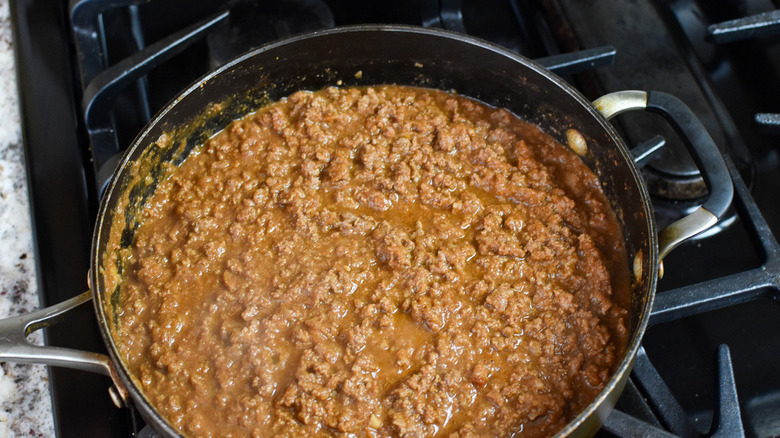 Stephanie Rapone/Mashed
Mix all of the ingredients together in a frying pan, preferably one with a lid. If there's no lid that will fit, you might have to DIY one using a piece of foil. Cover the pan and turn the stove burner to medium, then let the meat cook for 4 minutes. Open the lid and stir the meat for a full minute, making sure to break up any clumps. Re-cover the pan and cook the meat for another 3 minutes. Now open up the lid once more, stir the meat, and this time cook it without the lid for 3-5 minutes. It'll be done when the sauce has thickened up and there's no more pink showing in the beef.
Lean (Yet Juicy) Taco Meat Recipe
When you want lean taco meat without a lean, dry flavor, you just need to change up your cooking method and try this recipe for lean (and juicy) taco meat.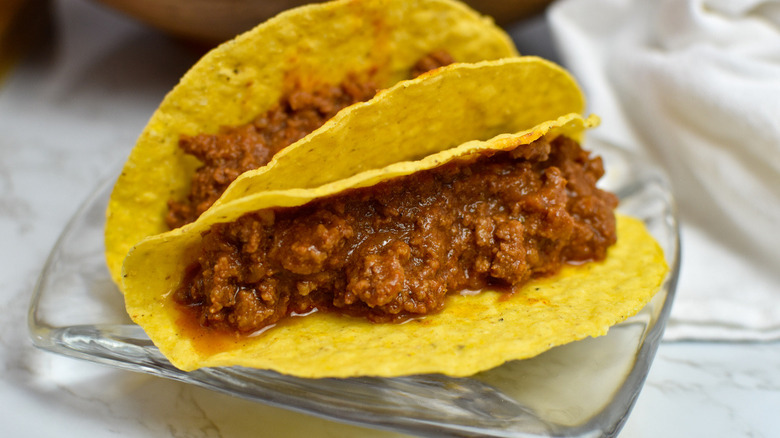 Ingredients
1 tablespoon chili powder
1 teaspoon kosher salt
1 teaspoon cumin
1 teaspoon paprika
½ teaspoon garlic powder
½ teaspoon ground Mexican oregano
8 ounces canned tomato sauce
1 pound lean ground beef
1 cup grated white onion
Directions
Combine the dry spices with the tomato sauce.
Peel and grate an onion until you have 1 cup.
Combine all the ingredients in a frying pan.
Cover the pan with a lid and cook the taco meat over medium heat for 4 minutes.
Stir the taco meat for 1 minute, breaking apart any clumps.
Cover the pan with the lid and cook the taco meat for 3 more minutes.
Stir the taco meat again, then cook it for 3-5 minutes with the lid off, until the sauce has thickened and all of the beef is cooked.
Nutrition
| | |
| --- | --- |
| Calories per Serving | 328 |
| Total Fat | 23.4 g |
| Saturated Fat | 8.7 g |
| Trans Fat | 1.3 g |
| Cholesterol | 80.5 mg |
| | |
| --- | --- |
| Total Carbohydrates | 8.7 g |
| Dietary Fiber | 2.6 g |
| Total Sugars | 3.9 g |
| Sodium | 497.0 mg |
| Protein | 21.1 g |