White Chicken Chili Recipe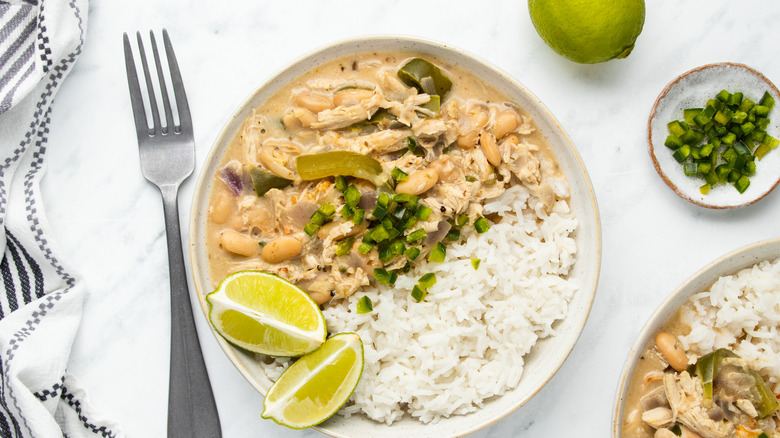 Catherine Brookes/Mashed
When fall rolls around, two things often start simmering in people's minds — football and chili. Okay, maybe people think of a few more fall-inspired events and dishes as well, but there's no denying that a warm bowl of chili hits the spot when the weather gets cooler. You can make various types of chilis, but this white chicken chili is one of our absolute favorites since it's a far cry from traditional chili. This recipe is filled with shredded chicken, veggies, and some cannellini beans, adding plenty of protein to the hearty meal. This would be great served as a dinner for the family or an awesome game-day meal for a crowd.
Recipe developer Catherine Brookes of Blue Sky Eating came up with this flavorful chili recipe that is perfect for chicken lovers. "I love this fun and tasty twist on a classic chili. Full of goodness [and] warmth, and great if you're wanting to avoid red meat," Brookes raves. She also points out why she likes it over traditional chili. "Chicken is a leaner meat and less rich than beef, so this makes for a lighter twist on classic chili." 
Gather the ingredients for this white chicken chili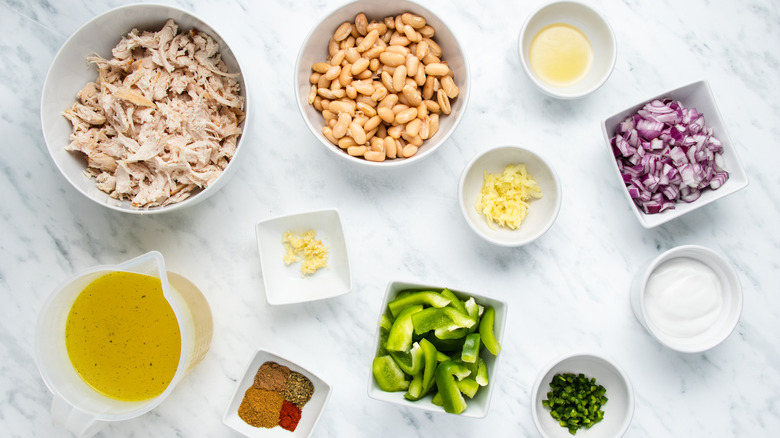 Catherine Brookes/Mashed
This recipe requires quite a few ingredients, so head to the store and pick them up. Be sure to grab olive oil, red onion, green bell pepper, garlic cloves, cumin, ground coriander, oregano, cayenne pepper, fresh ginger root, jalapeño, chicken stock, cannellini beans, cooked chicken, and creme fraiche.
Once you have those things, you can make this delicious white chicken chili.
Saute the onions and peppers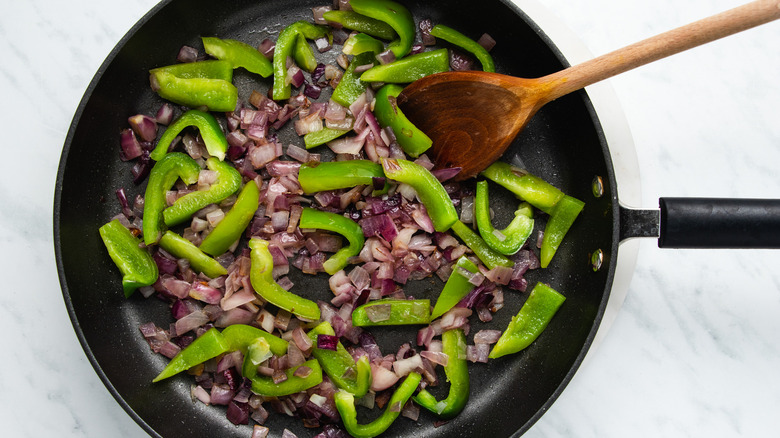 Catherine Brookes/Mashed
Grab a large frying pan and place it on your stove. Turn the heat to medium and drizzle in the olive oil. Next, add the diced onion and diced green pepper. Fry the veggies until they are softened, which shouldn't take more than 6-8 minutes.
Spice up the veggies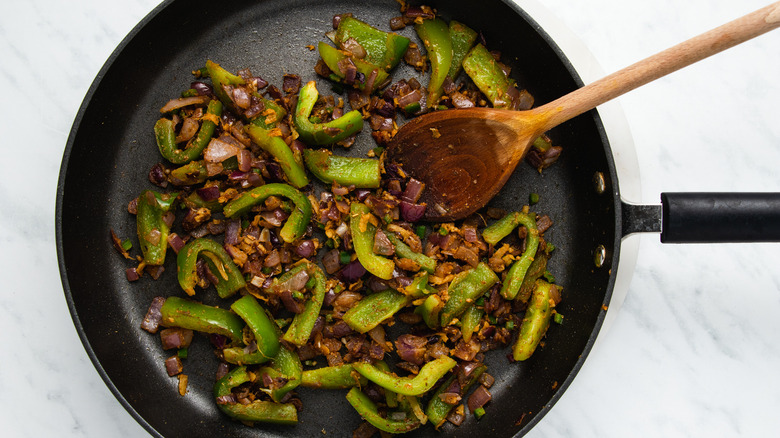 Catherine Brookes/Mashed
It's time to spice things up! Add the minced garlic, grated ginger, diced jalapeño, cumin, ground coriander, oregano, and cayenne pepper to the frying pan with the veggies. Stir well to coat the veggies in the spices and continue cooking for a few more minutes.
Toss in the chicken stock, chicken, and beans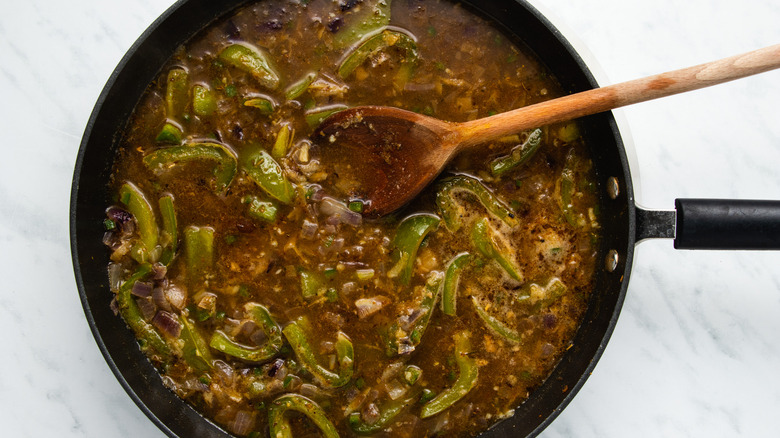 Catherine Brookes/Mashed
At this time, you can add the chicken stock to the mix. Then, crank the heat up to bring the mixture to a boil. Once you see bubbles reach the top of the surface, reduce the mixture to a simmer. Let the chicken stock and veggies simmer for about 10 minutes.
Then, you can add the shredded chicken and the drained cannellini beans. Let the ingredients simmer for another 5 minutes.
Add the creme fraiche and serve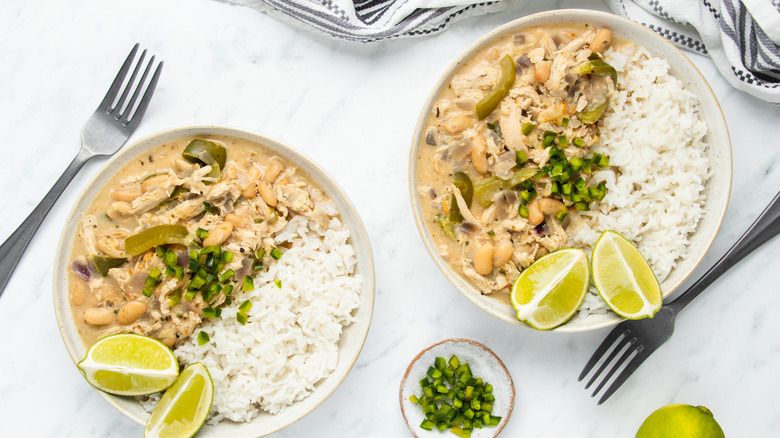 Catherine Brookes/Mashed
Once the dish has finished simmering, remove the chili from the heat and add your last ingredient — the creme fraiche. This will help make the white chicken chili a little creamier. "Adding creme fraiche to the dish adds a creamier texture and flavor which compliments the chicken perfectly!" Brookes notes. You can also add a little salt and pepper, to taste; just make sure to stir well to combine.
As far as serving suggestions go? Brookes recommends serving "with rice, tortilla chips, or even with a baked potato or sweet potato." We don't think you'll have much left over, but if you do, you can pop the leftovers in the fridge for up to 3 days.
White Chicken Chili Recipe
When cold weather hits, swap out your traditional beef chili for this lighter (but delicious) recipe for white chicken chili.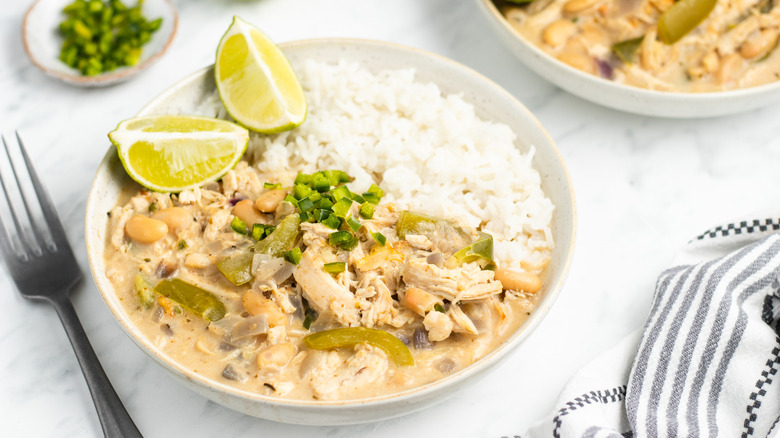 Ingredients
1 tablespoon olive oil
1 red onion, diced
1 green bell pepper, diced
2 cloves garlic, crushed)
1 ½ teaspoons cumin
½ teaspoon ground coriander
½ teaspoon oregano
¼ teaspoon cayenne pepper
thumb-sized chunk of ginger, grated
1 fresh jalapeño, finely chopped
3 cups chicken stock
1 14.1-ounce can cannellini beans, drained
12 ounces cooked chicken, shredded
4 ounces creme fraiche
Directions
Heat the olive oil in a large frying pan on a medium setting. Add the onion and pepper and fry until softened — about 6-8 minutes.
Add the garlic, ginger, jalapeno, cumin, ground coriander, oregano, and cayenne pepper. Stir well and cook for another few minutes.
Add the stock and bring the pan to a boil, then leave to simmer for 10 minutes.
Add the chicken and beans. Simmer for another 5 minutes.
Remove from the heat, add the creme fraiche and salt and pepper, to taste, and stir through before serving.
Nutrition
| | |
| --- | --- |
| Calories per Serving | 434 |
| Total Fat | 17.4 g |
| Saturated Fat | 6.0 g |
| Trans Fat | 0.0 g |
| Cholesterol | 83.9 mg |
| | |
| --- | --- |
| Total Carbohydrates | 34.6 g |
| Dietary Fiber | 6.3 g |
| Total Sugars | 6.2 g |
| Sodium | 344.0 mg |
| Protein | 34.6 g |