Classic Mapo Tofu Recipe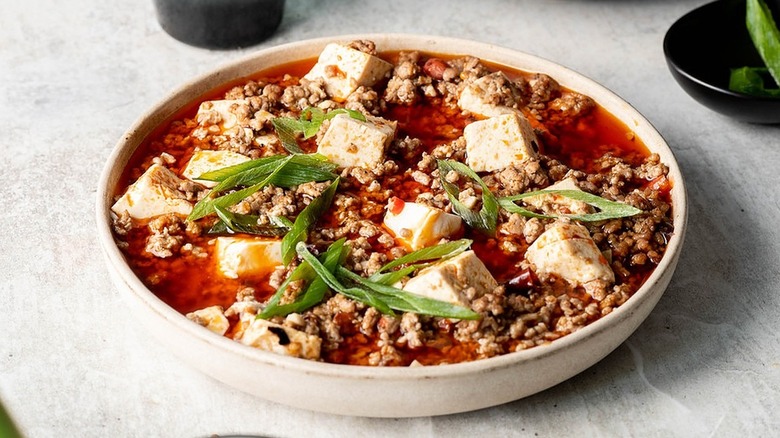 Michelle McGlinn/Mashed
Calling all the spicy food lovers! If you haven't tried classic mapo tofu yet, what are you waiting for? While tofu is a vegetarian or vegan on its own, this dish highlights tofu along with ground pork. Both are incredible sources of protein that can be eaten together, not just replaced for one another.
Recipe developer Michelle McGlinn brings us this recipe for classic mapo tofu, and she kick up the heat with this one. "This dish reminds me a lot of a dish my mom used to make that was not spicy. She used bell peppers instead of chilis, and hoisin sauce instead of doubanjiang [spicy bean paste]," McGlinn says. Of course, McGlinn does indeed use chilis to amp up the spice level of her dish, but if that's not your thing, don't panic. "If you would like to try this but want a less spicy version, consider leaving out the chilies and using only 1 tablespoon of spicy bean sauce," she suggests.
Gather your ingredients for classic mapo tofu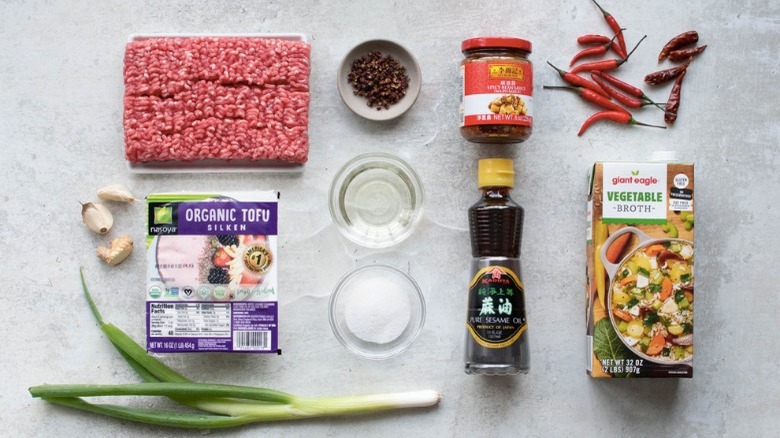 Michelle McGlinn/Mashed
To make this classic mapo tofu, you will need silken tofu, a neutral oil (like canola), Thai peppers, red chilis, Sichuan peppercorns, ginger, garlic, scallions, ground pork, spicy bean sauce, vegetable broth, sesame oil, cornstarch, and rice for serving. Before we dive in, McGlinn warns that "everything should be prepped prior to cooking. With wok cooking in recipes like these, the cooking process is very quick and you can very easily burn your chilies, garlic, onions, or ginger, or reduce the sauce into a sticky mess! Prep everything first, and the cooking will be a breeze."
Grind the peppercorns and blanch the tofu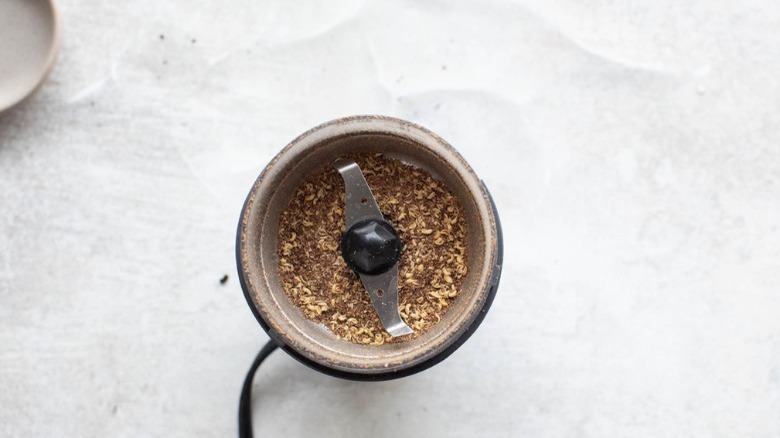 Michelle McGlinn/Mashed
To start, grind the peppercorns. McGlinn recommends using a coffee bean grinder as "it makes grinding spices so much easier, and results in a fine powdery texture." She notes that if you have an actual spice grinder, that would yield the perfect powdery texture that you're looking for. But, if you don't happen to have one, the coffee grinder will get the job done.
Then, blanch the tofu by dropping the tofu into boiling water for about 30 seconds. Remove the tofu and place it in an ice bath. McGlinn says, "You can skip blanching if you are in a hurry, but blanching adds a moistness to your tofu while partially cooking it, so it stays together instead of crumbling apart."
Make the chili oil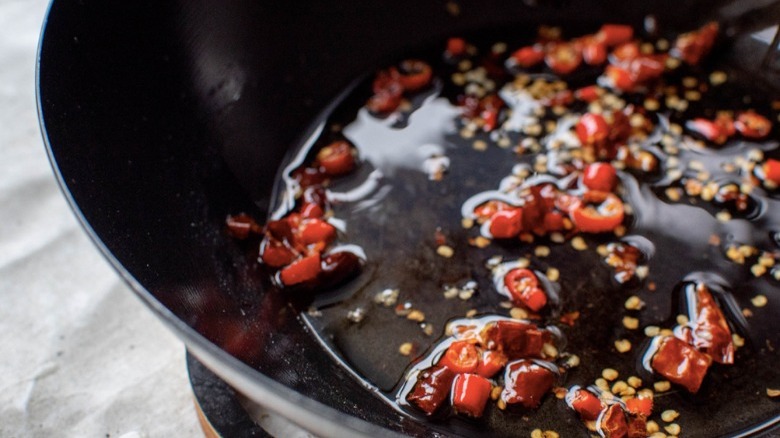 Michelle McGlinn/Mashed
Next, you can create the chili oil by heating ¼ cup of oil in a skillet. Once hot, add the Thai peppers and red chili, and fry for about 30 seconds. Then, pour this chili oil into a small bowl and set it aside for later. Alternatively, McGlinn notes that you can skip this step and opt for pre-made chili crisp instead.
Then, into the same skillet, add the remaining oil, garlic, ginger, and whites of the scallion. Sauté these aromatics for about 20 seconds, until they become fragrant.
Add ground pork & ground sichuan powder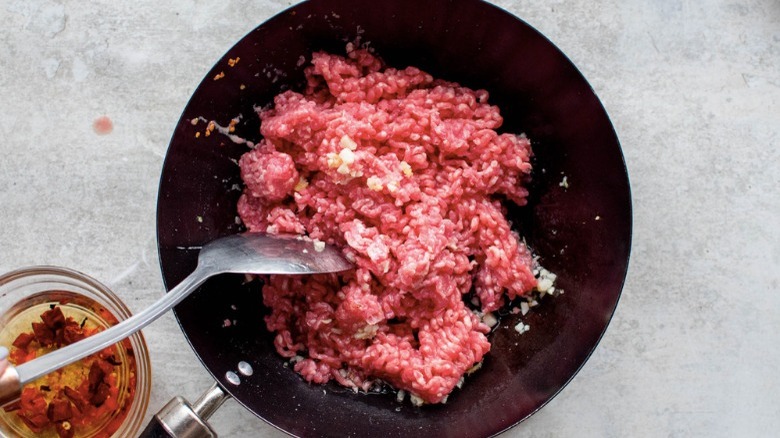 Michelle McGlinn/Mashed
Into the pan with the aromatics, add the ground pork and break it up with a wooden spoon. Cook the pork until it is no longer pink. Next, add in the ground Sichuan peppercorns, which should be in a powder consistency by this point. This dish is not for the faint of heart — it is very spicy! McGlinn notes, "If the dish is too spicy, add honey or sugar."
Add broth, bean sauce, tofu, and cornstarch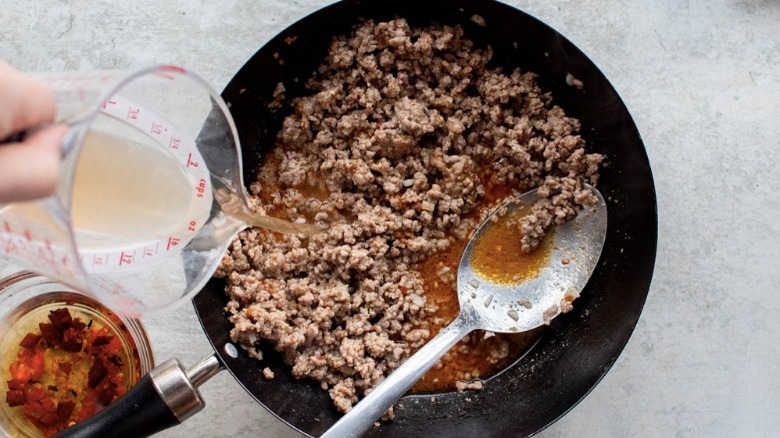 Michelle McGlinn/Mashed
Now, you can add in the broth and the bean sauce to the skillet. Stir this mixture until it is combined. Then, bring this to a simmer and cook for about 5 minutes.
Add the cubed and blanched tofu to the skillet. In a small bowl, add the cornstarch and bit of water to form a slurry. Pour this into the skillet and stir everything together, while cooking for an additional 4 minutes. The cornstarch slurry will help to thicken the sauce.
Garnish with scallions and sesame oil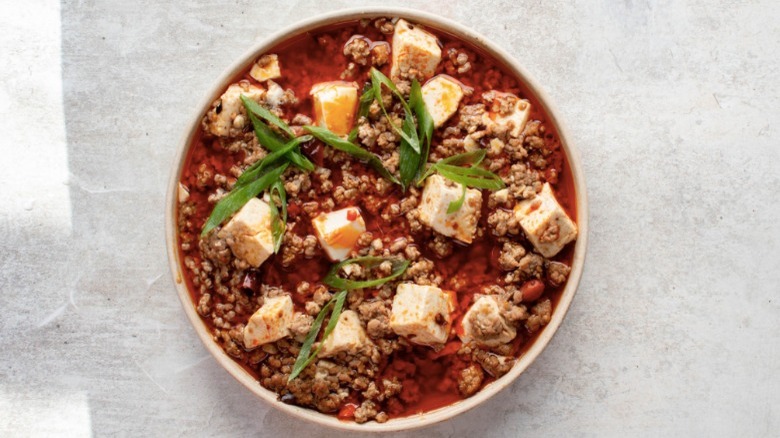 Michelle McGlinn/Mashed
Lastly, add the chili oil back to the skillet. Then, garnish the dish with the sesame oil and the greens of the scallions. McGlinn advises that "you must serve mapo tofu with rice!" She explains a little more in depth: "Mapo tofu is spicy and needs a base to make it manageable to eat. If you do not like rice, I'd recommend swapping with a noodle, preferably a noodle that is thick and can absorb the sauce a bit." Whichever way you serve it up, we're sure that you'll love the spicy and hearty flavors that this classic dish has to offer.
Classic Mapo Tofu Recipe
This classic mapo tofu recipe features both tofu and pork, and it's loaded with plenty of flavor and spice.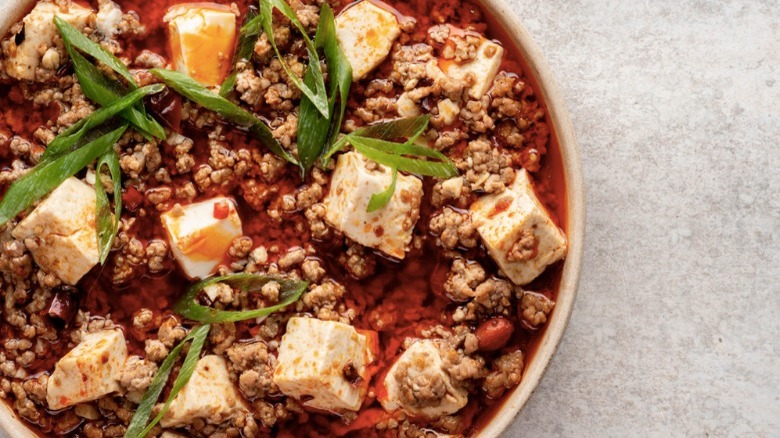 Ingredients
½ tablespoon Sichuan peppercorns
½ pound silken or soft tofu, drained and pressed, and cut into 1-inch cubes
½ cup canola oil, divided
1 fresh Thai pepper, sliced
3 dried red chilis, roughly chopped
2 cloves garlic, minced
1 inch fresh ginger knob, grated
1 scallion, sliced, and separated into white and green sections
1 pound ground pork
2 tablespoons spicy bean sauce
½ cup vegetable broth
1 tablespoon cornstarch
1 teaspoon sesame oil
Optional Ingredients
Directions
Grind the Sichuan peppercorns in a coffee grinder until they become a fine powder. You can also use a plastic bag or mortar and pestle to grind. Set aside.
Blanch the cubed tofu by dropping it into boiling water for 30 seconds. After 30 seconds, remove with a slotted spoon and drop tofu into an ice bath. Drain onto a towel and set aside.
In your wok or skillet, heat ¼ cup of oil. Add the sliced peppers and chilis and fry for 20 to 30 seconds, until bright red and hot, but not burned.
Remove the chili oil from the skillet and reserve. In the hot skillet, add the remaining oil, garlic, minced ginger, and the whites of the scallion. Sauté until fragrant, about 20 seconds.
Add the pork and cook until browned, breaking into small pieces as it cooks. Once browned, stir in the ground Sichuan powder.
Stir in the spicy bean sauce, chili oil, and vegetable broth. Bring to a simmer and heat until slightly reduced, about 4 to 5 minutes.
Carefully add the tofu to the wok or skillet and gently combine. Whisk the cornstarch into a small amount of water to form a slurry, then add to the wok. Stir gently together, then simmer until thickened, about 3 to 4 minutes.
Drizzle sesame oil over the dish and remove from the heat. Garnish with the green slices of scallion. Serve with rice.
Nutrition
| | |
| --- | --- |
| Calories per Serving | 608 |
| Total Fat | 54.7 g |
| Saturated Fat | 11.4 g |
| Trans Fat | 0.1 g |
| Cholesterol | 81.6 mg |
| | |
| --- | --- |
| Total Carbohydrates | 6.7 g |
| Dietary Fiber | 1.3 g |
| Total Sugars | 1.5 g |
| Sodium | 75.6 mg |
| Protein | 23.5 g |