What Ordering An 'Angel Shot' At A Bar Really Means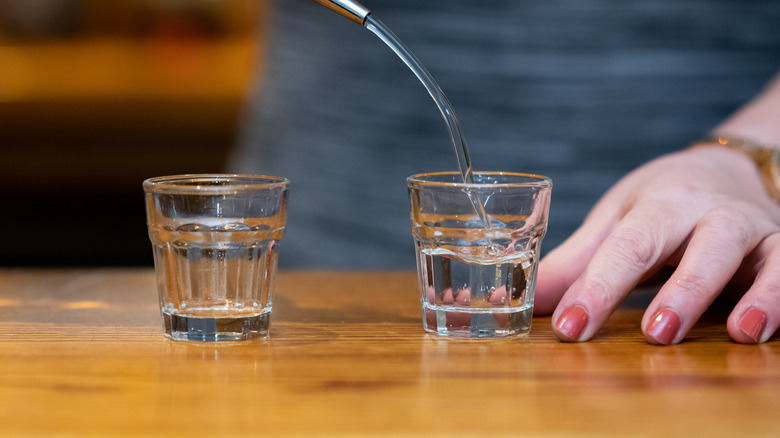 Matthew Horwood/Getty Images
Hanging out at the bar can be a fun activity for people who want to meet up with friends and colleagues, celebrate special occasions, chill after a date or event, or just unwind after a long day. Drinking establishments have become popular fixtures in cultures all around the world, with histories that predate ancient Rome, according to The Brew Enthusiast. Whether you're a beer aficionado or prefer a cocktail or glass of wine, many of today's bars serve a variety of alcoholic (and nonalcoholic) beverages to satisfy every type of palate. However, no matter if you're at your familiar neighborhood dive bar or an upscale taphouse, it's always extremely important to stay alert and aware of your surroundings, and carefully monitor your booze intake.
All too often, though, a good time can turn into an uncomfortable situation for patrons. Bartenders are now being made aware of a specific order that doesn't involve any drink preparation, but rather ensures a customer's safety.
An 'angel shot' is a cry for help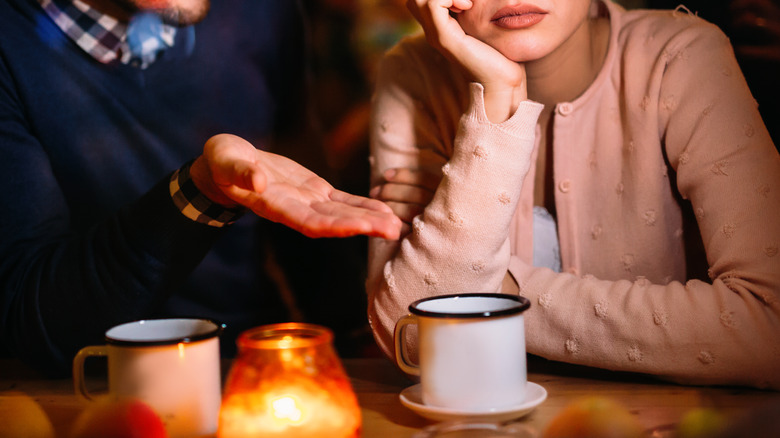 NDAB Creativity/Shutterstock
If you are ever at a bar or restaurant and find yourself accompanied by someone who is harassing you or making you feel uneasy or threatened in any way, ask for an angel shot. Essentially, ordering an "angel shot" is a secret signal to the bartender that you are in need of immediate assistance to dodge a date or meeting that's going south. The staff can take the necessary measures to manage the situation, whether it's calling the police, hailing a cab or rideshare service, or escorting someone to their car. To remain discreet, customers can order an angel shot in different styles, such as neat, on the rocks, or with lime, depending on the severity of the circumstances.
Restaurant Clicks explains that enforcing this policy and training the staff is an effective way for patrons to feel safe, regardless of their reason to request help. Many establishments have posted signs in their restroom stalls or on the walls with instructions on what to do if you're in danger — and to let people know they take security and well-being seriously. Meagen Herbison, a bar supervisor in Michigan, told Parade, "The top priority and first step is to separate the victim(s) from the aggressor(s) as quickly and smoothly as possible."