Here's What Andrew Zimmern Really Thinks About Expensive Knives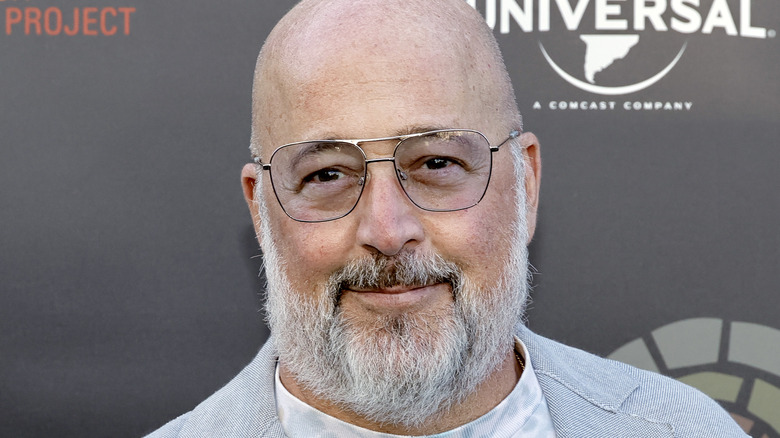 Kevin Winter/Getty Images
Whether it's steak, skincare, or strollers, we're often willing to invest more money on certain items in order to get what we perceive as the best. For Andrew Zimmern of "Bizarre Foods" fame, that item is knives. He admits to throwing down a few thousand pesos for good cutlery more than once. "I'm not proud of this. I think it's an overspend and ridiculous," he says in a video for "Andrew Zimmern's Spilled Milk," on Substack.
On his weekly Ask Me Anything segment, he hovers over the webcam like Big Brother (from George Orwell's "1984," not the CBS reality show) answering subscribers' questions. One subscriber, Michael, who's worked as a bartender in an NYC fine-dining restaurant, asked, "Are the knives available in restaurant supply stores as good as those costing hundreds of dollars?" Well, Mike, you asked the right guy.
For Zimmern, "hundreds of dollars" counts as a "mid-range" price, but he apparently owns blades worth far more. "I probably have 200 knives and some of them, especially the custom-made ones, are worth a fortune," says the chef, who confesses to only using around half the knives he owns. "Sadly, I'm addicted." The cutlery he has been seen using includes pocket knives by Shun (via Facebook), with whom he formed a partnership. Doubling as steak knives, they cost about $125 apiece.
For home cooks, Zimmern recommends paring, chef's, and serrated knives along with a slicer and good kitchen shears. But how do you pick a good knife for the money?
The sharpest knife in the drawer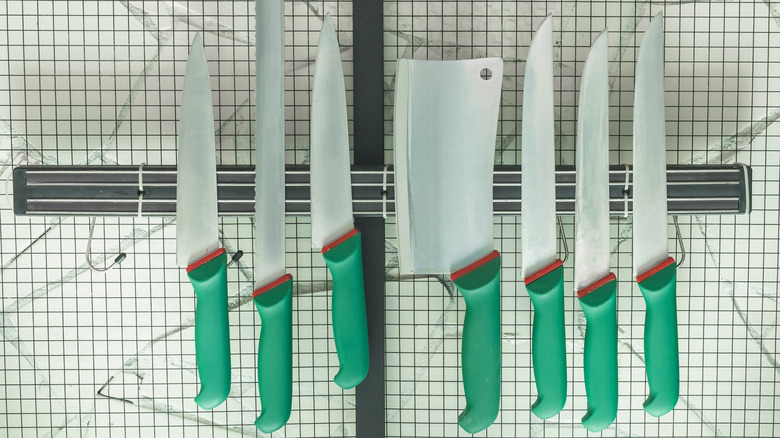 Yurri Khoroshchak/Shutterstock
Cooks often forget the importance of learning and practicing knife skills, according to Andrew Zimmern. Another common mistake everyone makes when buying a kitchen knife is not remembering that a good chef's knife is an investment that can last for years. Be prepared to spend between $50 to $100 on each, according to Kitchn.
Zimmern says in his "Spilled Milk" segment that when buying a knife, it's the blade that counts. "There are cutlery companies in Germany, Switzerland, and the United States that use really good steel for their knives," explains the chef. "They make them in bulk, sell them in bulk, and use cheap handles. But that's fine because it's really all about the steel." Edge retention, the blade's ability to resist dulling, be re-sharpened, and retain its sharpness, is also important. "As of 10 years ago," according to Zimmern, the cheaper "restaurant supply-store knives were ... as good as the mid-range ones." Food Network recommends getting a home knife sharpener or getting your knives sharpened twice a year.
On the extreme end, the German Nesmuk Jahrhundertmesser 2010 has a blade made of Damascus steel with a handle made of 5,000-year-old wood and set with 25 diamonds. It sells for more than $81,000, according to scharfKochen.de. Aren't you relieved to know that you don't need to spend thousands? If it has a plastic handle and is mass-produced, that doesn't make it bad – far from it, says Zimmern.