Between The Sheets Cocktail Recipe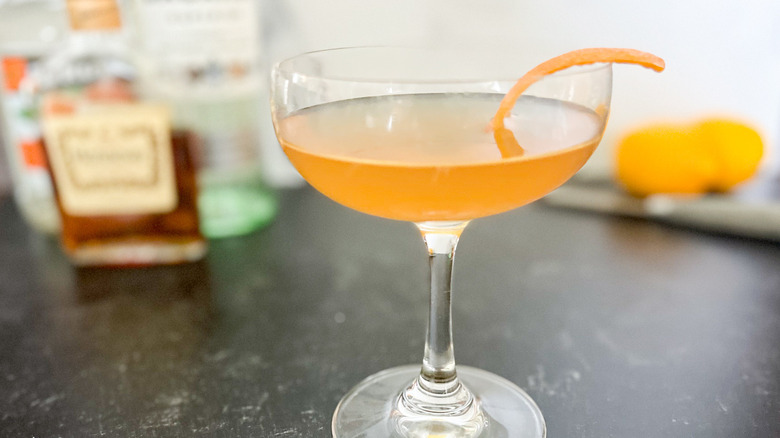 Erin Johnson/Mashed
As you can tell from the title, there's just something super catchy and appealing about a cocktail with the name "Between the Sheets." It's a simple cocktail, really, but the flavors are perfectly vibrant and citrusy. The core ingredients are three different types of liquor or liqueur, so you can count on this being a pretty strong cocktail, too. More than anything, however, this Between the Sheets cocktail is easy to make and even easier to enjoy — just ask recipe developer Erin Johnson.
"This is a very straightforward cocktail, that's easy to make, and uses ingredients you may already have on hand. This does taste very cognac-forward, so if you're a cognac fan this would be a great drink to try," Johnson says. "I like that this uses liquors that are accessible and that many people may even have on hand." Cognac lovers, it's your time to shine — let's jump right into this recipe!
Gather the ingredients for this Between the Sheets cocktail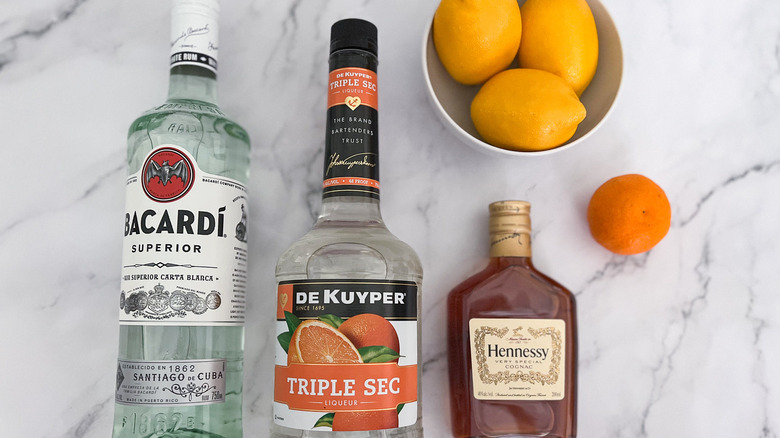 Erin Johnson/Mashed
Luckily for you, this recipe requires just a handful of ingredients. You'll need cognac, white rum, triple sec, and lemon juice. If you wish, you can also grab an orange peel for garnish.
Pour the liquids into a cocktail shaker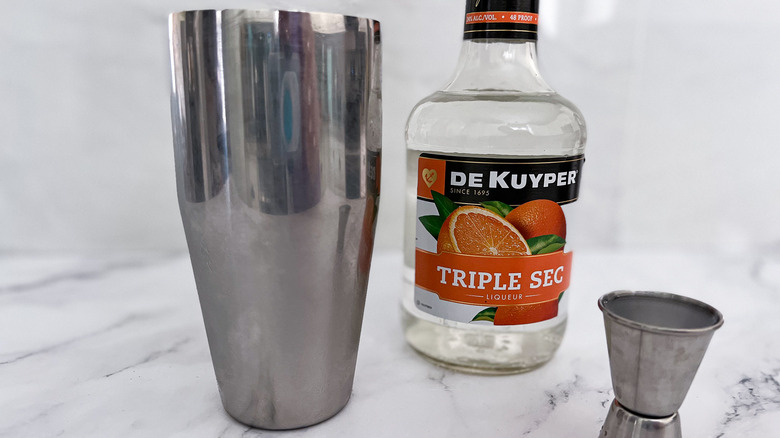 Erin Johnson/Mashed
Grab a cocktail shaker and start adding the liquids to it. Begin with the cognac, and then add the rum and triple sec. "This tastes reminiscent of a sidecar, with rum," Johnson says of the flavor.
Squeeze in some lemon juice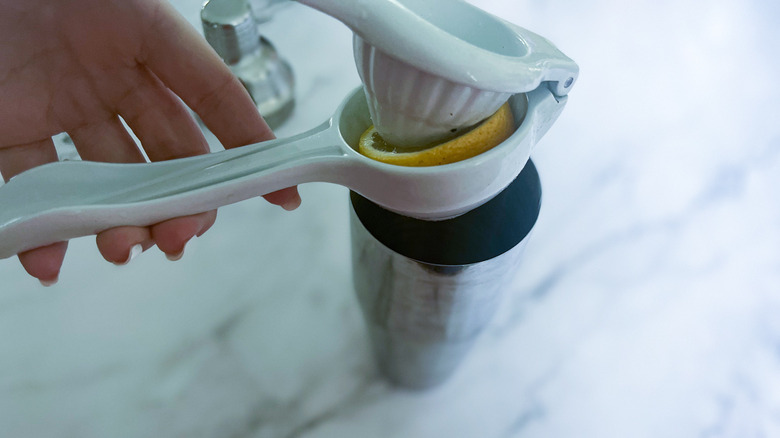 Erin Johnson/Mashed
The next thing that you will need to add is lemon juice. This gives the cocktail a nice hint of citrus flavor. You'll need 1 tablespoon's worth of fresh juice — either measure it out or squeeze half of a lemon right into the shaker.
Add ice to the shaker and strain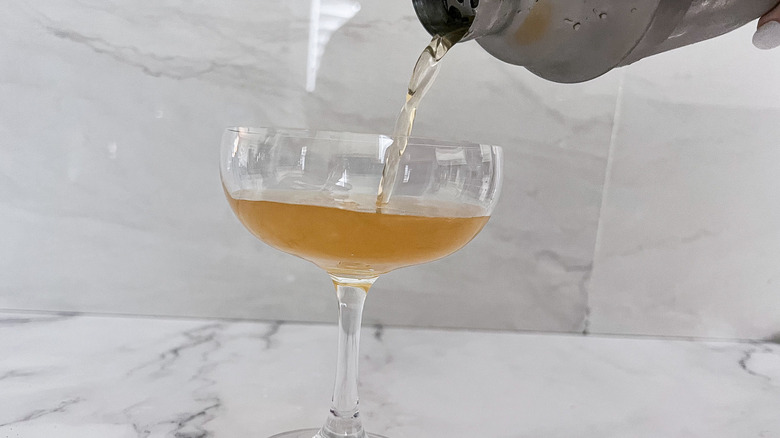 Erin Johnson/Mashed
The last thing you will need to add to the cocktail shaker is the ice. Fill it up to the top, and then shake vigorously to combine all the ingredients together.
Once finished, use a strainer to strain the liquid into a serving glass.
Garnish the cocktail with an orange peel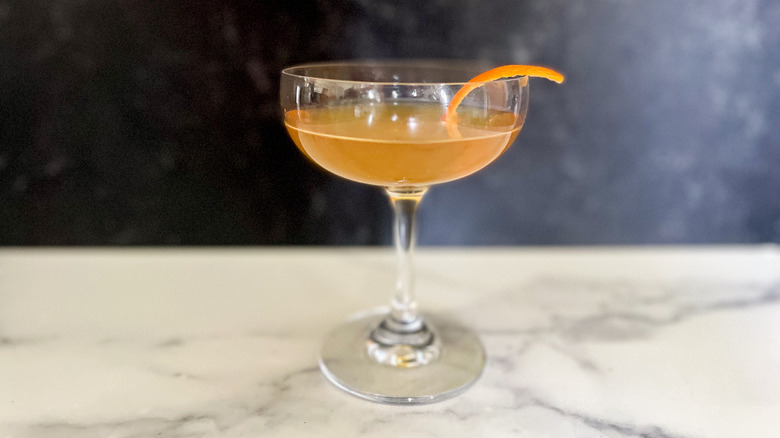 Erin Johnson/Mashed
It's time to garnish the drink to make it all pretty. Just add a simple orange peel to finish the drink off. "Many recipes call for a flamed orange peel, but I tested this both ways, and I didn't find the step necessary — and makes it even easier to make at home," Johnson says. "Rub the peel between your fingers to release the oils, and then add to the drink! Also, consider rubbing the peel around the rim of the glass for an added effect. The twist in this is actually not flaming the citrus peel. I do add it and warm it between my fingers to release the oils."
Serve this drink for happy hour or with dinner. "Food-wise, the citrus notes of the drink pair nicely with a nice creamy pasta dish," Johnson suggests
Between The Sheets Cocktail Recipe
This Between the Sheets cocktail tastes just as alluring as it sounds, thanks to the help of rum and cognac.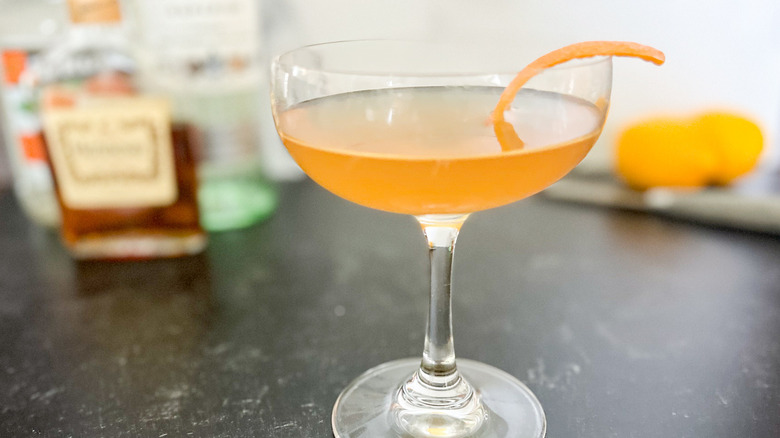 Ingredients
1 ounce cognac
1 ounce white rum
1 ounce triple sec
1 tablespoon lemon juice
1 orange peel, for garnish
Directions
In a cocktail shaker, combine the cognac, rum, and triple sec.
Add the lemon juice.
Fill shaker with ice, vigorously shake, then strain into glass.
Garnish with orange peel, if desired.
Nutrition
| | |
| --- | --- |
| Calories per Serving | 223 |
| Total Fat | 0.1 g |
| Saturated Fat | 0.0 g |
| Trans Fat | 0.0 g |
| Cholesterol | 0.0 mg |
| | |
| --- | --- |
| Total Carbohydrates | 10.7 g |
| Dietary Fiber | 0.3 g |
| Total Sugars | 9.5 g |
| Sodium | 3.0 mg |
| Protein | 0.1 g |