Dessert Enthusiasts Will Love Popeyes New Offerings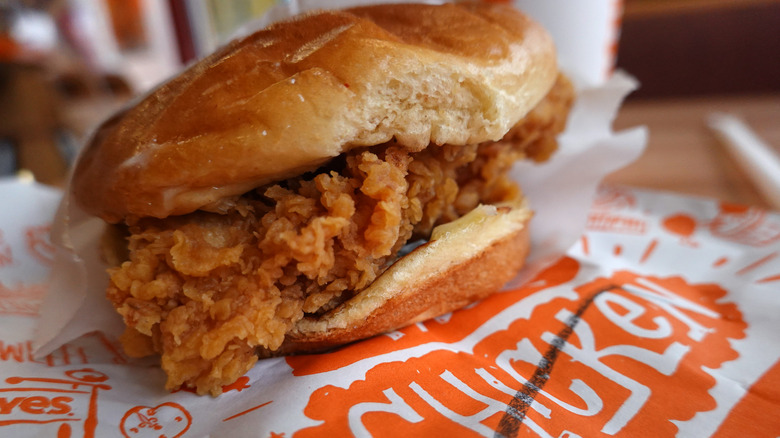 Scott Olson/Getty Images
Popeyes is known for many things – delicious fried chicken and feathery biscuits, for example — but when it comes to its dessert menu, many foodies may draw a blank. But while Popeyes isn't as famous for its teats as other Southern-based chains like Dairy Queen, it still has offered the sweet-obsessed a chance to fulfill their cravings. Of course, its classic, cinnamon-dosed apple pie has always been a hit with customers who enjoy the sweeter side of life. But recently Popeyes seems to have decided to try venturing even further into the world of deserts.
Just this March, the chain brought a taste of New Orleans' famous beignets (which are like fried donuts coated with powdered sugar) with a fruit-filled touch to its menu for a limited time, per Brand Eating. And now Popeyes has once again upgraded its dessert game with one all-new exclusive treat and one returning item.
Popeye's is leveling up its dessert menu
Starting today, Popeyes is officially a dessert lovers' paradise. And the first of Popeyes' two treats is meant for those who can't get enough chocolate. According to Chewboom, the fast food chain's chocolate beignets are making a comeback to its menu. These Hershey-stuffed fried sweets, which were first offered by Popeyes' in 2020, come with three pieces per order (via Popeyes).
The second (and brand-new) treat being added to Popeyes' dessert lineup is the banana cream cake. A vanilla-flavored cake dusted with wafer pieces, the light and airy sweet bears a strong resemblance to another dessert with a strong connection to the South – banana pudding. Both of these treats will only be available for a limited amount of time. And while dessert fans are getting in on this offer before it disappears, they may also want to take advantage of another Popeyes limited-time deal: Every Friday in August, customers can get a free-of-charge Popeyes chicken sandwich after they make a purchase of $20 on Grubhub.