Mindy Kaling's Attempt At The Bear Spaghetti Has Instagram Drooling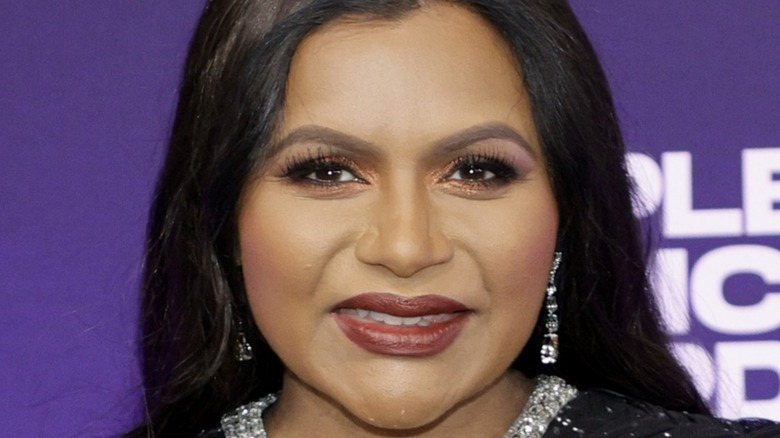 Amy Sussman/Getty
If you're a fan of FX's "The Bear," which NPR called "a funny, raw, real drama," you're in good company. Mindy Kaling is also a professed fan of the show. Not only that, she was so into the back-of-house drama that she decided to cook one of the show's iconic dishes. In the last episode of the series, Carmy (who Mindy refers to as a "tortured chef") makes a pasta dish that his late brother loved. This is the dish that Mindy decided to replicate for her fans on Instagram, and, in her words, "transport myself into the Chicago food scene."
In an Instagram video, she first praised the writing and direction of "The Bear," as well as the performance of Jeremy Allen White. Then, she goes into foodie-mode, showing the sped-up cooking methodology favored by TikTokers showing their recipes. She begins with olive oil, smashed garlic, red pepper flakes, and then a big bunch of basil. Meanwhile, she cooks the spaghetti and preps an onion to go into the pot. Then, she melts butter with the onion and a can of tomatoes before blending the olive oil mixture together. Eventually, it all becomes the delicious pasta dish that she saw on the show. She captioned the video: "Immersing myself in the Chicago food scene, courtesy of "The Bear." Thank you, Chef. 🍝"
You too can create The Bear's iconic spaghetti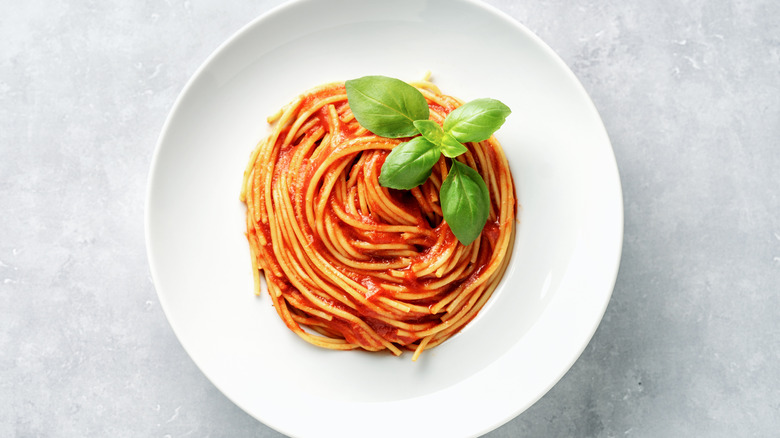 Kattecat/Shutterstock
Mindy Kaling's fans on Instagram ate up her "The Bear"-inspired cooking session, so to speak. One replied "Yes chef," another nod to the show. Others requested a regular Cooking with Mindy series. Though she doesn't have an official series, she has posted fun videos of herself in the kitchen before, including cooking her way through Gwyneth Paltrow's cookbook, per People. Kaling isn't the only one learning more about cooking from the show. Star Jeremy Allen White admitted he was "useless" in the kitchen to People. 
People are trying to recreate this pasta all over the internet, and luckily, it's a pretty easy recipe. The recipe is a variation of spaghetti Pomodoro, per The Gourmet Bon Vivant. There are more drool-worthy dishes that you might want to recreate yourself happening in "The Bear," notes Buzzfeed. Their recipe gets into a lot of detail if you want to cook the dish yourself and need a step-by-step guide. But, if you'd rather follow the directions that take place on the show, they're quite simple, per People. The notecard Carmy references just says "10 garlic cloves, basil steeped in oil, and two (28-ounce) cans of San Marzano tomatoes" since "the smaller cans taste better." Carmy is also seen using butter, onions, and red pepper. All of these sources note that "The Bear" emphasizes the use of San Marzano tomatoes for both this recipe and your general cooking needs.