The City With The Most Waffle House Locations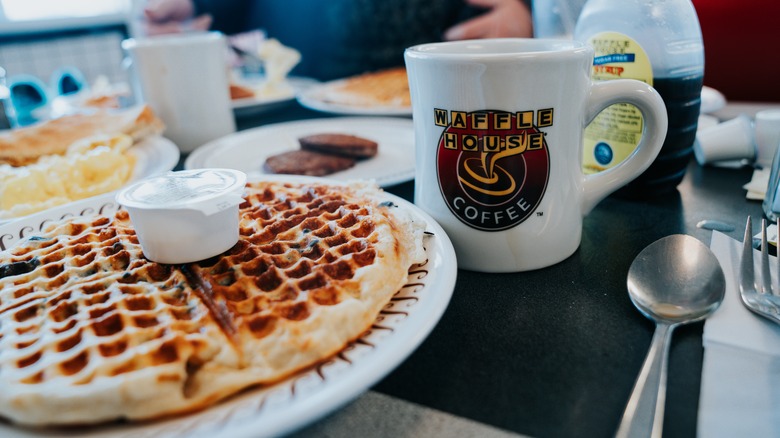 melissamn/Shutterstock
Waffle House is a staple of fast-casual restaurant culture in America. As a popular destination for travelers, locals, and everyone in-between, the chain has been serving hearty comfort meals to throngs of customers since it opened its doors in 1955. While best known for its simple breakfast dishes such as waffles (of course), hash browns, and omelets, plus its no-frills lunch and dinner specials including burgers, patty melts, steaks, and chops, the iconic brand also pays quirky, genuine homage to the jukebox era and even has its own record label with unique diner-themed tunes.
Waffle House strongly believes in the strength of community, the power of classic Southern fare, and top-notch customer service (per FSR Magazine). When co-founders and neighbors Joe Rogers and Tom Forkner launched the first-ever Waffle House in Avondale Estates, Georgia, this was their exact mission, per the company's website. Today, there are around 2,000 Waffle House locations in 25 states throughout the country, according to recent data from ScrapeHero. There is one U.S. city, however, that takes the cake (or waffle) as far as having the most Waffle House spots on the map. Perhaps not surprisingly, it's a short distance from where the brand began almost seven decades ago.
Atlanta is home to the most Waffle Houses in the U.S.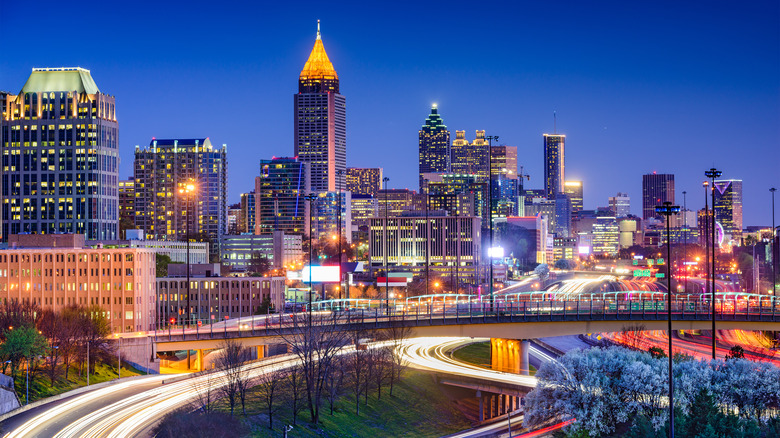 Sean Pavone/Shutterstock
If you live in or have ever visited Atlanta, you can likely attest to the fact that there is definitely no shortage of waffle-centric greasy spoons in the area. The Big Peach is home to the greatest number of WaHo sites, which actually makes a ton of sense, considering Avondale Estates, the famous eatery's hometown, is less than 10 miles east of the heart of the state capital. As of 2022, the Atlanta metro boasts 162 Waffle House restaurants, according to AtlantaFi, a publication dedicated to all things ATL. And as far as total Waffle House locations across the state of Georgia, there are about 400, which means the reigning metropolis holds nearly half of them.
Waffle House in its entirety has a few bragworthy accolades, including being the number one server of, surprisingly, T-bone steaks in the world (135 million since 1955) and the buyer of 2% of the nation's eggs per year, as USA Today reported back in 2005. In any case, Atlanta may be celebrated for its diverse music scene and Coca-Cola, but lest we forget about its abundance of brightly lit yellow signs promising breakfasts galore.