If You're A Teacher, You May Be Eligible For A Free Chipotle Burrito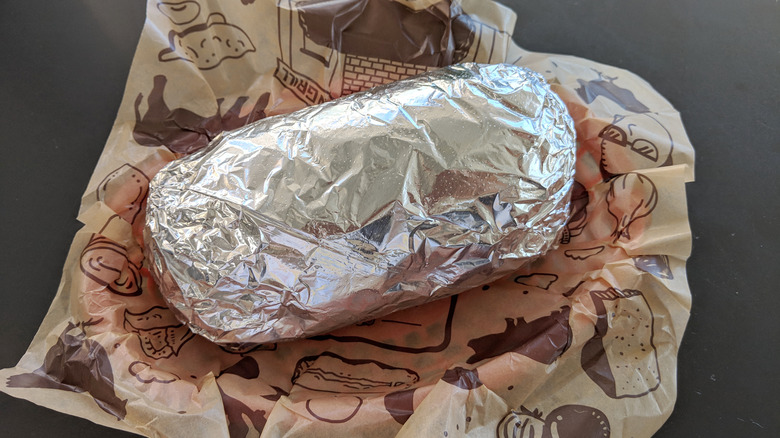 Eric Broder Van Dyke/Shutterstock
Teachers can be considered the backbone of our society, and many well-known companies and chains have gone out of their way to thank educators for their tireless work — usually, by giving away delicious freebies. Last year, teachers were able to snag a free McDonald's breakfast on their way to class. And this year, as Thrillist reported this past May, Barnes & Noble treated school staff members to a free cup of coffee for Teacher Appreciation Week.
Now, with a new school year just around the corner, one fast casual chain is determined to not let America's teachers return to school on an empty stomach. Chipotle has frequently done food giveaways (in April 2022, the business offered around 10,000 burritos to its customers in honor of its collaboration with twitch streamer Karl Jacobs), and now it has sworn to gift burritos to educators at 2,000 schools across the nation (via the New York Post). But as these things tend to go, there's a bit of a catch: Teachers' can't enter the giveaway themselves.
Here's how teachers can get a free Chipotle burrito
At the beginning of the 2021 school year, Chipotle offered teachers the chance to win $599 to buy supplies for their classrooms. However, unlike last year's back-to-school giveaway, this time it's up to students to nominate their favorite teachers to receive a free lunch from Chipotle (via the New York Post). As noted by the New York Post, students can enter one of their teachers in the sweepstakes by writing about how an educator has made a difference in their lives on one of Chipotle's social media platforms — specifically "Twitter, Facebook, or Instagram."
However, before students rush off to give their most beloved teacher a chance to earn a free-of-charge meal, there are a few stipulations to keep in mind. According to Chipotle's website, in order to be nominated a teacher must be currently employed at an in-person school. Also, only educators who teach in K-12 classrooms are eligible to be nominated. 
However, this prize is more than just one free meal for one teacher: The sweepstakes rules state that each of the 2,000 winning schools will receive a "burrito package," which "contains 50 vouchers" for a "free entree" at Chipotle to be distributed to teachers as the school's representative sees fit. Students can enter their favorite teachers in the giveaway now through August 12. After that date, Chipotle will randomly select 2,000 winning teachers from the list of nominations beginning August 15.