Tabitha Brown's Game-Changing Substitute For Vegan Shelled Seafood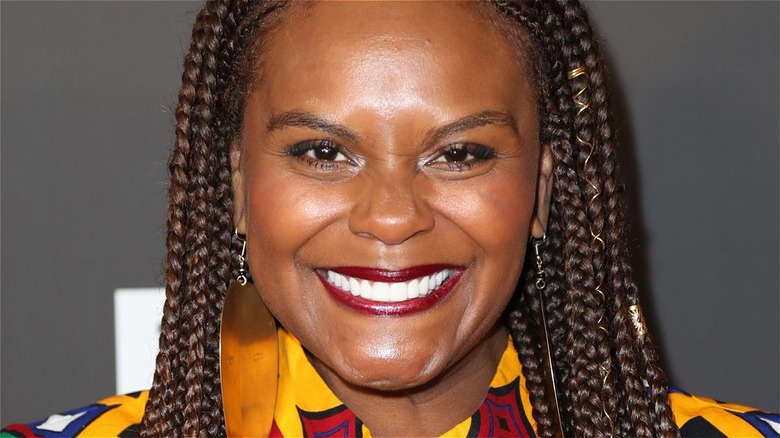 Maury Phillips/Getty
If you've ever explored the world of vegan cuisine, there's a good chance you've come across food influencer Tabitha Brown at some point. The actor and content creator has turned her sunny personality into a culinary empire, appearing on countless television shows as herself in addition to her acting gigs. Per her website, Brown has opened a vegetarian/vegan restaurant in Los Angeles called Kale My Name and even written several cookbooks, including "Cooking from the Spirit: Easy, Delicious, and Joyful Plant-based Inspirations," the soon-to-be-released follow-up to her successful debut cookbook "Feeding the Soul," as per HarperCollins.
One unifying component of all her ventures is that Brown isn't afraid to turn up the volume. That can mean creating home decor or clothing pieces with vibrant colors and patterns, such as the items you'll find in her Target collaboration. Or, it can mean adding a generous amount of seasoning to whatever dish she's whipping up in the kitchen.
That's exactly what makes her such a great fit for TikTok — Brown has 4.9 million followers who tune in to see her personality-packed videos and learn to make a variety of vegan dishes. And any seafood lovers who either follow a plant-based diet or who are looking to incorporate more plant-based dishes into their repertoire won't want to miss a video in which she shared a vegan hack for recreating the taste of shelled seafood.
The game-changing produce superstar — enoki mushrooms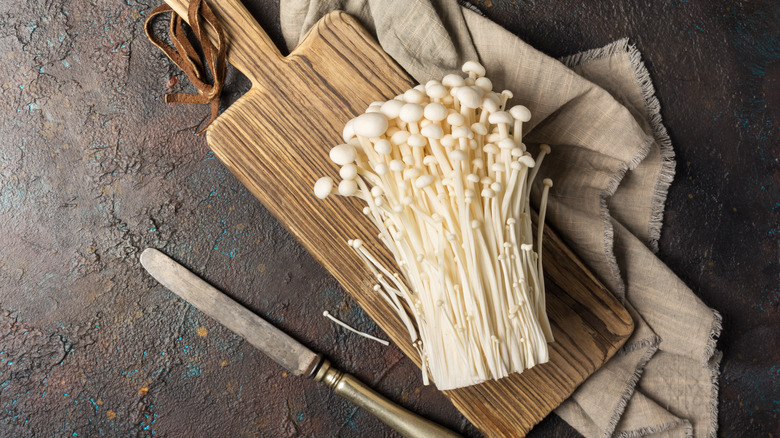 Chursina Viktoriia/Shutterstock
In a May 4 TikTok video, Brown explains that she's never quite managed to shake the craving for particular types of shelled seafood, such as crab legs and lobster. Luckily, she found a way to recreate those flavors and textures for herself in a satisfying way by using enoki mushrooms, which she claims mimic shelled seafood to perfection.
Enoki mushrooms are much different in shape than regular button mushrooms or even larger options, such as portobello mushrooms. As The Spruce Eats explains, they have a long, thin shape, almost resembling thin pasta noodles with tiny caps on the ends. You may recognize them if you frequently make Japanese, Korean, or Chinese dishes. As a bonus, Brown's preparation of the mushrooms is incredibly simple; it's not a three-day process to capture that shelled seafood flavor and texture. All she does to enjoy the enoki mushrooms is cut off the base, add some oil and seasoning, and sear them in a frying pan in large clusters.
The video racked up more than 338,000 likes, as well as 1,550 comments. Many commented on how good the dish looked and how they'd be making it later, complimenting her ingenuity at coming up with the substitute. However, another follower suggested an alternative as well, telling Brown to try Bear's Tooth or Lion's Mane mushrooms if she's looking for something that tastes exactly like crab.