What You Need To Know About Bad Bunny's New Steakhouse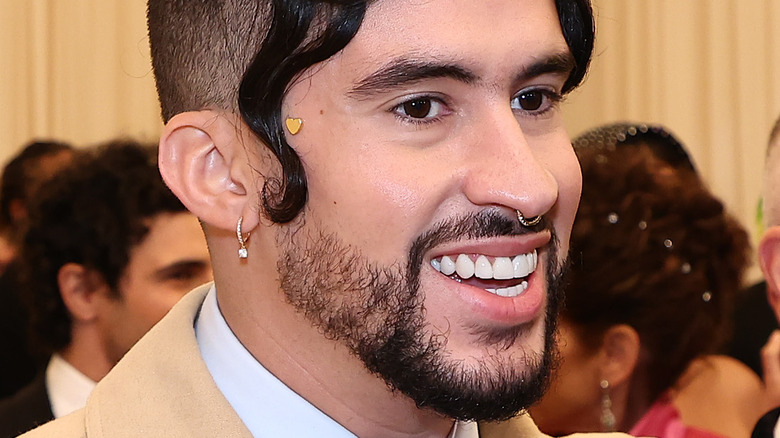 Arturo Holmes/mg22/Getty Images
Bad Bunny's newest artistic release is not another song, but a restaurant. On Friday, August 12, the global pop sensation will be dropping a steakhouse on Miami residents, rather than a new reggaeton-trap album. Despite the star having a very successful music career, earning over $20 million from his music ventures alone, Bad Bunny also has a passion for food, with his one of his favorite cuisines being his native Puerto Rican (via Ocean Drive).
This isn't the first time the artist has taken on projects in the food space, as Bad Bunny's collab with Cheetos last year had him developing a chips-themed clothing line with Adidas and donating money to students in the Hispanic community. When Miami food and nightlife entrepreneur David Grutman approached the rapper about a partnership regarding a new business endeavor, the singer took it, reports the Miami Herald. Their joint creation, Gekkō, will not only fuse together different cuisines, but it will also join together the different nightlife experiences of Miami under one roof.
Gekkō combines fusion cuisine with a lounge vibe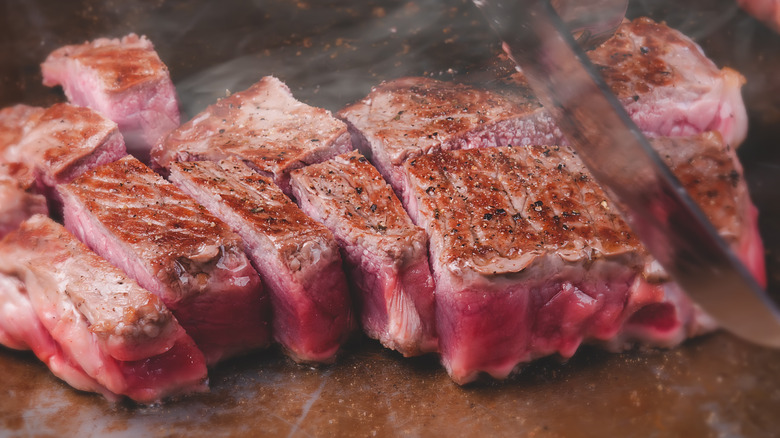 NPDstock/Shutterstock
According to Food & Wine, Bad Bunny's restaurant will open in the Brickell neighborhood of Miami. The steakhouse will feature classics such as filet mignon, but with Japanese twists. Examples include a wedge salad with yuzu buttermilk ranch dressing and Wagyu crispy rice — one of the rapper's favorites on the menu. Grutman's vision for the space was to combine elements of a steakhouse with a lounge, as the Floridian city is known for its nightclubs. Guests can indulge in gold-topped otoro nigiri in the dimly lit restaurant or sit at the sushi bar to enjoy bites and a cocktail, such as a cafecito con leche (via Miami Herald).
Gekko's location and cuisine offerings weren't chosen randomly. Bad Bunny told Food & Wine that Miami holds a special place in his heart, which is why he frequents the Florida city to eat and spend time by the water. Similarly, the artist has an appreciation for Japanese culture, as noted in one of his songs, "Yonaguni," which is a nod to one of the islands of the archipelago.