The Best Gift Baskets In 2022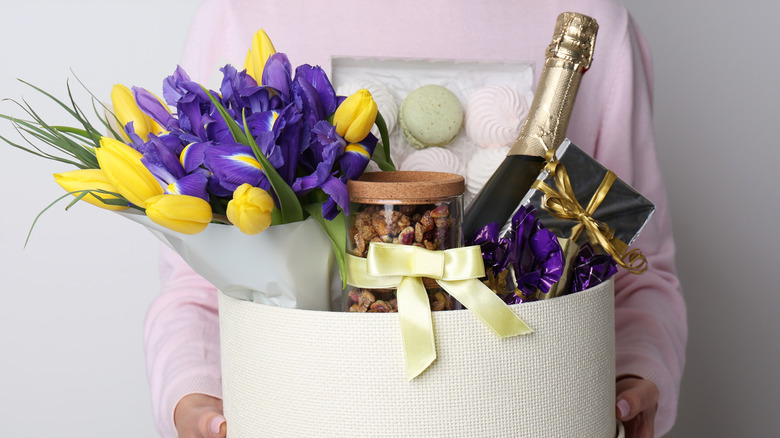 New Africa/Shutterstock
We may receive a commission on purchases made from links.
When you're having trouble finding the perfect present for someone, a gift basket is a simple solution that makes an impact. Filled with a trove of treats and available in a variety of sizes for just about every special event imaginable, the best gift baskets speak directly to a person's interests. Not to mention, they usually offer an impressive presentation that wows recipients before they even tear into the treasures within. Still, there are a few elements to look out for when choosing the best gift basket for your lucky friend, client, or loved one. 
Rogue Magazine suggests starting by considering the giftee's interests, such as determining their preferred snacking style or avoiding items like wine for non-drinkers. As well, your budget is highly relevant; for example, don't spend a fortune on someone you hardly know or they may feel uncomfortable. Likewise, don't cheap out on a close friend or loved one or you may insult them. You should also pay attention to packaging to be sure you're setting the tone for the occasion you're celebrating. Choosing a reputable gift basket provider helps assure that both the exterior and the contents will be of appropriate quality.
How we selected the gift baskets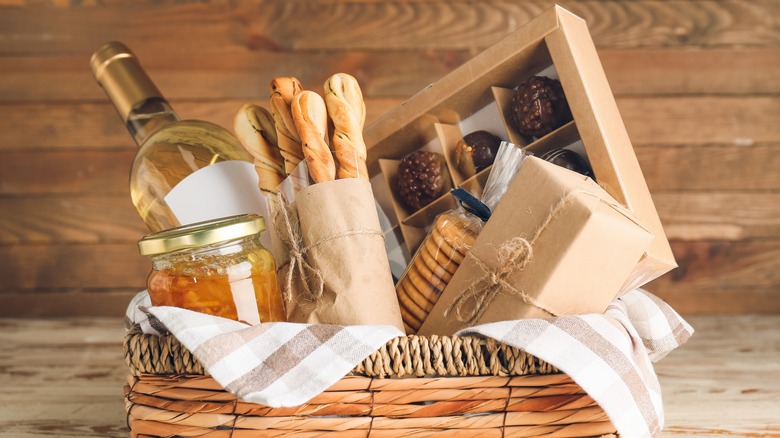 Pixel-Shot/Shutterstock
A bad gift basket is both a waste of money and an insult to the recipient, so we scoured the market for the top options in every category to ensure you are leaving a positive impression while also getting the best bang for your buck. That's not to say these are budget baskets and some of them are certainly pricey. Nonetheless, plenty of occasions call for making a splash so it helps to find products that are worth the cost.
Among the various types of gift baskets, we looked for the most reputable and admired brands offering specialties from chocolate and wine to fruit and charcuterie. We followed up our investigation by sourcing real reviews from both purchasers and recipients to see which baskets truly stacked up against the competition. At times, we consulted category experts to see which qualities were most important for a theme. Ultimately, we were most concerned with reputation and real-world reviews to bring you the absolute best gift baskets in 2022.
Best overall gift basket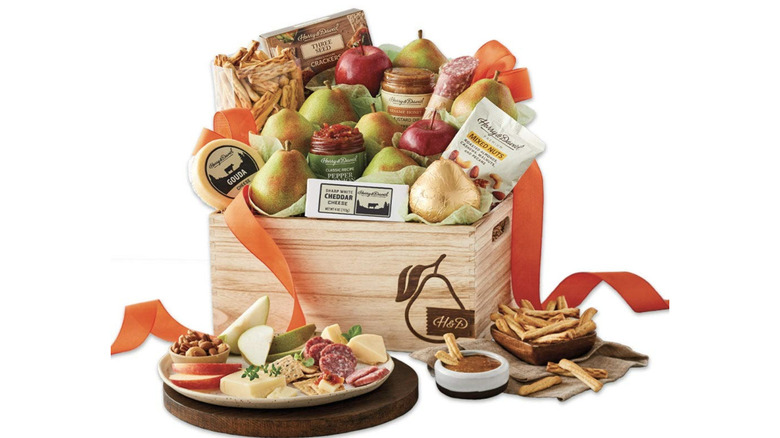 Harry & David
Any company that self-describes as the country's "premier choice for gourmet gifts" had better be able to back up such a strong claim, and most sources agree that Harry & David does. Thousands of four and five-star reviews on the company's Amazon store speak to enduring customer satisfaction. Meanwhile, professional reviewers, including those at Reviewed, concur that its products are of the highest quality, from sturdy packaging to protect the treats' integrity to the dazzling presentation. With almost 90 years of business, the brand has figured out the winning combination. If you're looking to make a statement with a gift basket that impresses by name alone, Harry & David is the place to start. 
The Grand Signature gift basket is the ideal all-occasion choice, combining the brand's legendary gold foil pears with a generous selection of meat, cheese, and upscale snack accompaniments, such as a sampling of dips and spreads. The items are all contained in a sophisticated wood crate. Customers who rave about this signature set of goodies love that the fruit arrives fresh and that the basket offers a variety of practical delicious items.
Purchase the Grand Signature gift basket from Harry & David for $109.99 as of August 2022.
Best gift basket for chocolate lovers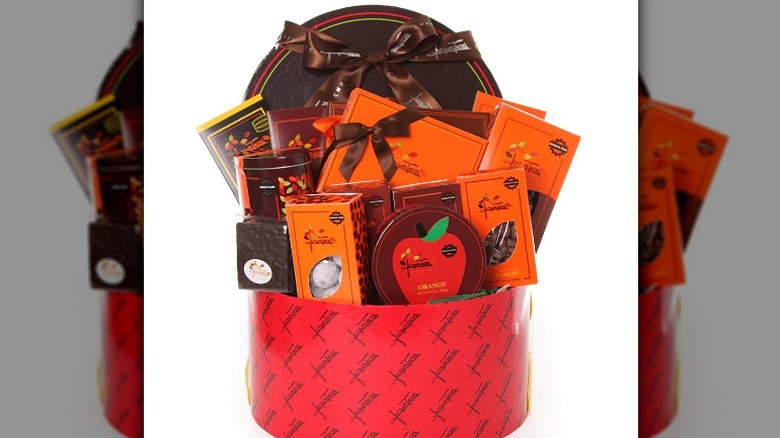 Jacques Torres
With a storied career in dessert and pastry making spanning more than 50 years, Jacques Torres is known as Mr. Chocolate for good reason. His creations have been served to royalty and celebrities alike, so even your pickiest chocolate-loving friend should be satisfied. A Jacques Torres gift basket is the only choice for serious chocolate connoisseurs, and the Ultimate Sweets Hat Box contains dozens of delectable chocolate treats with a chic presentation that will certainly impress.
If 50 assorted bonbons aren't enough to appease your recipient's sweet tooth, that's not all. This gift basket also includes Champagne truffles, a selection of chocolate bars, and a host of chocolate-covered goodies including pretzels, graham crackers, Corn Flakes, Cheerios, orange peels, and almonds, plus hot chocolate and caramel popcorn for good measure. Fans of the box told Goldbelly that Jacques Torres chocolates are "fantastic" and describe them as "very rich." They also comment on the fact that treats arrive fresh with well-communicated deliveries.
Purchase the Ultimate Sweets Hat Box from Jacques Torres for $266 as of August 2022.
Best gift basket for wine lovers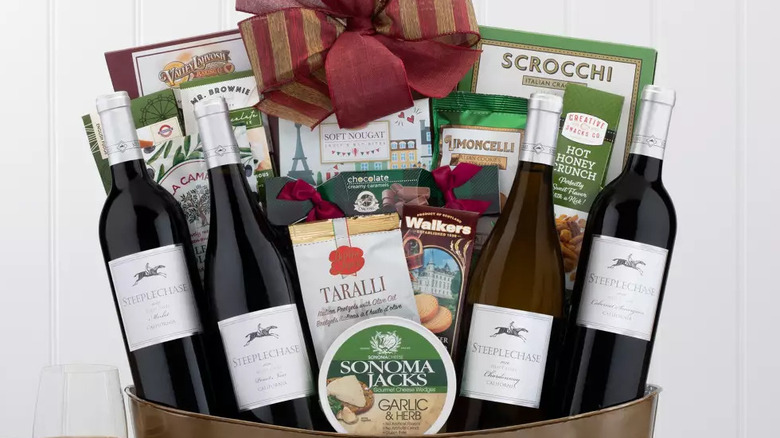 Wine Country Gift Baskets
Let's be honest — a wine lover is a fairly loose term that encompasses a wide variety of imbibers from wine slobs to wine snobs. Consequently, it's impossible for us to know on which end of the spectrum your intended recipient resides, so we've chosen a well-loved middle ground that will be appreciated by the largest number of potential giftees.
The Steeplechase Quartet wine basket offers four bottles including cabernet, chardonnay, merlot, and pinot noir from Steeplechase Vineyards in California. The Good Wine Guru praises the product for outperforming gift basket level expectations, affirming that he'd be proud to send the package to people on his own gift list. Accompanying the wines are plenty of bites like crackers, cheese, chocolate, fudge, a variety of cookies, pretzels, and snack mix. The customer reviews are positive, and fans love the basket as both a gift for clients and for personal use. Overall, consumers appreciate the beautiful presentation and high quality of the wines and gourmet bites within.
Purchase the Steeplechase Quartet wine basket from Wine Country Gift Baskets for $110 as of August 2022.
Best gift basket for coffee lovers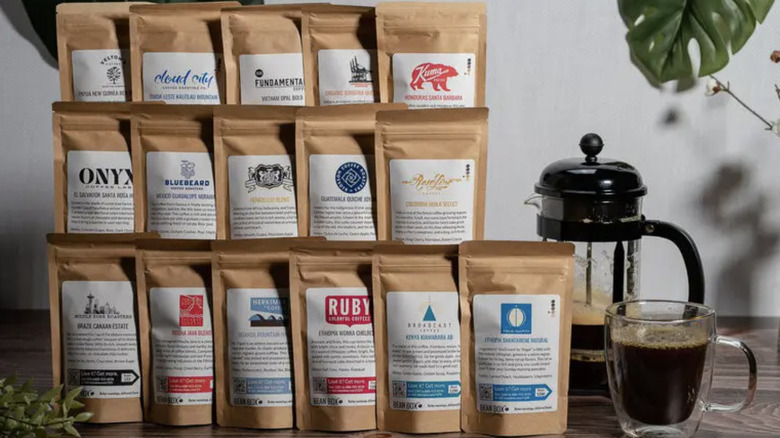 Bean Box
According to the National Coffee Association, two-thirds of Americans drink coffee each day (via Daily Coffee News), so it's a good bet that plenty of people on your gift list will appreciate a coffee-related gift. Choosing just the right type of coffee to send someone could be a bit tricky, but the variety of gift baskets provides an easy solution. Whether your coffee-loving friend is simply a morning caffeine guzzler who needs fuel to start the day or an aficionado with a taste for the exceptional, bean samplers easily appeal to both.
The World Coffee Tour from Bean Box brings a whopping 16 micro-lot coffees from around the world to a single source for the ultimate sipping experience. Covering the world's top growing regions, including Latin America, Africa, and Sumatra, the 1.8-ounce packages come with tasting notes and brewing tips. They're also available as either freshly ground or whole beans, catering to all levels of home brewers. 
Apart from comments on the price (it is slightly costly), consumer reviews point to overall satisfaction. Recipients have mentioned that they loved the entire selection, and senders report receiving positive responses from giftees.
Purchase the World Coffee Tour from Bean Box for $89.99 as of August 2022.
Best gift basket for tea lovers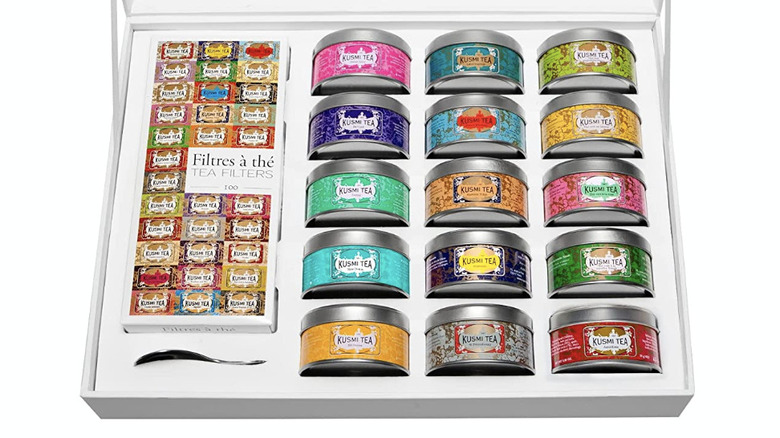 Kusmi Tea
Despite the popular misconception, not everyone loves coffee, and plenty of morning and evening sippers prefer to indulge in a cup of tea instead. Choosing the ideal gift for a tea lover can be even more difficult than finding the right beans for a coffee connoisseur, as there are more than 3,000 tea varieties, according to Stash. Once again, a gift basket is the closest you'll get to a fool-proof present here, especially if you choose one with a hefty selection across the multitude of styles.
Kusmi Tea's Collection Gift Set is an impressive gift box of fifteen organic loose teas presented in vividly decorated tins. The selection includes black, green, and herbal teas, including five of the brand's signature teas, five blends designed specifically for wellness, plus an additional assortment of five herbal teas. The set is complemented by a box of 100 tea filters and a quaint spoon for tea. Brand fans say Kusmi makes "the best tea they have ever tasted," and that this gift set is "beautifully packaged."
Purchase The Collection Gift Set from Amazon for $119 as of August 2022.
Best gift basket for ice cream lovers
Salt & Straw
Ice cream may not be the first item you think of when considering gift baskets, and we don't blame you. It's not exactly the easiest treat to transport, as even slight changes in temperature can cause it to melt, affecting the consistency and ruining the entire experience. And to be frank, the best ice creams are often smaller batch independently produced churns that can't be found everywhere. Thanks to the dominance of e-tailing and the miracle of modern shipping, there's no reason you can't send frozen treats to your favorite sweet tooth across the nation.
Among the country's most delicious ice creams are the rich flavors produced by Salt & Straw, and the small batch brand offers gift sets that ship nationally. The company is magical enough to open shops within Disney theme parks, and Disney Food Blog describes the ice cream as unlike any you've experienced before, raving about the unique flavors. 
To create a gift basket experience out of Salt & Straw's coveted creations, you can choose any five or six flavors from the current selection and have pints packaged and shipped to your recipient. If you're not exactly sure which they'd love, feel free to opt for the Best-Sellers Pint Pack, featuring sea salt with caramel ribbons, double fold vanilla, salted malted chocolate chip cookie dough; freckled mint chocolate chip, and chocolate gooey brownie.
Purchase the Best-Sellers Pint Pack from Salt & Straw for $85 as of August 2022.
Best gift basket for serious snacking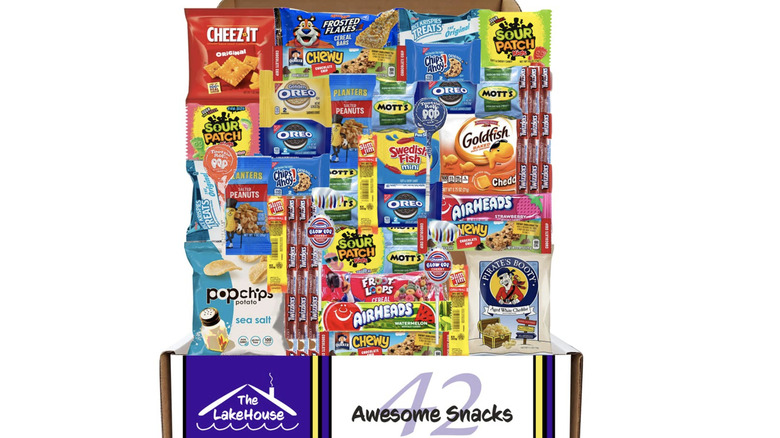 The LakeHouse
We won't say they're not out there, but it's hard to find someone who doesn't like snacking. Although a snack basket may not be the ideal gift for everyone, it would certainly appeal to people who enjoy chowing down on sweet and salty snacks regularly — which Harvard School of Public Health says is at least a third of us.
Whether you're searching for the perfect snack gift basket for summer camp, dorms, the office, movie night, or just someone who needs a little comfort, the 42 snack box from The LakeHouse is almost guaranteed to be filled with personal favorites no matter who's digging in. Catering to fans of both sweet and salty tastes, this box is no generic collection of knockoffs — it's filled with brand-name snacks like Cheez-It, Sour Patch Kids, Oreo, Goldfish, Swedish Fish, and more. Fans rave that the snacks are carefully packaged so there's no breakage, the collection has "something for everybody," and it's an all-around great gift and "easy way to show someone you care."
Purchase the 42 Snack Box from Amazon starting at $25.95 as of August 2022.
Best fruit basket
Gift Tree
If there's one category of gift basket that typically comes to mind first, it's the fruit basket. For new neighbors, get well soon visits, thank yous, and so many of life's occasions, the tradition of gifting fruit baskets dates all the way back to the 11th century (via Basketeer). And to this day, this simple gesture is still popular. If you aren't able to arrange your own local fruit basket or your recipient is too far for hand-delivery, you'll want to order from a trusted provider who reliably delivers fresh, seasonal fruit, presented well. We found the best.
Gift Tree sources vetted, local providers to arrange and deliver the Season's Bounty fruit basket to your recipient with the freshest possible contents. While this means you can't know in advance exactly which fruits your giftee will receive, it does mean they will be local and in season. Not to mention, Gift Tree's trusted name assures the basket will live up to the brand's high standards. 
Season's Bounty can be augmented with balloons, flowers, and other assorted add-ons like wine and chocolates. Past purchasers have praised the baskets for being "too pretty to take apart," impressive, and consistently dependable for quality fruit.
Purchase the Season's Bounty gift basket from Gift Tree for $89.95 as of August 2022.
Best gift basket for housewarming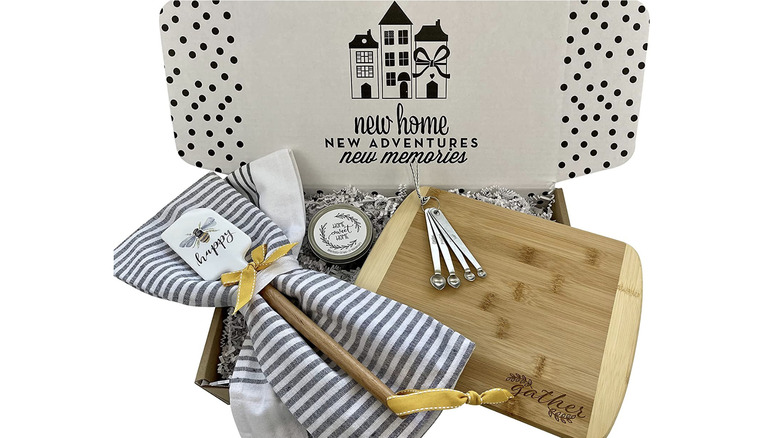 Gift Box Co.
If an assortment of fruit is not your preferred housewarming gift, it's not a bad idea to steer away from food-heavy choices and opt for gift baskets containing household items. As long as they don't display too much design, they'll fit well in a variety of homes.
The New Home Gift Basket from Hey, It's Your Day! avoids any concerns of allergies or bold statements with a few classically designed pieces that offer a humble welcome without overstepping or offending. Inside the decorative delivery box, you'll find a bamboo cutting board, spatula, measuring spoons, a set of dish towels, and a soy candle. 
Focusing on kitchen items (with a bonus candle) speaks to the belly and heart while avoiding questions of food restrictions. Gifters who have purchased this welcoming basket have said it's equally wonderful for everyone from special friends to real estate clients closing on new homes — it's even good enough for the in-laws.
Purchase the New Home Gift Basket from Amazon for $59.95 as of August 2022.
Best charcuterie gift basket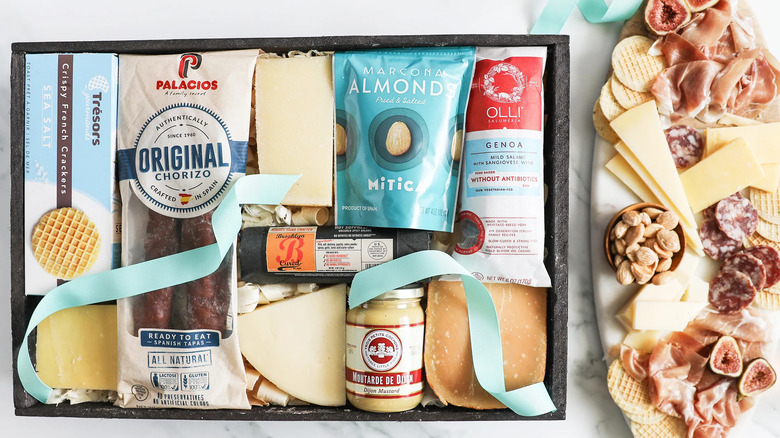 iGourmet
According to Trealy Farm Charcuterie, charcuterie boards have officially been around since the 15th century, when they helped butcher shops prove they weren't breaking the law by selling uncooked pork products. However, the original reason for smoking and curing meats was even more practical — to preserve the meat from a day's hunt. Today, charcuterie boards are wildly popular party platters, appetizers, and even personal snacks or meals, taking social media by storm with their eye-popping presentations of ingredients both humble and gourmet.
To cash in on the trends and surprise those on your gift list with something equally delicious, practical, and fun, find a charcuterie gift basket that provides all the ingredients needed to prepare a board. The Connoisseur's Meat & Cheese Gift Crate from iGourmet includes a selection of salami, ham, and chorizo accompanied by five varieties of cheese, gourmet crackers, Marcona almonds, and Dijon mustard to pair with both meats and cheeses alike. Fan reviews comment that this classic charcuterie package is delivered quickly and is a big hit with family and friends.
Purchase the Connoisseur's Meat & Cheese Gift Crate from iGourmet for $169.99 as of August 2022.
Best beer gift basket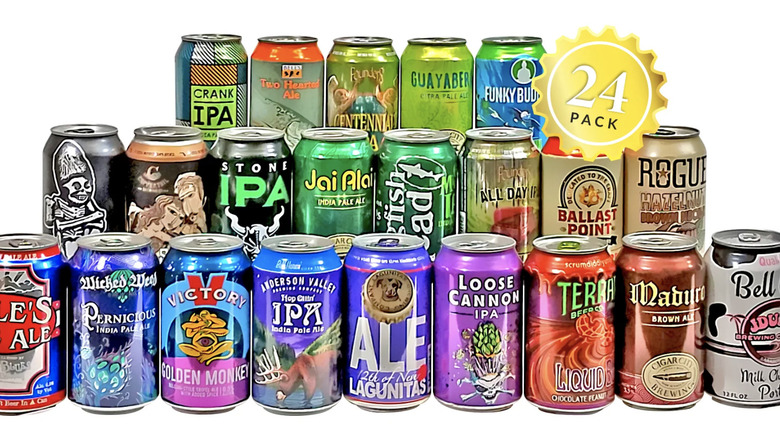 Give Them Beer
There was a time not too long ago when wine and cocktails were the only socially acceptable adult beverages of finer functions, and beer was relegated to college students. However, the rise of craft brewing has taken beer to new levels of sophistication, and it now appears just about everywhere. Today, you're as likely to have beer lovers in your life as you are to have wine lovers, making a beer gift basket more appropriate than ever for holidays and thank yous.
As beer tasting notes and styles are becoming as diverse as wines today, it can be difficult to know exactly which types to choose for a basket. Some drinkers adore the hoppiness of an IPA while others detest it, for example. That being said, a wide variety is the way to go if you're not privy to your recipient's personal favorites. 
The Top Rated 24 Pack Beer Basket from Give Them Beer collects an entire case of selections from stellar microbreweries around the United States. With a wide variety of styles, you can guarantee that everyone finds favorites within. This beer gift basket has a perfect 5-star rating among customers who've purchased it, who say that giftees absolutely loved the variety and quality of the contents. Some people purchase it multiple years in a row for loved ones who are eager to receive it once again.
Purchase the Top Rated 24 Pack Beer Basket from iGourmet for $130 as of August 2022.
Best oil and vinegar gift basket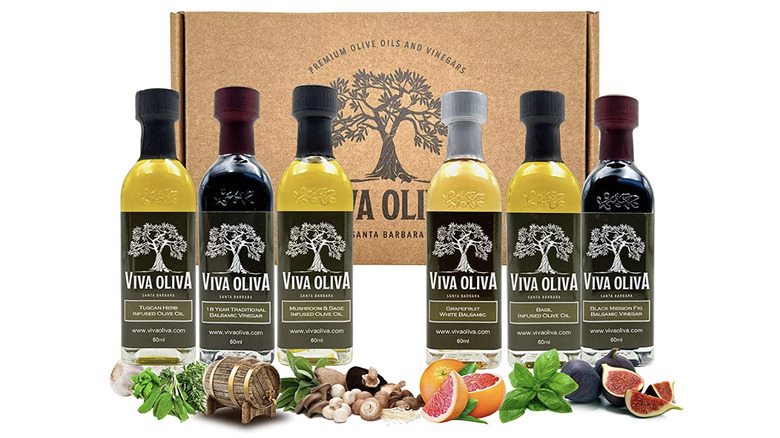 Viva Oliva
Fresh organic meats and produce have been in demand for some time now, but it's only more recently that foodies nationwide have begun demanding the best of the basics. By that we mean those humble ingredients that have graced kitchen counters and dining room tables for decades, meant to enhance our snacks and meals but usually mere afterthoughts. 
Fine condiments like salt, pepper, oil, vinegar, and honey were previously sought after only by serious chefs and food snobs. However, quality versions of these seemingly simple accompaniments are popping up everywhere to satisfy a food culture that demands the best of everything. A gourmet oil and vinegar basket could be the perfect gift for that special someone who's difficult to shop for — or maybe to accompany a charcuterie basket.
From Viva Oliva in Santa Barbara, California, the Premium Olive Oils and Vinegars gift collection combines the company's six most popular products to offer your giftee high-quality ingredients. With ultra-premium options ranging from Tuscan herb infused olive oil to black mission fig balsamic vinegar, recipients are sure to be pleased. The 100% natural, locally bottled oils and vinegars are exquisite alone or paired for unique tasting experiences. Happy customers say it's the perfect gift for someone who has it all, and it is even a hit among olive oil connoisseurs who know what they're talking about.
Purchase the Premium Olive Oils and Vinegars gift basket from Amazon for $42.95 as of August 2022.
Best spices gift basket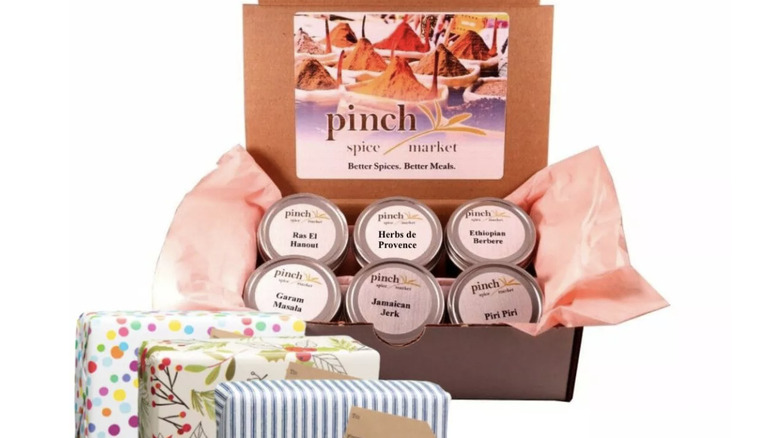 Pinch Spice Market
Finally, we turn to the last ingredient family remaining in the wide world of the culinary arts: spices. These enhance every stage of food prep from marinating, curing, and cooking, ending with the final seasoning at the table — so it's logical that the best meals should include the best spices. Appreciated by everyone from casual cooks to serious foodies and even just snackers and happy eaters between, proper spices pep up every food experience. Not to mention, Hopkins Medicine reports that they're good for you too. You may think that would make it difficult to select the best options for yourself or others, but a carefully curated spice gift basket takes away all the guesswork.
For the greatest variety of options, look to the International Flavors gift box from Pinch Spice Market to provide top selections from around the world. You'll guarantee your recipients find spices to enjoy regardless of their favorite cuisines. This impressive collection contains six tins of spices: Ethiopian berbere, Indian garam masala, South African and Portuguese piri piri, French herbs de Provence, Jamaican jerk, and North African ras el hanout. Fans of this inexpensive gift set say it's a "perfect hostess gift" and great for self-gifting, setting the stage for culinary experimentation or simply enhancing favorite meals with quality seasonings.
Purchase the International Flavors gift box from Pinch Spice Market for $32 as of August 2022.