The Foolproof Technique Andrew Zimmern Uses When Cooking Rib Roast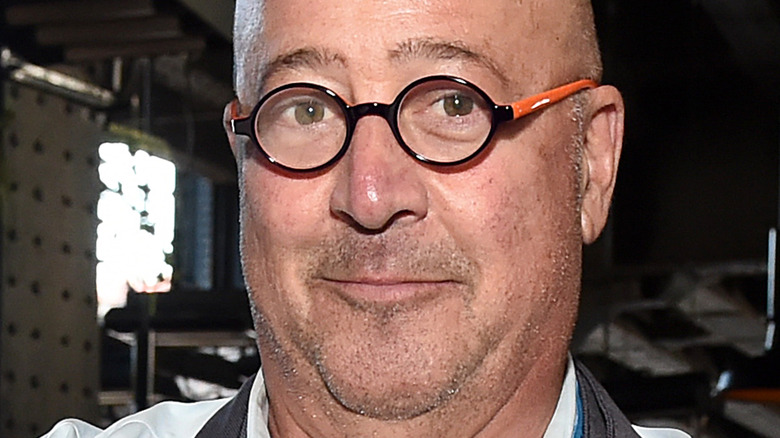 Daniel Zuchnik/Getty Images
Summer is synonymous with backyard BBQs—the smell of charcoal, the sound of sizzling meat, and the taste of a cold refreshing beverage to wick the sweat away. Everyone has their favorite cut of meat—ribeye, flank steak, New York strip steak, to name a few—but for your next gathering, prime rib the Andrew Zimmern-way is sure to convert any burger-stubborn guests.
Andrew Zimmern, best known for his Travel Channel show, "Bizzare Foods with Andrew Zimmern," is a four-time James Beard Award-winning TV personality, chef, teacher, and cooking extraordinaire (read: a top authority on all things food.) Zimmern has hundreds of recipes on his site, but in response to a fan's reply on Twitter, Zimmern shared his favorite, fool-proof way to BBQ a standing rib roast, a.k.a. prime rib. In his Tweet, he stated, "I do the Paul Prudhomme technique.  Char the roast. Interior still ice cold. Marinate it in bucket in fridge for a day. Roast over hardwood low and slow, throwing some wet fruitwood chips on to delicately smoke."
The Louisiana Cajun and Creole cooking king, Paul Prudhomme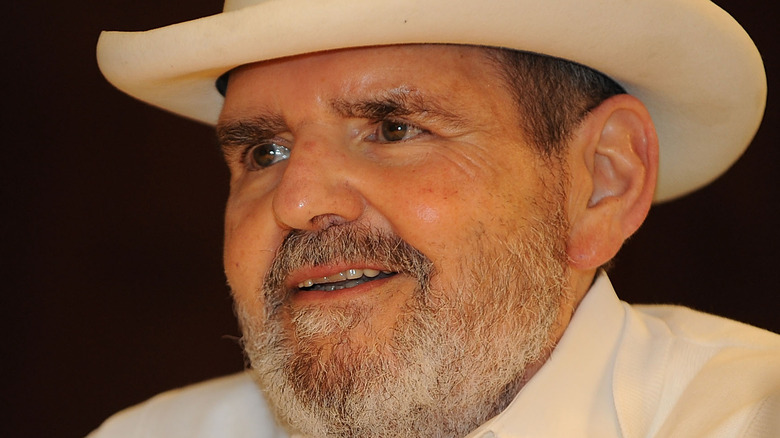 Simon Russell/Getty Images
Paul Prudhomme (1940-2015) was an internationally recognized celebrity chef who specialized in Cajun cuisine and whose rising paralleled and contributed to the New American cooking movement. His mastery in southern cooking earned him many accolades and recognition, but what he left behind were classic recipes that serve as a benchmark to this day.
Zimmern told Food & Wine that for New Year's Eve, he always cooks the old Paul Prudhomme style of standing roast rib. The method of "standing" prime rib is to stand the meat on the rib bones so the meat does not touch the pan or grill. Standing and roasting low and slow over hardwood, as Zimmern described in his tweet, gives the rib roast a smokey taste and a tender, melt-in-your-mouth texture. 
Another of Prudhomme's recipes for Cajun Prime Ribs can be found in the archives, which details a pepper-heavy, Cajun-style dry rub and uses a puncturing technique to allow the rub to permeate the meat. But this recipe calls for slicing into steaks after charring and refrigerating, as well as not marinading it in a bucket, like Zimmern's favorite Prudhomme method.
Roasting prime rib low and slow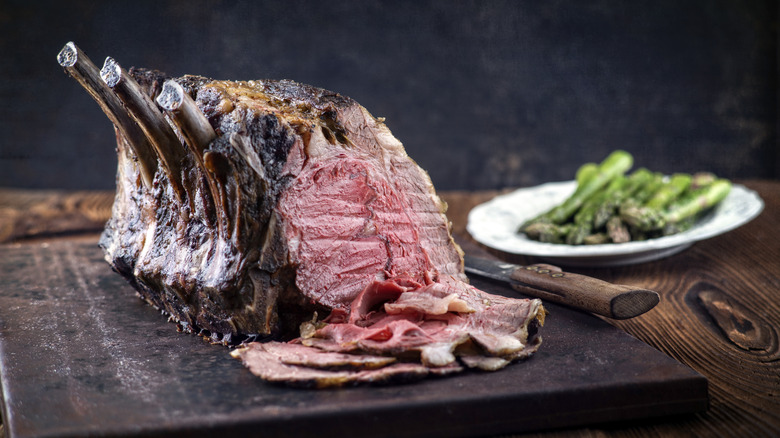 hlphoto/Shutterstock
Before discussing the cooking method, first comes choosing your meat. Set yourself up for success and make sure to get a bone-in, well-marbled piece of meat—this will ensure a tender and juicy steak. To hold all these lovely fats in, low and slow is the way to go.
To get that essential deep brown and crusty exterior, the day before you plan to serve, char the prime rib at a high temperature. You're not trying to cook it through here, just developing color on the outside. Then, submerge in your favorite marinade and refrigerate for around 24 hours; similar to the reverse marinade method, this reintroduces moisture back into the prime rib, replacing any lost moisture in the charring process and infusing it with flavor. Refrigerating also allows the juices to solidify again and retain within the meat.
Thirty minutes before you're ready to grill, soak fruitwood chips in water. This is to encourage the chips to produce smoke. Lastly, roast the prime rib over a hardwood—oak, cherry, hickory—at 170º to 225º F, placing the wet fruitwood chips on top to "delicately smoke." Cook until internal temperature reads 120º F. As it rests, it will continue cooking slightly to reach 125º-130º F for medium-rare.