Shortcut Garlic Knots Recipe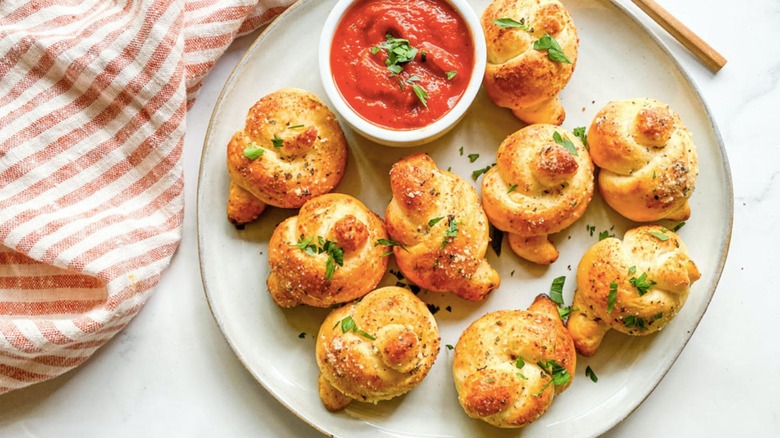 Miriam Hahn/Mashed
There's nothing like a casual Friday night pizza dinner. And what pizza night would be complete without garlic knots? Yes, breadsticks present some pretty stiff competition, but there's truly nothing like the garlicky goodness of garlic knots to prepare you for that cheesy pizza.
Recipe developer and health coach, Miriam Hahn, brings this simple recipe for shortcut garlic knots, so you can enjoy the appetizer at home without spending hours making the dough. Hahn introduces a super fast way to whip up these garlic knots using a shortcut: refrigerated buttermilk biscuits.
While you can serve these along any informal spread such as pizza night, Hahn says, "I like to make these as an appetizer alongside other appetizers for game days or other gatherings, but they also make a great side dish when serving pasta." Wondering what to pair them with? "I love pairing these with marinara or pizza sauce. They are also great with Ranch or Blue Cheese," Hahn recommends.
Gather your ingredients for shortcut garlic knots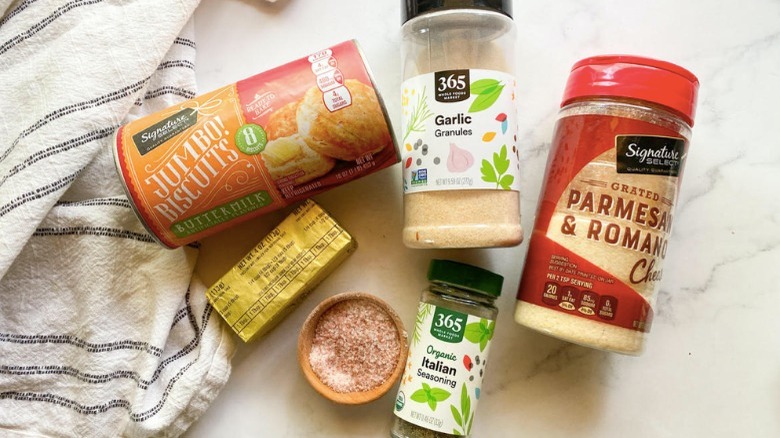 Miriam Hahn/Mashed
To make these shortcut garlic knots, you will need butter, grated Parmesan cheese, garlic granules, Italian seasoning, salt, refrigerated buttermilk biscuits, and optional parsley for topping.
Whisk together the seasoned butter spread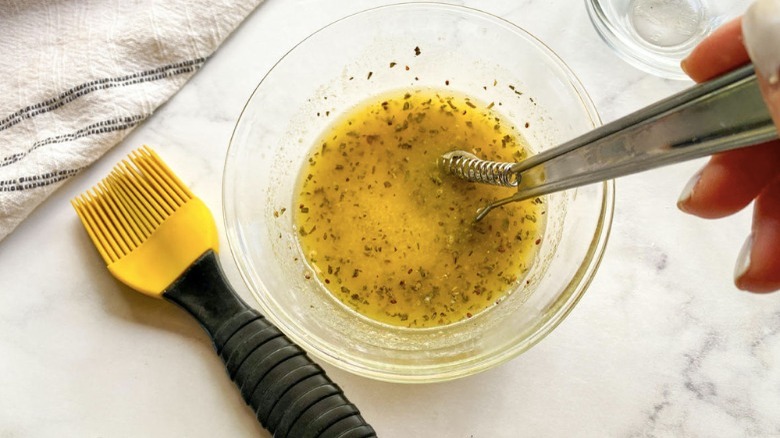 Miriam Hahn/Mashed
First things first, make sure to preheat your oven to 400 F. Then, in a small bowl, add the melted butter, Parmesan cheese, garlic granules, Italian seasoning and salt. Whisk these ingredients well until they are combined. You will use this tasty butter spread to top your garlic knots, but for now, set this mixture aside.
Roll out biscuit dough and create knots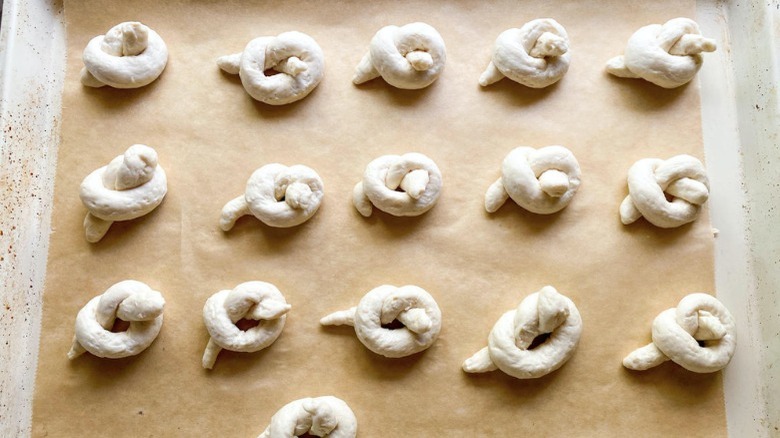 Miriam Hahn/Mashed
Open the can of biscuits and remove the dough. Cut each biscuit in half, before rolling each piece of dough into an 8-inch long rope. Then, form each piece of dough into a loose knot. Hahn loves using store bought refrigerated biscuits because "the heavy lifting is already done and they come out absolutely perfect! Plus the refrigerator biscuits are readily available at any grocery store and the other ingredients are pantry staples."
Brush the knots with the garlicky butter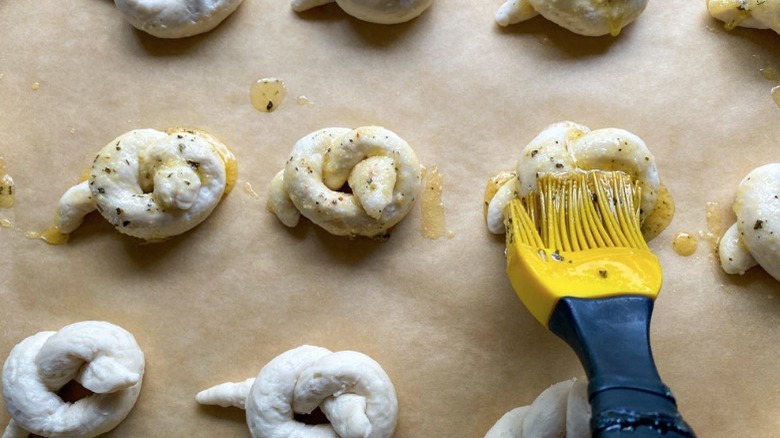 Miriam Hahn/Mashed
Next, place each knot on a parchment-paper lined baking sheet. Using a pastry brush, spread the seasoned butter on top of each knot. Place these in the preheated oven for 8 minutes. Then, remove the baking sheet from the oven and spread the remaining butter on top of the garlic knots while they are warm. Lastly, top the garlic knots with chopped parsley for a hint of color and freshness, if desired. Now, your pizza night or game day will be complete thanks to these easy garlic knots! 
Shortcut Garlic Knots Recipe
These shortcut garlic knots are buttery and savory, and best of all, you'll use refrigerated biscuits for the dough to make things extra easy.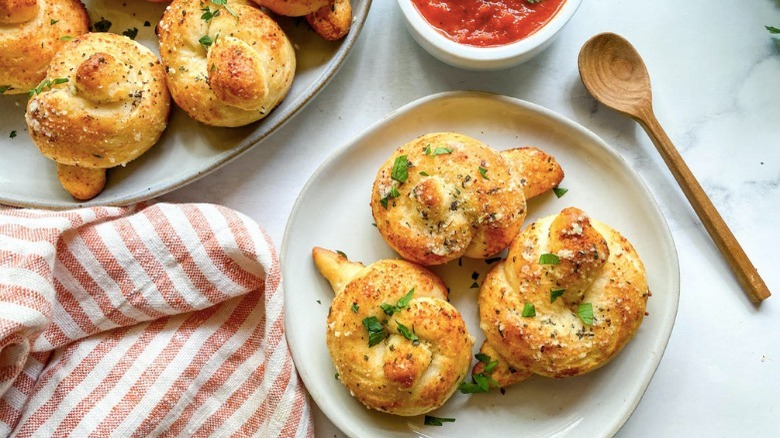 Ingredients
¼ cup butter, melted
2 tablespoons grated Parmesan
½ teaspoon garlic granules
½ teaspoon Italian seasoning
¼ teaspoon salt
1 (16-ounce) can refrigerated buttermilk biscuits
Optional Ingredients
fresh parsley, for garnish
Directions
Preheat the oven to 400 F.
In a small bowl, whisk together melted butter, Parmesan, garlic granules, Italian seasoning, and salt, then set aside.
Open biscuit can and cut each biscuit in half. Roll each piece into a 8-inch rope and tie the dough in a loose knot.
Place the knots on a baking sheet with parchment paper and brush each one with the butter mixture, saving half of the mixture to add after baking.
Bake for 8 minutes, or until golden brown.
Brush the knots with remaining butter mixture and serve. Top with chopped parsley if desired.
Nutrition
| | |
| --- | --- |
| Calories per Serving | 113 |
| Total Fat | 6.4 g |
| Saturated Fat | 3.2 g |
| Trans Fat | 0.4 g |
| Cholesterol | 8.4 mg |
| | |
| --- | --- |
| Total Carbohydrates | 12.1 g |
| Dietary Fiber | 0.4 g |
| Total Sugars | 1.3 g |
| Sodium | 318.6 mg |
| Protein | 2.2 g |