The Famous World Leader José Andrés Was Just Seen Meeting With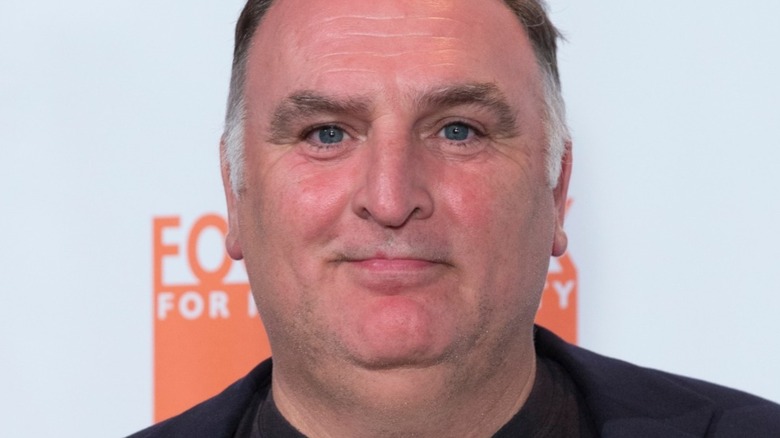 lev radin/Shutterstock
According to the Presidential Palace of Ukraine, an estimated 5,000 Ukrainians are currently working with José Andrés and his organization, World Central Kitchen (WCK), to get food to those who have either been displaced or have been trapped and unable to get food due to the fighting triggered by the Russian invasion. World Central Kitchen estimates it has been able to cook up and distribute 130 million meals, and it has indicated that it is prepared to do more.
Andrés and his team were among the first to make it to the frontlines when the invasion began in February, per Politico. World Central Kitchen staff began by setting up feeding stations in Korczowa, which sits on the border between Ukraine and Poland before venturing into Ukraine itself. Andrés and his then-CEO Nate Mook often posted on social media to give followers a glimpse of what was happening on the ground. Along the way, WCK attracted celebrity volunteers that highlighted the cause, including Liev Schreiber and Marc Murphy. A recent Instagram post by Andrés featured him sitting with another famous name in Ukraine – not a volunteer but the president himself.
WCK's founder met with the president of Ukraine
They may have been working on the same side, in a sense, since Russia invaded Ukraine at the end of February, but it took half a year before World Central Kitchen founder José Andrés got to meet Ukraine's President Volodymyr Zelenskyy face-to-face in the country's capital city, Kyiv. When both men greeted each other it was first with a handshake followed by a warm hug (via Twitter).
They had much to talk about. In a video shared by the Ukrainian president on his social media channels, the humanitarian chef appeared to explain the work that World Central Kitchen had carried out since the beginning of the war, along with photographs that were taken to document WCK'S efforts to feed Ukraine's refugees, per Instagram. 
According to a release sent out by the Presidential Palace, Andrés told Zelenskyy, "We will be ready to help the regions that will be de-occupied already in the first hours," and as soon as areas are liberated from Russian occupation. Zelenskyy was quoted as saying, "We appreciate your help to Ukrainians from the first day of full-scale Russian aggression and your presence in Ukraine at this difficult moment. Thank you for devoting a significant part of your time to our country."
José Andrés warns of a difficult winter for Ukraine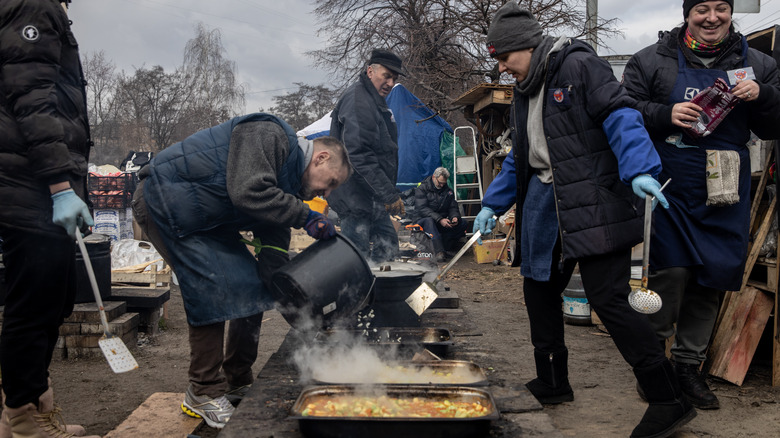 Chris Mcgrath/Getty Images
All that effort didn't come without a cost to the humanitarian organization itself. In April, HuffPost reported that a Russian missile destroyed WCK operations in Kharkiv, leading then- CEO Nate Mook to tweet out a proof-of-life video standing in front of the damaged facility, along with the news that four of their staff had gotten wounded. Continuing to provide aid, something José Andrés told President Volodymyr Zelenskyy that WCK intends to do, will come with its own set of challenges.
Andrés told MSNBC that there is still much to be done, especially with fall and winter just around the corner. He said, "In many parts of Ukraine, you have infrastructure that is totally destroyed, you have bridges that don't allow the normal flow of trucks to replenish the supermarket, people that are out of jobs. So what we are doing here, not only World Central Kitchen but other humanitarian organizations, is covering the holes, covering the vacuum that the war that keeps killing women, children, elderly, in civilian neighborhoods."
In a grim prognosis foreshadowing what was to come, Andrés added, "In many places in the eastern part of Ukraine, they have no water, no electricity, and we're going to be having a very, very rough winter. So we are doing everything we can to be ready."