The Cafe That Will Give Stranger Things Fans Serious FOMO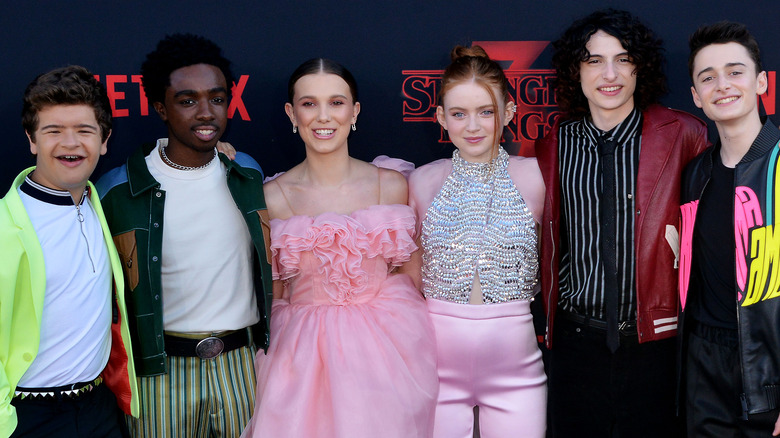 Tsuni-USA/Shutterstock
When singer Kate Bush released the song "Running Up That Hill" in 1985, it reached No. 3 among the top singles in the U.K. and No. 30 in the United States (per Bush's official website). Now, 37 years later, the song has reached No. 1 status due to its revival in the phenomenally popular Netflix series "Stranger Things." It's one of those shows that defies the generational gap. It appeals to Gen X for its sense of nostalgia and to Gen Z for its fantastical and intriguing story. It also features a lot of food items that were popular in the 1980s, such as New Coke and TaB.
But with such popularity, how will people get their fix of the show between seasons? You can host an '80s-themed party with music by Bush, Madonna, and Cyndi Lauper and turn up with crimped hair, lace gloves, and blue eye shadow. Or you can buy Eggo waffles and snacks popular three decades ago and have a watch party. But what if you could take it one step further? What if you could visit a restaurant that was not only like stepping back in time, but featured fully immersive aspects of the hit show?
How far will you travel to experience Stranger Things?
If you can't get enough "Stranger Things" and are ready to take your fandom to the next level, you can visit a cafe modeled after the Netflix show. "Stranger Pronto" is a pop-up cafe in the Tokyo neighborhood of Shibuya, Japan. It features an immersive experience with decor and menu items all featuring aspects of the show (per CNN). The experience includes different replica sets modeled after the show, including the "Upside Down" and the Byers family living room — complete with a backdrop of letters painted on the wall, according to Hypebeast.
According to CNN, a special "Stranger Things" menu includes items inspired by the show, including "squid-ink pasta arranged like the monster's head" or Eggo waffles. Music playing throughout the cafe features the aforementioned "Running Up That Hill," and you can take photos beside a friendly Demogorgon. The pop-up cafe has proved so popular that has extended its run from September to December (via Stranger Pronto).
If you're planning a trip to Japan in the next few months and happen to be a fan of the show, "Stranger Pronto" is open from 10 a.m. to 10 p.m. daily through the end of the year (per Stranger Pronto). However, due to COVID-19, only 20 patrons are allowed in at a time, which means that bookings are necessary and may be difficult to get.