What Happened To Misfit Foods After Shark Tank?
Every season, "Shark Tank" introduces viewers to dozens of entrepreneurs hoping to win backing from the show's sharks. The sharks, who hold the fate of these fresh-faced, would-be businesspeople in their hands, consist of a core group of six highly successful people: Daymond John, Barbara Corcoran, Robert Herjavec, Mark Cuban, Kevin O'Leary, and Lori Greiner (as per All Shark Tank Products). Five of the six business titans appear on any given episode and are sometimes joined by guest judges, which have included the likes of billionaire Richard Branson, pro athlete Maria Sharapova, comedian Kevin Hart, and celebrities like Bethenny Frankel, who've leveraged their fame into financial gain.
And that, of course, is just what contestants on "Shark Tank" hope to do. Even those who don't take home financial sponsorship from one of the show's sharks can still benefit from the exposure. For Season 12's unusual sausage makers, Misfit Foods, they were looking to hit it big with their unique take on meat (via YouTube). The company ended up taking home the bacon with a $300,000 dollar investment from its March 2021 meeting with the sharks (via Shark Tank Recap). So what has happened with the company since then?
Before they were famous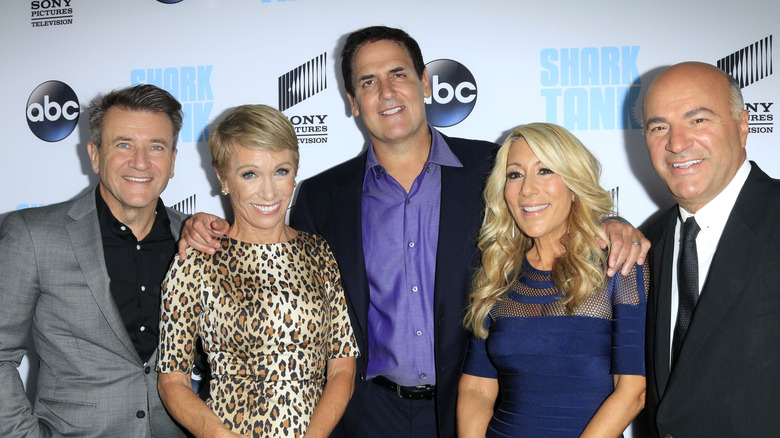 Kathy Hutchins/Shutterstock
Misfit Foods creators Ann Yang and Phil Wong originally appeared on Season 12, episode 15 of "Shark Tank," where they made an ambitious request for an investment of $250,000 in exchange for 5% of their company (per BizzBucket). The pair were certainly confident in their product — and they had reason to be. By the time they appeared on "Shark Tank," the fledgling company had already made nearly a million dollars in sales (about $800,000) and were expected to clear $1.2 million the following year (via Shark Tank Recap).
Misfit Foods was an inventive mix of plant-based and meat-based sausage (as in together in the same sausage). The intention behind the marriage was to reduce meat consumption and food waste. Meat production is incredibly hard on the environment, generating toxic greenhouse gasses, relying on heavy water use, and creating toxic runoff in surrounding water systems (via University of British Columbia). However, while that explains why cricket protein bars might be the future, the idea behind Misfit Foods' plant and meat sausages is that it isn't necessary to choose animal or plant protein. 
Ultimately, Wong says a deal made on the show with Mark Cuban and Daniel Lubetzky for $300,000 for 15% equity didn't materialize in real life. "We didn't do the deal in real life, though we're very grateful to them for their mentorship" (via Shark Tank Recap).
Misfit Foods: Where are they now?
Misfit Foods appears to be doing well since its appearance on "Shark Tank." Since leaving the show, the company has changed its name to Phil's Finest, possibly to avoid confusion with ugly vegetable retailer Misfit Market (via Phil's Finest and Misfit Market) The sausages are currently available online from eight retailers, in addition to the Phil's Finest website, including Whole Foods, Freshdirect, Good Eggs, and even Misfit Market. 
Phil's Finest has expanded its offerings to include ground beef options: a Korean BBQ-style mixture of sweet and spicy ground beef and beets (a perfect, flavorful swap for shrimp in this spicy shrimp bowl recipe) and Lao Curry Style Grass-Fed Beef, which is a "patty mix with carrots and curry paste" (per Phil's Finest). The brand also now offers three kinds of veggie and meat sausages. All the sausages are chicken-based and include Kale Chimichurri, a bratwurst with smoked cauliflower and roasted onions; and Maple Apple. So even if your diet isn't completely meatless, you may be interested in Phil's Finest sausages with a little less meat.