The Best Foods From Italy's Veneto Region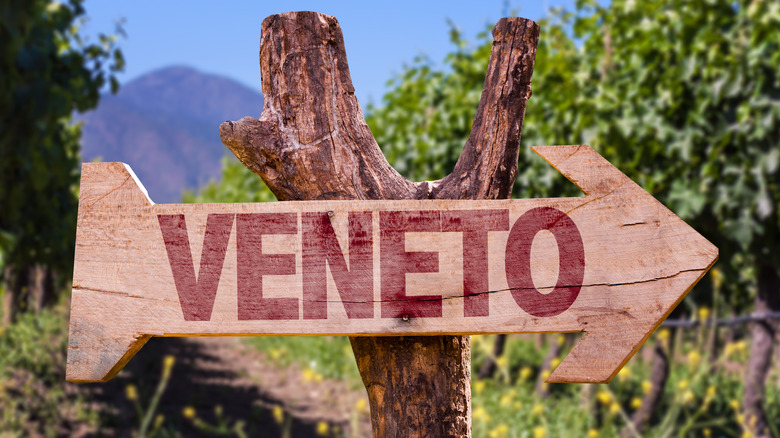 Gustavo Frazao/Shutterstock
When we're talking about Italian food, it's impossible to pick just one favorite dish or ingredient. There are 20 regions in Italy, and each one is famous for its specific regional dishes. One of those regions is Veneto, located in the northeastern corner of this boot-shaped country (per Italy Heaven). 
When in Veneto, most people will visit the region's most famous city, Venice. You might already know some of the symbols of Venice, such as traditional carnival masks, Venetian glass, or needle lace, as noted by The Seattle Times. And movie enthusiasts have probably seen some beautiful vistas of Venice in Nicholas Roeg's chilling "Don't Look Now" (1973) or David Lean's romantic "Summertime" (1955). 
If you're in Venice, it would be a shame not to indulge in its wonderful cuisine, and Eataly reports that there are many local delicacies to try. Some of them are sarde in saor, consisting of marinated sardines; bigoli in salsa, composed of traditional bigoli pasta and a sauce made from anchovies; or risi e bisi, a popular risotto made with rice and green peas. But there is much more to try in the region of Veneto, and the cuisine of other cities in the region is also worth exploring.
Veneto offers delicacies such as red radicchio, pork sausages, cheese, risottos, and prosecco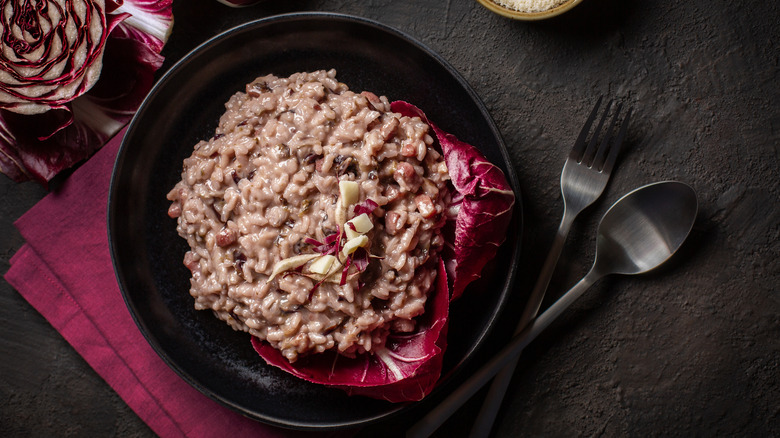 OlgaBombologna/Shutterstock
Italy Mamma Mia shares that besides Venice, numerous other cities in the region of Veneto are worth a visit, such as Vicenza, Belluno, Treviso, Padua, and Soave. And La Cucina Italiana recommends some of the most famous foods from the region, so why not try some of them if you have a chance? 
Although pasta is king almost everywhere in Italy, in Veneto, locals prefer rice, polenta, veggies, meat, and fish. Veneto's risottos are traditionally made with the IGP-protected rice variety Vialone Nano Veronese. And if you're eating the main dish, it will probably be accompanied by a slab of hot polenta, either cooked or pan-fried. Throughout Veneto, there are also some exceptional ingredients, such as Treviso's bittersweet red radicchio, Bassano's white asparagus, pork sausage soprèssa from Vicenza, or the semi-hard, sweet-and-spicy Asiago cheese made from cow's milk. 
And if you're the type of person who likes drinking more than eating, Veneto has much to offer. Have a glass of prosecco, which is made only in Veneto and Friuli-Venezia Giulia, indulge in a glass of Aperol spritz with an orange slice, or order a cocktail such as Bellini, a combination of prosecco and white peaches (per Difford's Guide). With such a wide range of flavors, you can't go wrong with eating and drinking anywhere in Veneto.