We Tried Goldfish And Dunkin's New Pumpkin Spice Grahams. Here's How It Went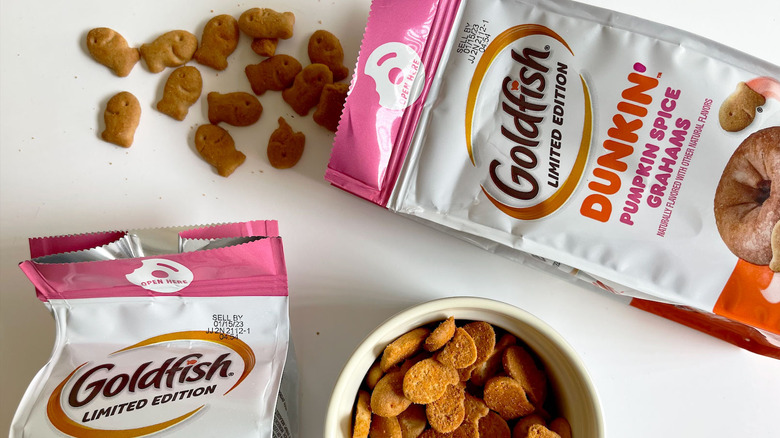 Molly Delmore/Mashed
We love Goldfish crackers, so you can imagine our excitement when we learned of its latest collaboration with Dunkin'. Get ready for fall with The Limited Edition Goldfish Dunkin Pumpkin Spice Grahams. Can you say that 10 times fast?
This unexpected pair sparked our interest and got us thinking, "what could this combination taste like?" With a strong love for the original and cheddar flavors and the occasional Flavor Blasted as a treat, we did not expect the Pumpkin Spice Grahams to live up to the brand's other delicious flavors. Then, add in the Dunkin' aspect, and we struggled to wrap our heads around how this mash-up could mix two vastly different concepts.
Many brands create pumpkin spice products during this time of year. Some soar (like Krispy Kreme pumpkin spice doughnuts), while others come off like a poorly thought-out money grab. This collaboration though especially grabbed our attention. Keep reading for the unfiltered opinion about this unlikely pair. 
What do the Pumpkin Spice Grahams taste like?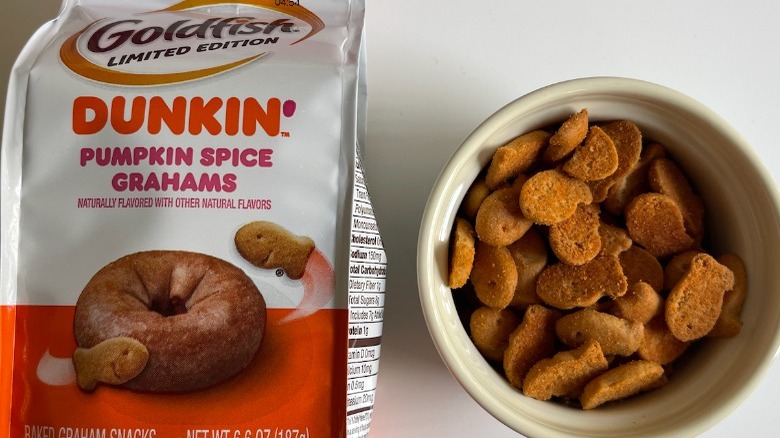 Molly Delmore/Mashed
The two brands describe the Pumpkin Spice Grahams as Goldfish featuring hints of fall flavors like a pumpkin with a donut glaze and additional warm spices like cinnamon, cloves, and nutmeg.
While tasting, we caught notes of pumpkin spice, cinnamon, and nutmeg. We did not taste incredible amounts of donut glaze, however. We imagine it would be a challenging recreation and a sticky mess in the bag to coat goldfish with actual donut glaze. This goldfish flavor fits nicely in the Goldfish Grahams product line, with its graham cracker consistency.
Overall, we did not taste an overwhelming amount of pumpkin flavors, which makes for a great fall treat that's not too much pumpkin. If you thoroughly enjoy all things pumpkin and want to add more pumpkin spice to your fall routine, we recommend pairing this snack with a Dunkin' Pumpkin Spice Signature Latte or a Pumpkin Cream Cold Brew.
How much does a bag cost?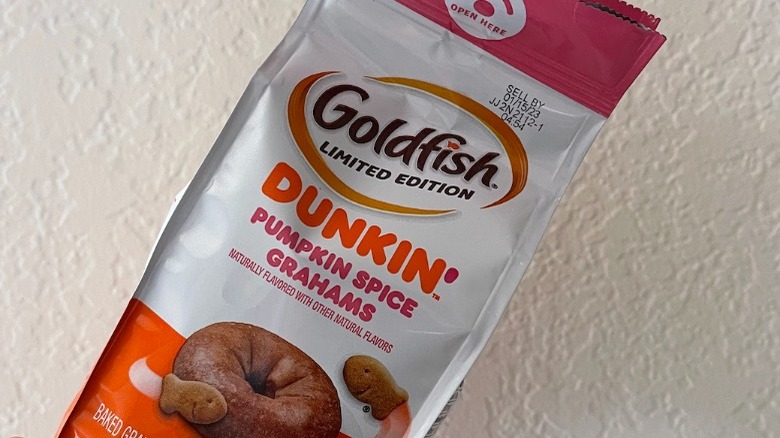 Molly Delmore/Mashed
After diving into a bag of Goldfish and Dunkin's new Pumpkin Spice Grahams to taste, it only makes sense we discuss the price of this new collaboration. We tried this flavor in the 6.6 oz bag, the standard small bag you've likely seen for other Goldfish varieties. Goldfish sells the 6.6 oz bag for a suggested retail price of $3.38 for a 6.6 oz bag.
We compared this pricing to other Goldfish bags on Kroger's website and found the new Pumpkin Spice Grahams slightly more expensive. This pricing makes sense for a unique holiday launch.
The original flavor and other Grahams flavors retail for $2.79. Its possible prices may vary slightly based on the location of purchase. Overall, we find the pricing for this exclusive collaboration worth it if you want to get your hands on this fall snack.
How long and where will it be available?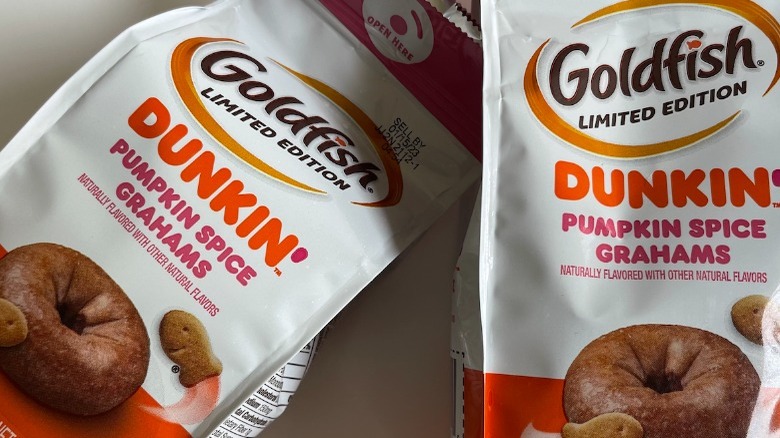 Molly Delmore/Mashed
Mark your calendars because starting September 1, 2022, these new limited-edition Grahams will be sold nationwide wherever you currently buy Goldfish crackers. While this date may be a couple of weeks away, we learned a secret to get your hands on these delicious fall treats sooner.
TikTok fanatics rejoice. Beginning on August 18, 2022, Goldfish and Dunkin' will give fans early access to purchase the new Limited Edition Goldfish Dunkin' Pumpkin Spice Grahams while supplies last. This exclusive opportunity through GoldfishSmiles allows you to get your hands on these Pumpkin Spice Grahams before the general public when they roll out in stores in September.
We applaud Goldfish and Dunkin' for creating this genius marketing tactic. TikTok got more traffic than Google last year, so it makes sense to do these types of launches for those who follow the brands on this social platform. Set your alarms and head over to TikTok to grab your bag of the new Pumpkin Spice Grahams.
What's the nutrition information for Pumpkin Spice Grahams?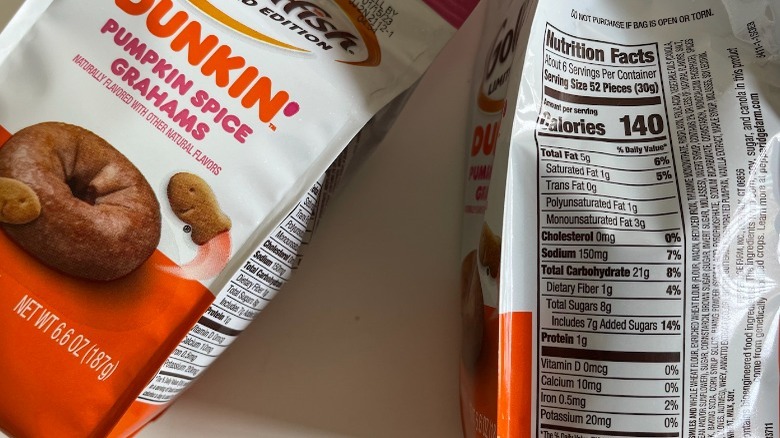 Molly Delmore/Mashed
We believe foods fall into two categories: good for the body and good for the soul. The Goldfish and Dunkin's new Pumpkin Spice Grahams fall into the second category, and although the macros won't break your diet, they don't fit in the green juice category either. Let's dive into the nutritional information of this new snack.
The Pumpkin Spice Grahams contain 140 calories per serving, which includes 52 pieces. This serving size remains consistent with other Goldfish varieties.
Additionally, each serving yields 21 grams of carbohydrates, 8 grams of total sugars, and 1 gram of protein. While this bag of graham cracker snacks does not substitute for a healthy snack choice like a piece of fruit, it is on the better end in terms of sugary snacks. If you get a hankering for some pumpkin spice or a sweet treat, we will reach for a bag of Pumpkin Spice Grahams.
How does it compare to other Goldfish variations?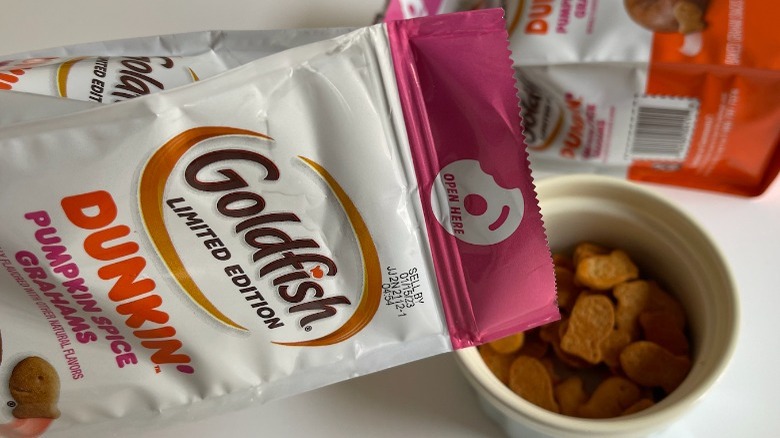 Molly Delmore/Mashed
Nothing can replace Cheddar Goldfish in our hearts, but these new Pumpkin Spice Grahams come in a close second. We enjoy this new variation more than some of the other Grahams flavors like Smores and Vanilla Cupcake because the subtle flavor makes it easier to grab another handful of the snack. Sometimes flavored crackers can get old after a while.
We love the fall flavors of pumpkin spice, cinnamon, cloves, and nutmeg in every handful. It provides the perfect hint of pumpkin without overpowering the graham cracker Goldfish. With only subtle fall flavors, it provides the opportunity to pair the snack with a Dunkin' Pumpkin Spice Latte and not get entirely sick of the pumpkin flavor.
It's also a delicious standalone snack if you want a grab a handful. Overall, this variety fits in with the other Goldfish flavors we know and have enjoyed for years.
The verdict: it's definitely worth a taste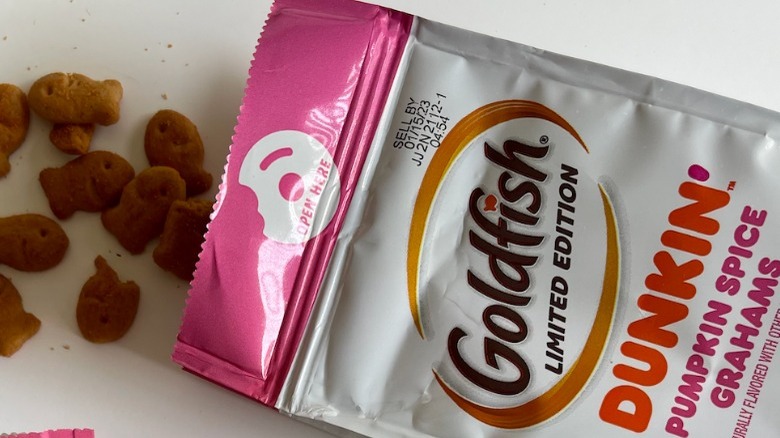 Molly Delmore/Mashed
Before tasting the Pumpkin Spice Grahams, we questioned how Goldfish and Dunkin' could create a mixture that complemented both brands' signature tastes. At first glance, the collaboration offers a shock value leaving you wondering how this could possibly taste good. The flavors of Goldfish and donuts rarely collide in this nature.
After tasting, we discovered the shape and graham cracker portion of the Goldfish blends nicely with Dunkin's well-known pumpkin spice variations, most commonly transformed in the donuts and coffee blends. It's really the best of both worlds.
It's a deliciously crafted seasonal item, and we ate more during our taste test than we would like to admit. We hope to see the Goldfish and Dunkin's Pumpkin Spice Grahams on shelves year after year next to our other favorite flavors like Original and Cheddar.
The verdict: Goldfish and Dunkin's new Pumpkin Spice Grahams is definitely worth a taste.