Outback Steakhouse's New Combo Meals Include A Nashville Staple
A menu item from Nashville may seem out of place at the Australian-themed Outback Steakhouse, but when you dive into the restaurant's history, it's really not. Despite the Aussie voiceovers in the commercials and menu items that have some Australian buzz words like "mate" and "kookaburra," Outback captures the American stereotypes of Australia, not the actual cuisine (via LA Weekly). Though the chain has never claimed to serve authentic Australian dishes, the marketing can be a bit misleading, especially when Aussie natives visit the restaurant.
A writer for The Californian was dining at the steakhouse with a friend who was from Australia, and she was surprised when the Mixed Grill was shrimp, baby back ribs, and chicken when it traditionally includes sausage, liver, and bacon. If you don't go into Outback expecting authentic Australian food though, you will most likely have a decent meal. The Bloomin' Onion is famous for a reason. Now, the chain has added new combo meals that are intended to be easy on the wallet (via ChewBoom).
Steak with a side of Nashville Hot Wings, coming right up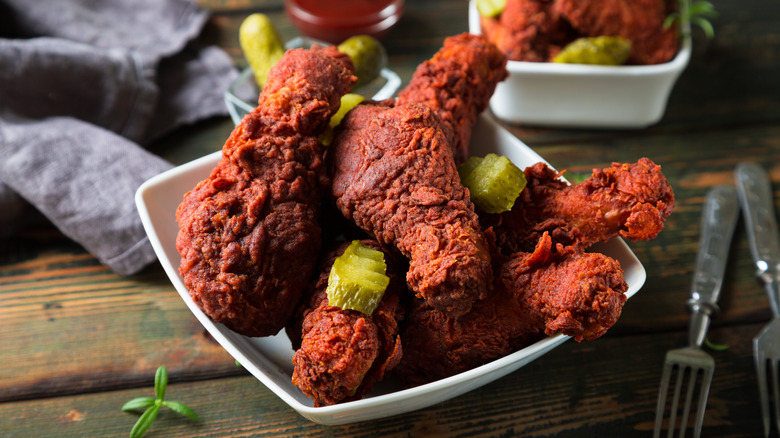 Ruslan Mitin/Shutterstock
Inflation has driven up food prices across the board, whether you're at the grocery store or a restaurant, so everyone is in search of a great deal right now. Steak isn't usually considered an affordable meal, but the notoriously cheap Outback Steakhouse just introduced new Steak 'N Mate combos, which are all under $24 (via ChewBoom). Each combo includes a 6-ounce center-cut sirloin, two sides, and a choice of Nashville Hot Wings ($19.99), Bloomin' Fried Shrimp ($16.99), or Alice Springs Chicken ($23.99).
The Nashville Hot Wings are a new addition to the steakhouse's menu and aren't saucy like a buffalo wing. Instead, they are coated in a spicy dry rub and served with blue cheese dressing. Luckily for the chain, Nashville hot chicken is one of those food trends that seems to be around for the long haul. According to The Daily Meal, Nashville hot chicken experienced a surge in popularity in 2016 and by all accounts remains trendy today (per the Los Angeles Times). In fact, in 2021, KFC's hot chicken went so viral on TikTok that it caused a shortage (via Insider). Whether Outback is looking for similar social media virality or just wants to spice up its menu, Nashville hot chicken is surely a crowd pleaser.