A New McDonald's Big Mac Might Be Coming
McDonald's has several iconic menu items that are popular in the United States. Whether it's an egg McMuffin, apple pie, or Big Mac, McDonald's knows how to please its customers. Every once in a while, it debuts a new item or brings back a once-loved limited-time offering. The restaurant chain's McRib is a perfect example of this, and has been an on and off-the-menu item since 1981. The McRib was originally introduced as a way to utilize pork products, which were not being used in the fast food space. The McRib has subsequently been available for limited stretches over the past several decades. The last time it was available to U.S. consumers was November 2021 to celebrate its milestone 40th birthday (per Restaurant Business).
Every February, McDonald's releases another beloved speciality item: the Shamrock shake. The dessert drink is only available for a limited time to commemorate St. Patrick's Day. The iconic green shake is made with vanilla ice cream, mint flavoring, and a touch of green food coloring. It also makes an appearance across the pond in Ireland to celebrate St. Patrick's Day there, as well.
International McDonald's locations share some of the same stateside menu items, and now there is rumor that the chain may introduce a new Big Mac to the U.S. market. The new item, which is a chicken version of the traditional sandwich, has officially been dubbed the Chicken Mac.
What's in a Chicken Mac?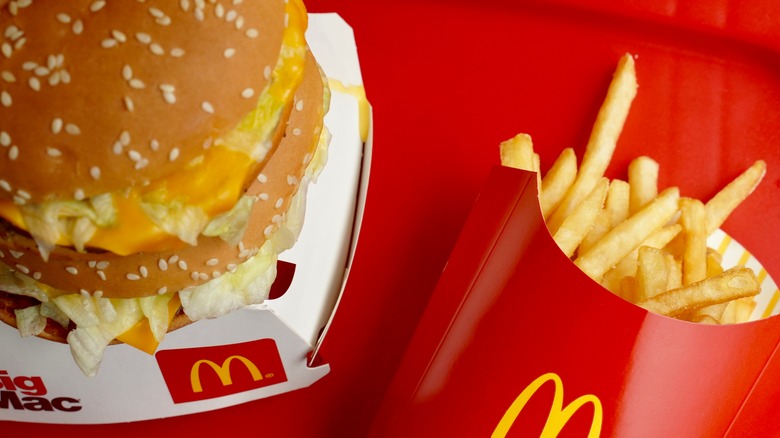 PJiiiJane/Shutterstock
The Chicken Mac is simply a Big Mac that uses tempura breaded chicken patties instead of ground beef burgers. For those who have never had a Big Mac before, the sandwich consists of two beef patties topped with Big Mac sauce, and it's all sandwiched between sesame seed buns. Each burger sandwich is topped with pickles, shredded lettuce, chopped white onions, and American cheese.
The Chicken Mac has appeared before in the U.K. and Australia. According to The Street, the Chicken Mac produced such an "incredible demand" that it was removed from the menu in the U.K. entirely in February 2022. The Chicken Mac had a limited-time run in Australia in January 2022, but has not been available since its short launch.
Food blogger and influencer, Mark Vayntraub (aka Markie_devo on Instagram), broke the news about the potential stateside arrival of the Chicken Mac. He posted a photo of a graphic given to McDonald's employees showing them how to make the new sandwich. McDonald's will reportedly be testing the Chicken Mac in Miami for a limited time. If it does well, there's a chance it could be rolled out nationwide.