Even With Inflation, Chicken Wings Are Cheaper Than Ever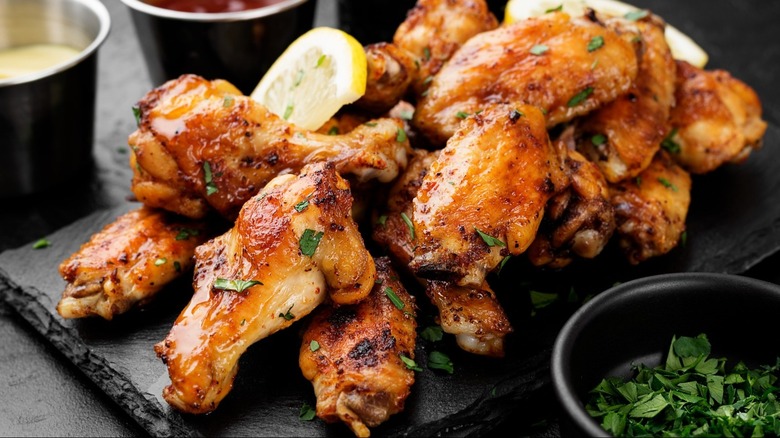 nelea33/Shutterstock
Finally, the good people of the world are getting a break when it comes to grocery prices! Food inflation is worse than ever, and weary shoppers have no doubt noticed drastic price increases on everything from dairy to beef to eggs and everything in between. Even cereal is 15% more expensive than it was last year, per Yahoo Finance. These price upticks are happening due to myriad factors, including Russia's war on Ukraine, high energy prices, and lingering effects from supply chain disruptions during the COVID-19 pandemic.
Although many groceries remain higher in cost than ever before, there are a couple of hopeful signs that things might turn around soon, such as gas prices finally falling after a major spike earlier in the year, according to CNBC. While everything else remains so expensive, we have to take our wins where we can get them. For the moment, that victory is with chicken wings, which are now even lower in price than they were pre-pandemic. With tailgating season upon us, this could not have happened at a more convenient time.
Here's why chicken wing prices are down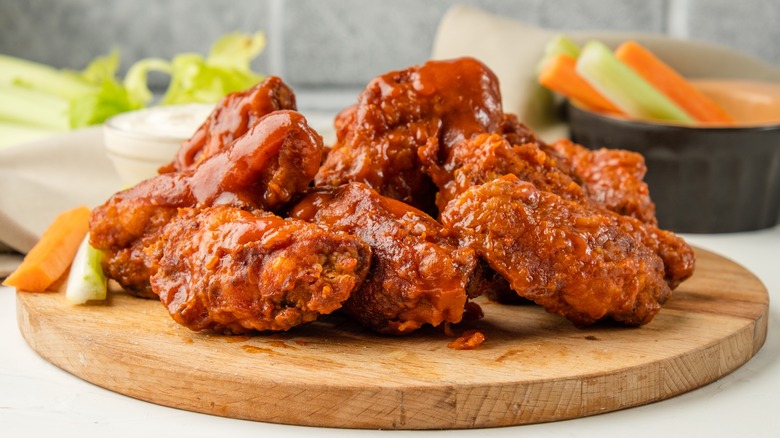 Axel Mel/Shutterstock
Chicken wings were not always immune to grocery inflation. In fact, in the early days of the pandemic, the cost of chicken wings skyrocketed — much like everything else, says NBC News. As was the case with a lot of other food products, wings were even tough to find for a time, thanks to severe labor shortages.
However, chicken wing connoisseurs will be delighted to know that the plucky product is cheaper than it has been since 2018, at a scant $1.68 per pound in July, with August prices projected to be even cheaper. This is because of a decreased demand for chicken wings, says The Takeout. However, the same can't be predicted for other chicken parts. In fact, Gro Intelligence reported in March 2022 that chicken breasts were at their highest price point since 2000, and are projected to get even more expensive as the cost of chicken feed continues to skyrocket.
Thrifty chicken wing lovers might want to go ahead and take advantage of these low prices, as they're not guaranteed to last. According to the USDA, 2022 food-at-home prices are projected to rise 10 or 11% this year alone, and 2023 is expected to see an additional 2 to 3% uptick. For the moment, chicken wings are in the clear, but who knows how long that'll stick?