Duff Goldman Exposed A Hilarious Truth Of Reality Television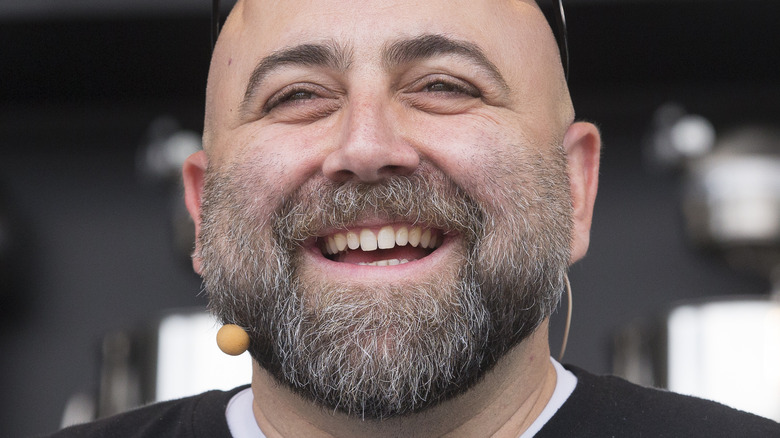 Sterling Munksgard/Shutterstock
Duff Goldman is a Food Network judging staple, lending his expertise to various baking-themed cooking competition shows such as "Spring Baking Championship" and "Holiday Baking Championship." And it's no wonder the contestants respect his opinion and advice on their baked goods — as Food Network notes, Goldman has been running Charm City Cakes for 20 years now, with two cookbooks under his belt and a second Charm City Cakes location now open in Los Angeles.
Goldman often gives his 742,000 Instagram followers a peek behind-the-scenes of his life, sharing gorgeous cakes, snaps of his adorable young daughter, Josephine, or even selfies from on set. It's in the latter category that he exposed a hilarious truth of reality television — and his audience loved it.
In an August 9 Instagram post, Goldman stood on the set of "Spring Baking Championship" with his daughter held in his arms. The stations that competitors would be using were visible in the background, painted vibrant lime green hues that coordinated with the other details and signage in the space. As Goldman stated in the caption, the post was designed to answer his audience's question of what exactly he wore while judging — and fans loved that he opted to share the silly snap.
Goldman's formal yet casual attire
If you've watched any type of reality competition show, you know that the judges often sit behind some type of booth or table. Sure, they'll sometimes circulate around amongst the competitors, especially if that particular show doesn't have a specific host whose responsibility it is to do so. However, when they're delivering their verdict, they're often sitting at their judging spot, with only the upper portion of their bodies visible.
Though you may have previously assumed that Goldman paired items such as blazers with equally formal trousers, he revealed the truth on Instagram. When he knows the camera won't see his lower body, he often gets a bit more casual with half of his outfit. For example, in the shot where he held his daughter Josephine, he paired a simple dark T-Shirt and gray blazer with camouflage-printed cargo shorts. "Business on top, party on the bottom," Goldman wrote in his Instagram caption.
Many fans appreciated Goldman's honesty about the actual reality of, well, reality television, and they agreed that they'd likely rock a similar wardrobe if they were in his position. However, one fan hinted that the reality wardrobe secret may not be as well-kept as Goldman thinks, writing, "We know, we can see in the jib shots." Perhaps eagle-eyed viewers will have to tune in to the next "Spring Baking Championship" or "Holiday Baking Championship" episode to see if they catch a glimpse of Goldman's full ensemble in certain camera angles.