Ina Garten Shares A Fave Ingredient With Gwyneth Paltrow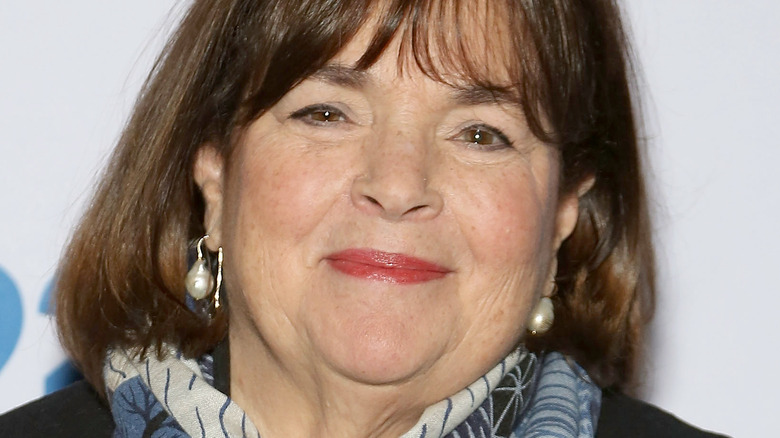 Manny Carabel/Getty Images
Ina Garten has made quite the name for herself in the culinary and domestic world. A white house office staff member turned celebrity food connoisseur, her unique background and path to the cooking spotlight make the "Barefoot Contessa" one of the most fascinating figures to charm Food Network audiences.
Gwyneth Paltrow has also made a respectable name for herself as an actress and businesswoman. Yet she has done so in the world of Hollywood, thousands of miles from Garten's East Hampton home. Despite the generally different spheres these two beloved celebrities inhabit, they definitely share a few talents, like feeling at home in front of a camera and knowing their way around a kitchen. Both celebrities have written their own fair share of cookbooks — Paltrow has published five (via Insider) and Garten has twelve (via Barefoot Contessa). The two have even formed a friendship over their shared passion for their culinary craft, specifically one ingredient that they bonded over in 2010 before it rose on the trendiness scale.
A star-studded kitchen encounter
In an article by Delish recalling some of Ina Garten's most high-profile celebrity friends, one of the celebrities mentioned is none other than Gwyneth Paltrow. Back in 2010, the two discovered that they shared a love for ricotta cheese – the foundation of any solid friendship. They came upon this realization when Garten invited Paltrow to her home to promote Garten's latest cookbook at the time, "How Easy is that?" According to Paltrow's recount of the experience on Goop, the duo worked together to whip up the book's recipe for "Herbed Ricotta Bruschette," which included instructions for homemade ricotta. When reflecting on the experience, Paltrow asked what we were all wondering — "Who knew homemade ricotta could be on the table in 25 minutes?"
As Paltrow recalled, it was "a perfect brunch" and "one of [her] most perfect mornings ever." Given the cooking expertise of each of these women, 'perfect' was probably not an exaggeration.