Taco Bell Is Testing Grilled Lunchwraps That Look Too Good To Be True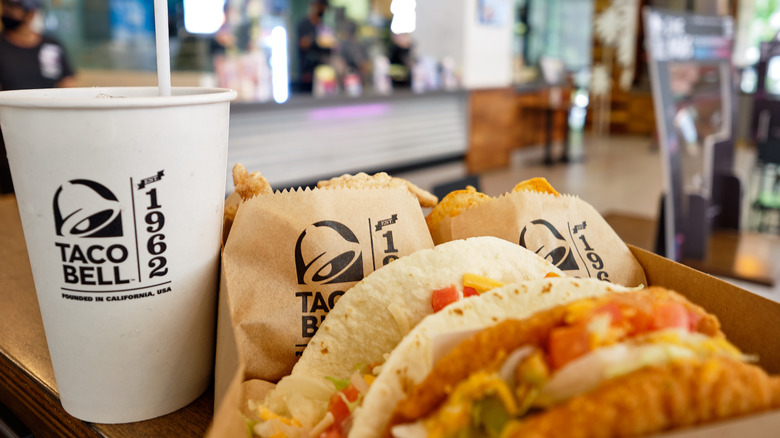 KULLAPONG PARCHERAT/Shutterstock
Taco Bell has already had a pretty exciting 2022. First, the fast-food Mexican joint finally brought back the Mexican pizza as a permanent menu item, delighting fans around the world. Then, the chain finally added a new dessert to the menu. The Strawberry Bell Truffle is currently being tested and may become a permanent part of the permanent dessert menu, which at the moment includes Cinnabon Delights and Cinnamon Twists.
Now, according to Thrillist, it appears that Taco Bell is planning to add to its already expansive entree menu, which currently features an array of tacos, huge burritos, and specialty items like Gorditas and Chalupas. This is likely all part of the chain's plan to stay relevant in an increasingly important fast-food industry, which is growing at a rate of 2.4% per year in the United States (via Zippia). Taco Bell isn't the only one making strategic menu adjustments, however. 
Plenty of other fast-food restaurants are adding menu items to win customers over, including Wendy's strawberry Frosty, Subway's new line of Vault sandwiches, and White Castle's Spicy Joe Slider, according to People. Taco Bell is nothing if not creative, though, which makes the new menu items in testing extra drool-worthy for some.
Here's how to try a Grilled Lunchwrap by Taco Bell
The first order of business for someone who wants to try out one of the new Grilled Lunchwraps is that they must get to Atlanta, post haste, Thrillist says. Select locations are currently testing the menu item, which is available in three distinct forms. The Lunchwraps can be purchased on their own or as part of a combo meal with a beverage and sides like chips and nacho cheese sauce or chips and salsa. 
There are a total of three options. The first is the Chicken Bacon Club Grilled Lunchwrap, in which a flour tortilla plays home to a compilation of "grilled, marinated, white meat chicken," as well as lettuce, guacamole, three-cheese blend, bacon, tomatoes, Avocado Ranch sauce, and Creamy Chipotle sauce. Entree only is $5.49, or the combo meal is $8.49.
The second option is called the Southwest Grilled Lunchwrap. In this meal, patrons can choose from either chicken or steak, piled up with tomatoes, fiesta strips, three-cheese blend, lettuce, and Southwest Ranch sauce. These are all wrapped up in a flour tortilla, of course. The steak version is slightly more expensive, at $5.29 for just the entree, $7.79 for the combo meal (compared with chicken, which is $4.99 on its own, $7.49 for the combo).
The last option is the Steak Chipotle Ranch Grilled Lunchwrap, which is composed of marinated and grilled steak that is topped with lettuce, tomatoes, three-cheese blend, Creamy Chipotle sauce, and Avocado Ranch sauce within a flour tortilla. This one retails for $5.49 as entree only, or $8.79 for the combo. No word yet on how long the trial period will last, but if test results are positive, these savory items could be coming your way soon.