What Happened To Peanut Butter Pump After Shark Tank?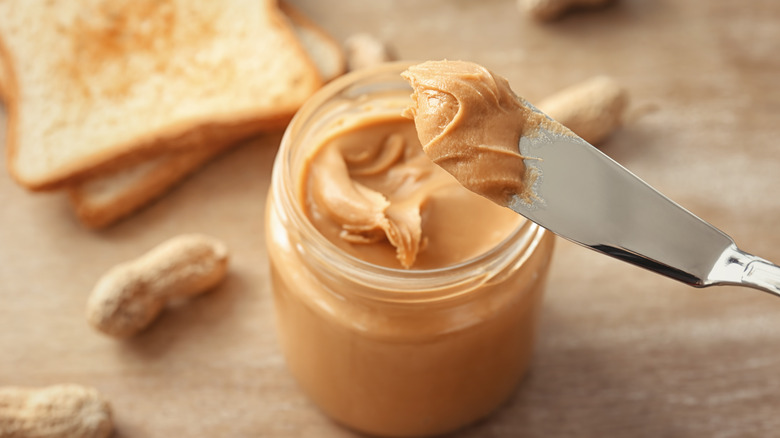 New Africa/Shutterstock
While the New York Daily News once reported that Americans will eat "2,984 PB&J sandwiches in their lifetime," all that nutty goodness might not be simple, smooth eating. Putting aside jelly flavors and which ingredient goes on top, peanut butter can create a sticky mess. From the knife, itself, to the difficulty in scraping out the bottom of the jar, it could make a few people go nutty in exasperation. Luckily, one inventor created a simple and thoughtful solution.
Andy Scherer, aka The Nutty Inventor, created the Peanut Butter Pump. This device fits inside a peanut butter jar and dispenses the peanut butter one push at a time. According to the website, it works with both regular and crunchy peanut butter, as well as other kinds of nut butter. The engineered item keeps a tight seal, offers simple cleaning, and looks to ensure every last dollop can go from jar to sandwich, recipe, or wherever people choose. As a "why didn't someone think of it sooner" invention, the product headed to "Shark Tank." Even though this kitchen tool concept might be a peanut butter lover's dream come true, was the monetary investment worth the squeeze for the sharks?
Did Peanut Butter Pump squeeze a deal out of the sharks?
Many inventors go on "Shark Tank" hoping to be the next Scrub Daddy. Although the most innovative ideas might make it onto the show, it does not guarantee an investment. According to Shark Tank Recap, Peanut Butter Pump appeared on Season 11. Andy Scherer asked for $200,000 for 15% equity in a company that could help change how peanut butter would be spread forever. While there can be uses for this item, the sharks had one major concern, the item was not available to purchase. It was just a prototype.
Even though Scherer had raised over $150,000 via IndieGogo, a crowdfunding website, the product has never been produced on a large scale nor tested in the hands of consumers. While Food Network agreed with its usefulness for peanut butter sandwiches, praise does not equal dollars to the bottom line or an effective real-world tool. Without actual feedback, the sharks circled and were quick to dismiss this idea. From the size not being space efficient to just an unnecessary kitchen gadget, the Peanut Butter Pump left the tank without a deal. It seems that Scherer could not pump up the enthusiasm for his product.
Is Peanut Butter Pump still dispensing its nutty goodness?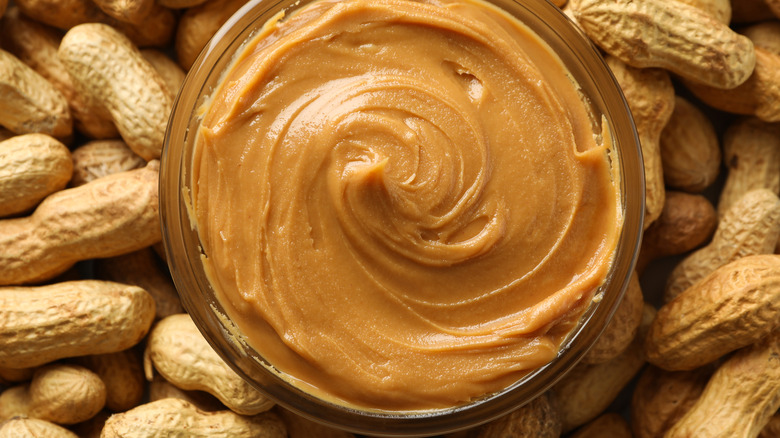 AtlasStudio/Shutterstock
Although the sharks did not bite on Andy Scherer's Peanut Butter Pump concept, the product still has a presence online. The brand has a website, but the product is currently "sold out." In addition, the product description references March 2020, which makes the product availability skeptical.
In better news, the brand's Indiegogo page had a recent update from August 2022. It appears that product samples were received, and additional manufacturing tweaks will be made. Although there is no exact availability date, Scherer wrote "I still haven't reached the goal of delivering, but compared to where the campaign started, it's much closer." Given that the campaign started in 2019, it seems like this process has been a slow one.
The reaction to the most recent update was mixed. Some people are worried that the product will never make it to market and others have their fingers crossed that they will be pumping out their favorite peanut butter brand soon. Even if this kitchen gadget does not become the next Ginzu knife, peanut butter companies might have already found the jar solution. All those squeezable containers might make the Peanut Butter Pump unnecessary.