Ginger Peach Dump Cake Recipe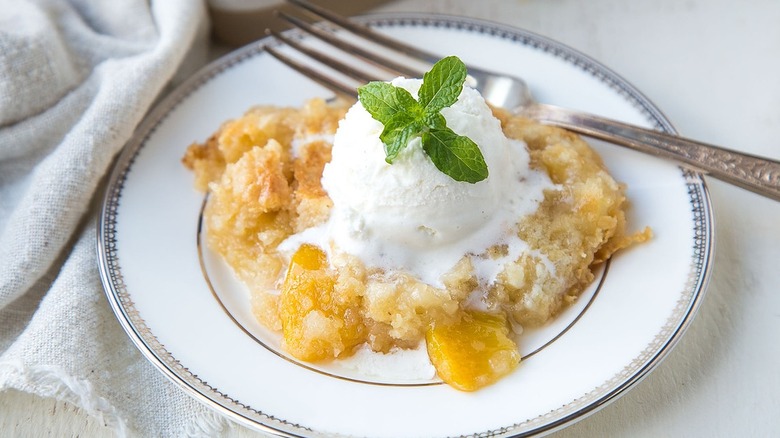 Kate Shungu/Mashed
Dump cake may not sound too tasty, what with the first word having some, er, rather unappetizing connotations, but it's nevertheless a fairly accurate descriptor for how you make the cake. You just dump canned fruit into a pan, then dump a box of cake mix over it. As developer Kate Shungu characterizes this recipe, "Peach dump cake is a seriously easy dessert" due to the fact that it contains just a few ingredients and can be made in a single pan.
Besides the canned fruit, boxed cake mix, and butter common to most dump cakes, Shungu's recipe includes one extra ingredient. As she tells us that ground ginger "complements the peaches nicely." While she uses yellow cake mix for the recipe, she does say that "Spice cake mix would be very nice with the peaches" as well, but cautions that the canned peaches can't be swapped out for a different type. Those heavy syrup peaches provide sweetness for the cake, and trust us, you wouldn't want it any other way.
Assemble the ingredients for the ginger peach dump cake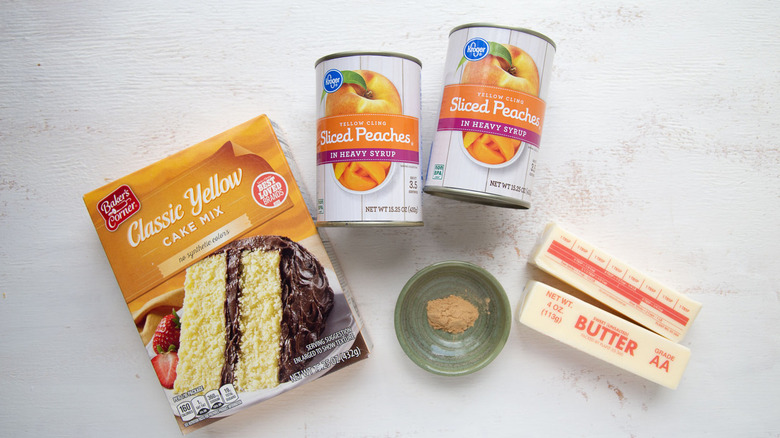 Kate Shungu/Mashed
This easy cake is made with canned peaches, along with a box of cake mix, a couple sticks of butter, and some ground ginger. That's it, just the four ingredients!
The peaches go on the bottom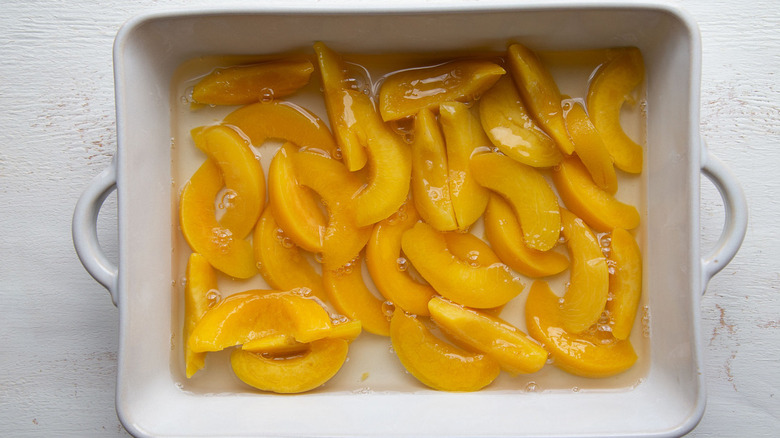 Kate Shungu/Mashed
Preheat the oven to 350 F, then get out a 13x9-inch cake pan. Locate the can opener while you're at it, unless the peaches you bought have pull-off ring tops. Open the peaches and then just dump the contents -– liquid and all -– into the pan.
Cover the peaches with cake mix and butter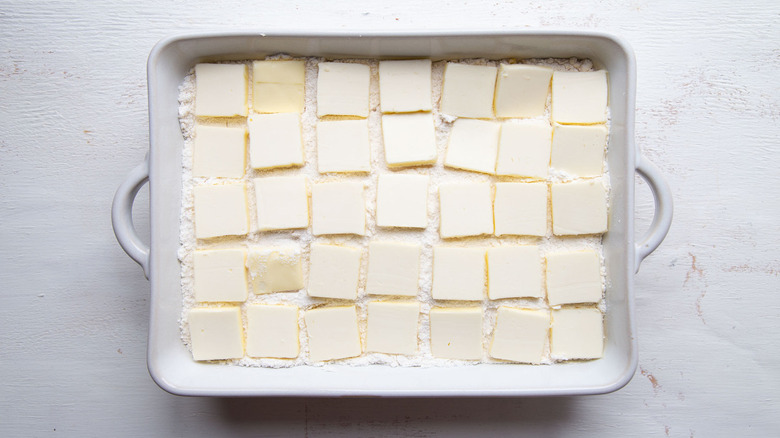 Kate Shungu/Mashed
Stir the ginger into the cake mix until it's pretty evenly distributed throughout, then sprinkle the gingered-up mixture over the peaches. Slice the butter into thin pats and arrange these over the cake mix.
Bake the dump cake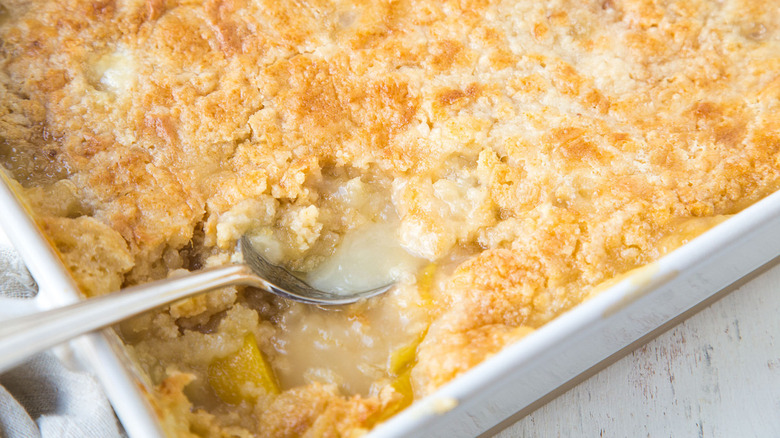 Kate Shungu/Mashed
Bake the cake for 45 to 50 minutes, at which point the top should appear golden brown. Once the cake comes out of the oven, let it sit for 15 minutes before you cut into it. Shungu does say, though, that this dessert is best when served warm, and also tells us, "I recommend serving the dump cake with ice cream or whipped cream on top." If you like to garnish your food, she adds that "a sprig of mint is nice if you have it," although this is primarily for visual appeal so you need not worry if you're fresh out of mint.
Ginger Peach Dump Cake Recipe
This ginger peach dump cake is sweet and delicious, and it comes together in a breeze.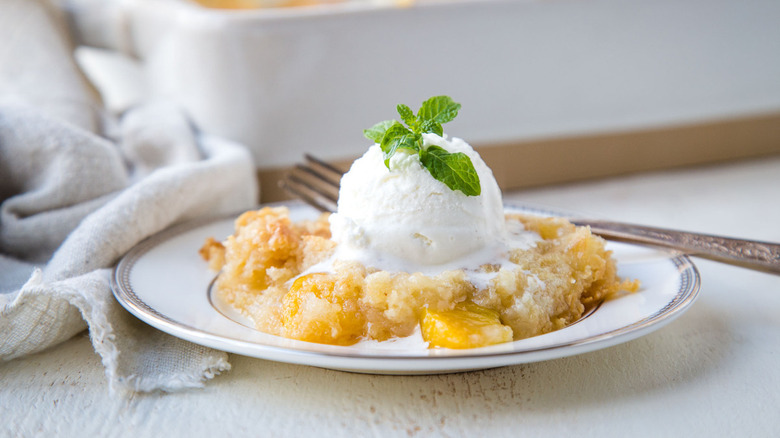 Ingredients
2 (15-ounce) cans peaches in heavy syrup
1 (15-ounce) box yellow cake mix
1 teaspoon ground ginger
1 cup (2 sticks) butter
Optional Ingredients
vanilla ice cream, for serving
whipped cream, for serving
Directions
Preheat the oven to 350 F.
Pour the peaches (including the juice) in a 13x9-inch dish.
In a large bowl, whisk together the cake mix and ground ginger. Spread the cake mix evenly over the top.
Cut the butter into thin slices, and cover the cake mix with the butter.
Bake for 45 to 50 minutes, or until golden brown on top. Let sit 15 minutes before serving. Serve while warm, with ice cream on top.
Nutrition
| | |
| --- | --- |
| Calories per Serving | 460 |
| Total Fat | 24.9 g |
| Saturated Fat | 15.4 g |
| Trans Fat | 1.1 g |
| Cholesterol | 61.0 mg |
| | |
| --- | --- |
| Total Carbohydrates | 59.2 g |
| Dietary Fiber | 2.1 g |
| Total Sugars | 37.1 g |
| Sodium | 395.5 mg |
| Protein | 2.7 g |